Nation and World
Nun Gives Birth In Italy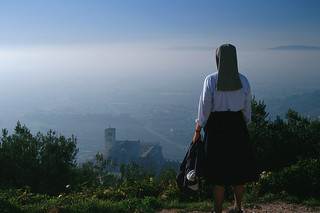 A nun rushed to the hospital with stomach pain in Italy was surprised to find herself giving birth to a child, Italian media reports.
"I did not know I was pregnant," the 31-year-old new mother was quoted as saying.
The Campomoro convent where the nun belongs reports that the nun will be keeping the child. She has named the baby Francesco, one of the most popular names in Italy and the Italian form of "Francis," the Pope's chosen title.
Her fellow nuns were apparently "very surprised."
Read the full story at Huffington Post.
Reach Executive Producer Francesca Bessey here; follow her here.