USC Sports
Not Just Sark: Meet USC's New Coaching Staff
On Tuesday, USC informally introduced all the new coaches on the Trojan staff. Steve Sarkisian was hired on December 2, and his staff is *almost* finalized. Offensive Coordinator/Quarterbacks Coach
Clay Helton
and Wide Receivers Coach/Pass Game Coordinator
Tee Martin
were retained from 2013's staff, but the rest are new faces. Want to know more about who will be coaching the Trojans' this fall before they hit the road recruiting for the rest of the month? We've got you covered.
Head Coach Steve Sarkisian: Sarkisian Introduced At USC, Talks Titles And Change On Offense
Offensive Coordinator/Quarterbacks Coach Clay Helton on Sarkisian's Playcalling: "We really liked his aggressiveness with tempo and pushing the ball down the field. We look at the playmaking ability he had on the outside pushing the ball down the field, and then being able to put the ball out in space and let playmakers make plays."
Johnny Nansen, Running Backs Coach/Asst. Head Coach/Special Teams Coordinator
Nansen comes with Sarkisian from Washington, and worked a lot with Bishop Sankey, who was a Doak Walker Award finalist for best running back in 2013 after rushing for 1,870 yards and 20 touchdowns.
On USC's fast style of play: "We tell them [recruits] there will be a huddle, but we run two tight ends and two backs and run the same plays that USC used to do in the past years. We cut down the verbiage so we could speed the tempo up a little bit."
Marques Tuiasosopo, Tight Ends Coach/Associate Offensive Head Coach
A former Washington quarterback, Tuiasosopo was the Huskies' interim head coach for their bowl game, but then followed Sarkisian once the season ended.
On how USC's up-tempo style does not mean USC is running a spread offense: "It's unique. All we're doing is uptempo. It's pro-style. The plays that we're coaching here, I ran in the NFL. We run power, inside zone, and we run outside zone. It's not the spread…they're pro concepts."
Tim Drevno, Offensive Line Coach/Running Game Coordinator
A Torrance, Calif. native along with Sarkisian, Drevno worked on Jim Harbaugh's staff at Stanford before moving with Harbaugh to the San Francisco 49ers. He's leaving his offensive line coach position after the season, but is currently coaching the 49ers as they prepare to take on Seattle in the NFC Championship Game this Sunday.
Justin Wilcox, Defensive Coordinator
After interviewing for the Boise State and Washington head coaching positions, Wilcox takes on the same position he had under Sarkisian at Washington. He runs a 3-4 defense, and considering he has Leonard Williams returning to anchor the defensive line, he can get crafty in getting edge defenders to rush the passer and divvying up snaps in the secondary.
On whether his system is more similar to Clancy Pendergast's (5-2) or Monte Kiffin's (Tampa 2)?
"Probably more similar to what they [USC] did last year. We'll have the odd looks and we'll have 4-down (linemen) looks, but it depends on who we're playing and how much we'll have of each."
Peter Sirmon, Linebackers Coach/Recruiting Coordinator/Associate Defensive head Coach
Also coming down from Washington, Sirmon emphasized that his challenge will be dealing with the wide range of systems USC will face in its Pac-12 opponents. Namely Stanford's ground-and-pound and Oregon's rapid-fire spread offense. He also takes over as recruiting coordinator, taking over the position that was Ed Orgeron's before Orgeron was promoted following Lane Kiffin's mid-season firing.
On his recruiting style: "What I talk about is recruiting with humility. We need to do a great job of outworking people. We don't want to come in with the biggest bat and expect the logo to get it done."
Keith Heyward, Defensive Backs Coach/Defensive Pass Game Coordinator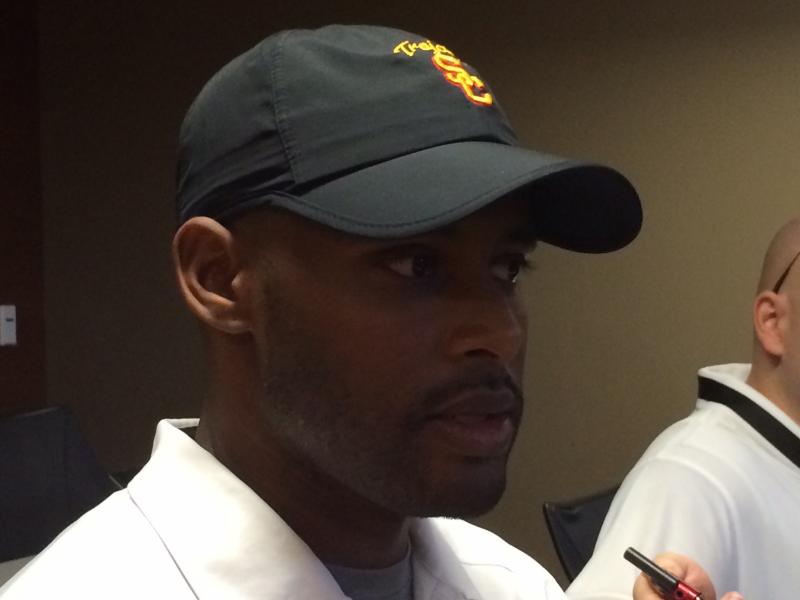 Another Husky transplant, Heyward takes over a secondary that battled injuries and allowing too many big plays in 2013. He's also friends with Tee Martin, having done professional development events with him, which means USC's in-practice passing battles will make for some entertaining sideline jabber.
On Kevon Seymour, who Sarkisian said "had as good a bowl game as anyone": "He [Seymour] has the talent to be a lockdown corner. All the guys are going to have a clean slate to show me what they can do. He has some good tools to work with."
Defensive Line Coach: ???
USC hired Bo Davis from Texas to fill the spot, but Davis departed just a week later for the same position under Nick Saban at Alabama. Sarkisian called it a "hiccup", but it means more time spent finding another man for the job. According to Wilcox, there's no shortage of viable candidates. "Believe me, the cell phones are blowing up," he said. "We're talking about guys with tons of experience at different places, in college and the NFL. The D-Line coach at USC... we're going to get somebody good."
Reach Senior Sports Editor Jacob Freedman here or follow him here.