NBA
NBA Mega-Roundtable: Reflecting On 2013 And Projecting 2014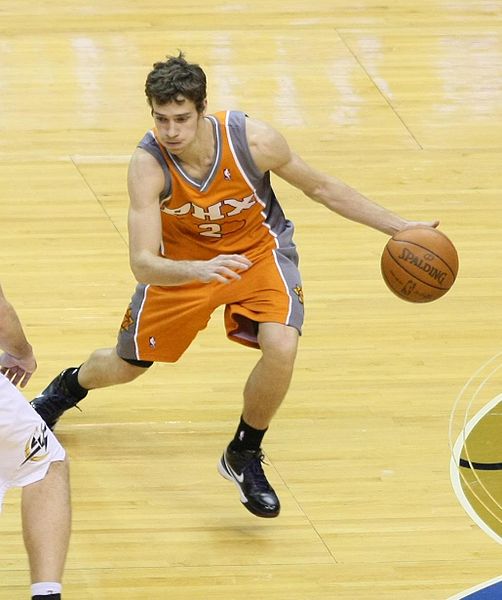 It's a new year, and as the NBA approaches the halfway point of the season, we look back on 2013 and forecast what we'll see in this year of basketball. Agree? Disagree? Think we're crazy? Leave a comment and enjoy as the NBA kicks into high gear.
Which team surprised you the most in 2013?
Law Murray: The Phoenix Suns. Head coach Jeff Hornacek was ready to lead a team after being on the Utah bench the past two seasons, and you know what you are getting out of their 8-man rotation every night. Goran Dragic and Eric Bledsoe make up an incredibly dynamic backcourt on both ends of the floor, and they make each other and the rest of the team better. All of this, and the fifth pick of the draft (C Alex Len) and Emeka Okafor (acquired for last year's starting center, Marcin Gortat) have played a combined 31 minutes all season. Not even Phoenix expected to be this good.
Darian Nourian: The most surprising team of the year so far has been the Phoenix Suns, who most thought wouldn't even finish at .500 when the year started and are currently 21-13. Head coach Jeff Hornacek along with general manager Ryan McDonough are building something special in Phoenix, and it starts with their loaded backcourt of Eric Bledsoe and Goran Dragic. The Suns are a very young team [Okafor is their oldest player at 31], which has allowed them to get up and down the court and spread the floor for their 3-point shooters. Who knows: The Suns may be the next powerhouse to come out of the 'Wild West'.
Andrew Seah: Portland has surprised me the most. They are a game behind the Thunder, and looking like a legitimate contender in the West. Their franchise cornerstones, Damian Lillard and LaMarcus Aldridge, have shown true leadership on top of their All-Star caliber performances. And let's not forget Terry Stotts, who is in the early running for Coach of The Year.
Russell Simon: It seemed a given that the Blazers would be better then last year, where they competed but failed to attain a spot in the postseason. However, this drastic improvement was unexpected. Terry Stotts has done a great job of fitting all of the different pieces together in Portland, and the Blazers lead the NBA by averaging over 119 points a game. They've had the same starting five in every game, and each member of the starting lineup is averaging in double digits. Watching the Blazers play on offense is a beautiful thing, and they have a 27-9 record to show for it.
As we welcome in the new year, which team do you think most wants to leave 2013 behind?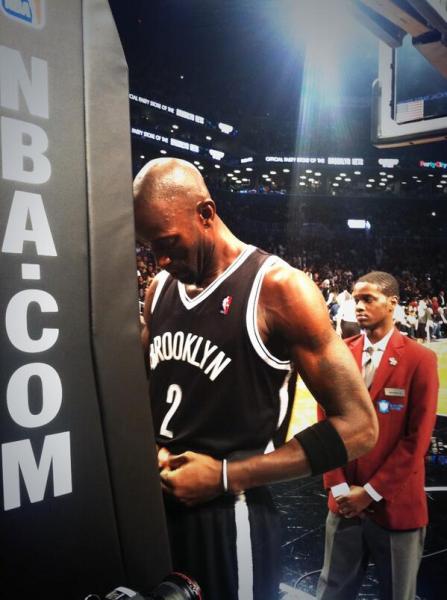 Murray:
It has to be both teams in
New York
. Even though I had higher expectations for the Brooklyn Nets (10-21 in 2013) this season, it makes sense why the team they put together didn't work out (RE: hiring a neophyte head coach to elevate an old and defenseless roster). The New York Knicks somehow had a worse record (9-21) despite having Carmelo Anthony and J.R. Smith healthy most of the year. The New York defense is bad, but the three-point assault from last year has disappeared as well.
Nourian: Without a doubt, the most disappointing team of the year thus far has been the Brooklyn Nets. This is a team that owner Mikhail Prokhorov built to win now, not later. Going into the year, people knew that the one downfall to this Brooklyn team was their older age and thus leading to injuries. This season, the Nets have already lost Brook Lopez for the year, Deron Williams is on and off with an ankle injury, and others are just struggling to stay healthy. This all culminates in a disaster for rookie head coach Jason Kidd, who is likely to get a lot of the blame for the team's disappointing season thus far. Luckily for Brooklyn, they have the privilege of playing in the "Titanic" of the Eastern Conference's, the Atlantic Division, so if they are able to make the playoffs, they could still have a chance at making a postseason run.
Seah: Without a doubt, the Brooklyn Nets. They sport the most expensive roster in NBA history, comprising legitimate two-way threats across their starting lineup, but have resorted to the "your turn, my turn" offense that plagued LeBron and co. during their first season in South Beach. Heck, things have been so predictably bad that Kevin Garnett christened his underperforming teammate "Joe Jesus" after his late game heroics against the Atlanta Hawks. (Kevin, Joe's still shooting a tick above 30% from the field in the past five games!)
Simon: The 12-23 Cleveland Cavaliers. Under General Manager Chris Grant, this team met the disappointing team checklist:
1. Does this team overpay for over-the-hill veterans? Check. Hello Andrew Bynum! He got around $6 million guaranteed to be eventually benched for conduct detrimental to the team, then got traded for Luol Deng.
2. Does this team screw up their highly prized draft picks? Check. Not to be too harsh on Anthony Bennett, who simply did not have the talent to be the number one pick in the draft, but this is the type of pick that sets teams back years. Bennett is averaging barely over 2 points and 2 rebounds per game, and is such a liability on both sides of the ball that the Cavs can only play him in garbage time. The Cavs could have taken Victor Oladipo, or traded and gotten a 2014 first round pick. Instead they reached, trying to win now at all costs, and made an atrocious pick.
3. Does this team have one player that makes you think "Wow why are so bad, this guy is amazing!?" Check. We see you Kyrie Irving, wasting your talents away in Cleveland. Irving, by all accounts one of the game's rising stars, has averaged 22 points and 6 rebounds this season. He's an electrifying talent, but even he can't lead the Cavs to respectability.
For 2014, what team that no one is talking about do you expect to surprise us?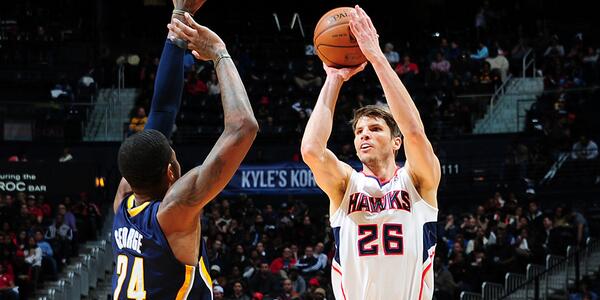 Murray:
This is a stretch, but I'm taking the leap: The
Atlanta Hawks
are fascinating. I am a fan of Al Horford's efficient game, but I'm a fan of a lot of players who wound up being
Ewing Theory
candidates. I can't fully commit to the Hawks doing any springtime damage, but the last time Horford tore a pectoral, the Hawks went 33-22 without him. Atlanta is one of only three teams with a winning record in the Eastern Conference, and if Paul Millsap, Jeff Teague and Kyle Korver can keep up their solid offensive play this season, people would eventually have to see what's up. (Or, they could blow the entire team up by February, which would also be worth an examination.)
Nourian: Watch out for the San Antonio Spurs, who just never seem to bleed out of relevance. Tim Duncan, Tony Parker and Manu Ginobili are getting older, but here they are again, 28-8 at the top of a tough Western Conference. The Spurs are my favorite to get out of the West, likely setting up a rematch with the Miami Heat.
Seah: The Memphis Grizzlies. With Marc Gasol (finally!) slated to return sometime in January, one can imagine that their only trajectory is up. Memphis' struggles in his absence only highlight how much they miss his smart, savvy facilitating from the high-post.
Simon: I expect the jeers to fade for the New York Knicks in the second half of the season. They are 12-22, but I expect them to go on a tear in the second half of the season. Tyson Chandler, Raymond Felton and Pablo Prigioni are slowly coming back, and a lineup with them plus Iman Shumpert has the ability to spread the floor. They took two of three on their trip of Texas, Shumpert looks reinvigorated offensively, and a weak Eastern Conference means the Knicks are primed for another run to the playoffs.
Which squad do you expect to cool off in the new year?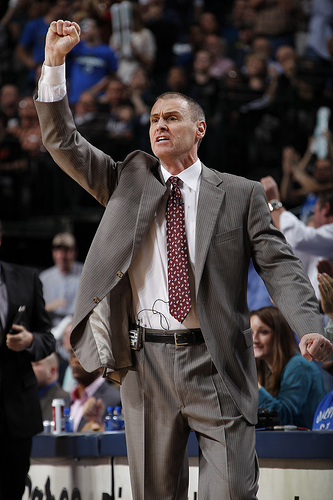 Murray:
The
Dallas Mavericks
are chugging along at 20-16, but I'm not sure they hold on to that 8th seed. They're the oldest Western Conference team, and they really haven't been bitten by the injury bug yet. Respect to them if Dirk Nowitzki, Shawn Marion and Vince Carter keep up their solid durability and production over the next 46 games. Besides that, it is clear that head coach Rick Carlisle isn't sure what he's getting from the center position on a nightly basis - again. Any loss of offense would be hard to overcome for Dallas this season.
Nourian: I expect the Portland Trail Blazers to cool off in 2014. Nine of the Blazers' 27 wins have come by five points or less, signifying that they have played well down the stretch in games thus far, and a lot of that attesting to the clutch play of Lillard and Aldridge. However, I just don't know how much longer things will continue to go their way late in games with their inexperience, especially in the playoffs.
Seah: The San Antonio Spurs. The Spurs recently lost starting center Tiago Splitter to injury, and he might be out until mid-February. As always, the Spurs have hummed along to a 28-8 record - the best in the West. But they have been beating poor teams and struggling against the league's elite. Splitter's loss won't help matters on the defensive end - where they've been thriving - so it wouldn't be surprising to see them slip a little.
Simon: It has been a great year so far for the Toronto Raptors. The team that was expected to tank ferociously to try and get a great spot in the 2014 draft has instead played a very successful first half of basketball. The Raptors are 17-17 and in first place in the Atlantic Division. This is a team with a lot of players in contract years and they play hard every night, moving the ball effectively and playing good defense, but I doubt it will not last. Raptors general manager Masai Ujiri has a long term plan for the Raptors and it involves them getting a good draft pick in 2014. He has trimmed all the fat off of what was a bloated roster, getting rid of Rudy Gay and Andrea Bargnani, but his plan depends on the Raptors getting lucky in the lottery and landing a top five pick. That cannot happen if the Raptors keep winning, and I expect a drop off.
Which player made the biggest leap in 2013?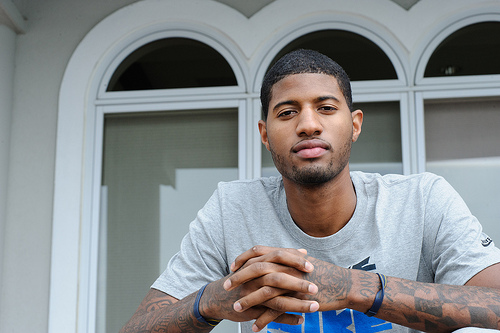 Murray:
Indiana small forward
Paul George
won the Most Improved Player Award, but I'd argue that his game improved even more after winning the hardware. He had a legit star turn in the postseason, and this year, the only small forwards who I'd rather have over him are LeBron James and Kevin Durant. He's a two-way force for a 28-7 Pacers team.
Nourian: The Blazers' LaMarcus Aldridge is finally getting the respect he deserves out west as one of the best power forwards in the NBA. No teams have really had answers for Aldridge and when he gets the ball on the block, he is nearly impossible to stop with his deadly mid-range jump shot and ability to finish at the rim. He is currently sitting sixth in the league with 23.7 points per game, and is averaging a double-double with almost 11 boards a contest. He's been averaging 19 points and eight boards for the most part of his career, but now with the Blazers' early success, Aldridge is finally getting noticed and his emergence this year should culminate in a deserved All-Star appearance.
Seah: Paul George is probably at a stage in his career where constant game-to-game improvement is a given. He is, quite honestly, the biggest deterrent to LeBron James and the Heat achieving a three-peat and he's established himself as a two-way force and arguably the best small forward outside of James and Durant. George is now a bona fide leading man worthy of the plaudits.
Simon: It has to be Damian Lillard. In the span of a season and a half, he went from rookie, to rising star, to a likely All-Star and leader of one of the best teams in the NBA. Lillard is averaging 21.6 points, 5.7 assists and 3.7 rebounds, and his rapid improvement means there's no telling how much he will improve as the Blazers make their late-season push.
Which player is going to make the biggest leap in 2014?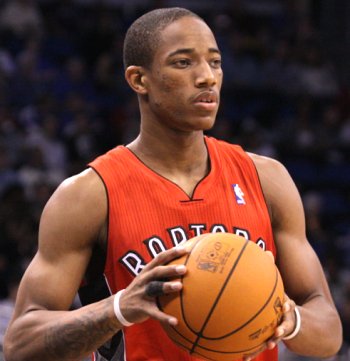 Murray:
I don't know if I'm going out on a limb by saying New Orleans power forward
Anthony Davis
will make the biggest leap in 2014. I hope head coach Monty Williams puts him back at PF, as a lineup with him at center and Ryan Anderson at PF is a defensive nightmare. But that said, I've been saying Davis will have Kevin Garnett-like impact for a year now, and all he needs is to prove his durability and keep improving as a primary scorer. He could be the game's top power forward a year from now, as he scores, rebounds, and defends without hurting his team in any way on the floor.
Nourian: The player to watch in 2014 is Sacramento point guard Isaiah Thomas, whom has benefited the most from Rudy Gay trade and departure of guard Greivis Vasquez. Thomas has been on a roll lately, becoming one of the NBA's most efficient players, averaging 28.6 points per 48 minutes. He is an all-around scoring threat, but especially from behind the three-point line, shooting 42.5 percent from long range so far this season.
Seah: Apart from George, last season's trade that landed Eric Bledsoe in Phoenix was possibly the best thing that could have happened for the fourth-year point guard. So far this season, he's shooting efficiently (48.6%) from the field and that has more than doubled his scoring production (from 8.5 points per game to 18.0). His assist numbers are up as well, but more importantly, he's been given the keys to an offense and playing more minutes than he ever would as Chris Paul's backup.
Simon: DeMar DeRozan. The Raptors were supposed to be favorites in the 'Riggin for Wiggins' contest, but Derozan is a huge reason why this team is in first place in the Atlantic. He is averaging over 21 points per game this season, playing a career-high 38 minutes per game, and improved his awful three-point shooting to a less-awful 29.1 percent. I expect him to make it to his first All-Star game in February and continue to step up as the Raptors make a playoff push.