NFL
NFL Moderately-Paced Hits: Reviewing Wild Card Weekend 2014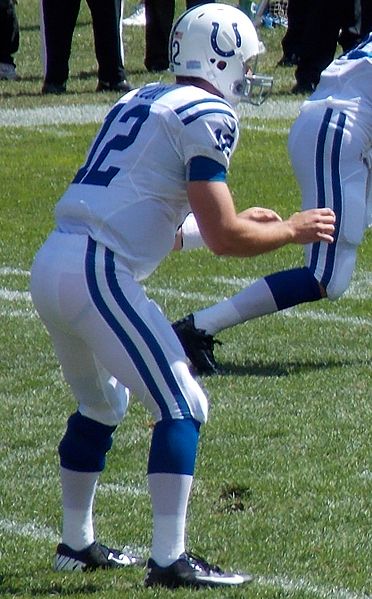 There were only 4 games this past weekend compared to the usual 12+, so I dived a little more into each contest.
-Saturday-
Colts 45, Chiefs 44
Andrew Luck sometimes plays like a much more physically talented Andy Dalton. But the thing about Luck is that, even down 28 in the second half, he never seems to lose confidence.
Indianapolis started the game with a clear game plan: get the ball out, and get it out quickly. Multiple quick hits to T.Y. Hilton (in what would end up being a theme of the day), including a touchdown over Dunta Robinson, made up the Colts' first drive.Before we go on to the rest of the game from the Colts' perspective, however, let's just take a moment to appreciate T.Y. Hilton and his 13-catch, 224-yard, 2-touchdown day. This guys is a relatively tiny 180 pounds, yet has been able to carry the burden of being the offense's top receiving option after Reggie Wayne's injury. Whomever the Chiefs threw at Hilton, whether it was Robinson, Husain Abdullah, Kendrick Lewis or Brandon Flowers, Hilton handled them with relative ease.
The infamous Trent Richardson then coughed up a bad fumble, furthering the opinion of his uselessness—Richardson would struggle to even see the field for the remainder of the game, likely as a result. After Luck's third interception of the game and an offensive dry spell, which was early in the third quarter, he began to ease in, manipulate the pocket with his movement, and get the ball out quickly once again. Donald Brown also played a significant role in the game with two touchdowns and 102 total yards of his own—the Colts would be wise to bring the rejuvenated player back this offseason, when he'll be a free agent.
Also in the third quarter was when the Sack King himself, Robert Mathis, left his most significant mark on the game with a sack-fumble of Alex Smith that set Indianapolis up deep in Chiefs territory. The hustle and awareness to go after the ball shows the kind of player Mathis is. Possibly the most eye-opening play of the day came early in the fourth quarter when Luck picked up a loose Brown fumble inside the five yard line and plowed into the end zone himself, showing the awareness and physical strength of the young quarterback.
Finally, with a little over four minutes left in the game and down by six, Luck delivered a 64-yard strike to the speedy Hilton for what would be the game-winning score. I don't know how the Colts will fare throughout the rest of the playoffs with their defense playing so inconsistently, including multiple injured cornerbacks, but with the seemingly amnesiac and ever-confident Luck at the helm, they'll always have a chance.
***
I really am still trying to figure out what happened from Kansas City's side of things. Sure, Jamaal Charles was knocked out of the game early in the first quarter, but Alex Smith ran the offense quite effectively with short passes and runs with the talented backup Knile Davis, putting up 31 points in the first half.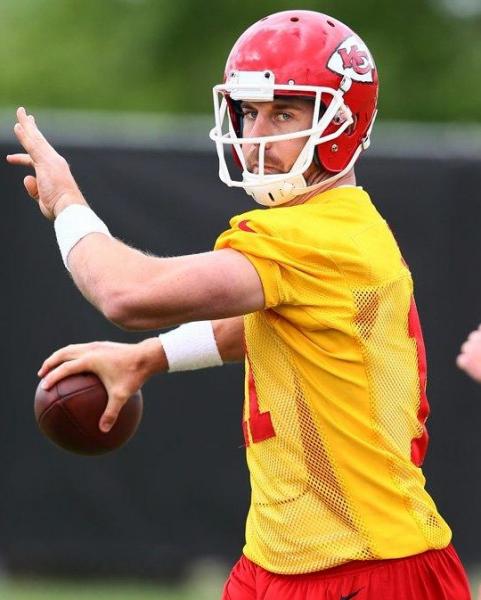 Dwayne Bowe was very impressive at times, using his big body to catch passes through contact and get yards after catch, showing why K.C. signed him to a $56-million deal. Chiefs right tackle Donald Stephenson did an admirable job for the most part when left one-on-one with Robert Mathis, and gave Smith the time to throw three touchdown passes on such plays in the first half.
However, up 21 in the third quarter, Andy Reid kept throwing the ball, and it cost them. As mentioned previously, Smith held onto the ball for too long and Robert Mathis managed to create the sack-fumble that gave Indianapolis life. On the defensive side for Kansas City, their seeming refusal to give T.Y. Hilton enough attention is inexcusable. As Indianapolis' most dangerous offensive threat by far, the Chiefs should have at least experimented with the Tony Gonzalez treatment—in other words, having two players jam Hilton at the line of scrimmage to essentially take him out of the play.
If the Chiefs had Charles, keeping drives alive would have undoubtedly been easier, but their inability to sustain drives while running clock (stop running out of bounds, Dexter McCluster!) in the second half doomed them.
Saints 24, Eagles 22
The Saints' key to this game was at the line of scrimmage. Rookie Terron Armstead provided more-than-solid protection after a disastrous few weeks against Robert Quinn and Greg Hardy. Huge credit to Armstead for his improvement and performance against Trent Cole. The rest of the offensive line did their part as well, paving the way for Mark Ingram and Khiry Robinson, who had a combined 143 yards on the ground.
On the other side of the ball, Cam Jordan and Akiem Hicks did fantastic jobs containing the Eagles' rushing attack, and New Orleans' use of Broderick Bunkley in the first half replaced with John Jenkins in the second half must be noted as a very effective measure to preventing their big nose tackles' fatigue against the high-speed Philly offense.
A possible point of concern for the Saints, however, is their depth in the secondary—they have already sustained season-ending injuries to defensive backs Jabari Greer and Kenny Vaccaro, and after Keenan Lewis was knocked from the game with a possible concussion last week, the secondary was really exposed.
***
The lack of explosive plays for the Eagles was huge in this game that ended their season. DeSean Jackson was basically shut out by Keenan Lewis when Lewis was in the game, and that big Saints defensive line did a good job containing LeSean McCoy. Riley Cooper's drop on a routine short crossing route would have likely resulted in a big play, as Cooper was wide open with a head of steam, running to open grass.
Philly's run defense also proved to be a point of weakness, as poor containment and tackling enabled Mark Ingram and Khiry Robinson to run all over them. If they would have been able to stall the Saints' offense on their final, game-winning drive, Nick Foles taking deep shots against the depleted New Orleans secondary would have certainly been interesting.
-Sunday-
Chargers 27, Bengals 10
Perhaps the most impressive part of last weekend was San Diego's ability to dominate the talented Bengals defensive front. They ran the ball quite effectively (196 rushing yards on the day) and gave Philip Rivers enough time to make key throws when he needed to. Speaking of Rivers, even though he only threw 16 passes, he made the most of them and was efficient, responsible, and accurate with his throws. His touchdown pass to Ladarius Green mid-third quarter stands out from his game, as it was a perfectly thrown fade route that only Green had an opportunity to catch.
Melvin Ingram also had a really good game for the Bolts, with an interception and multiple pressures from his linebacker position. Rivers will have to throw more next week and Ryan Mathews appeared to have gotten banged up at the end of the game, but if the Chargers can keep up their efficiency they definitely have a shot to knock off the likely NFL MVP.
***
As the announcers mentioned, Giovani Bernard's fumble with the Bengals in scoring position toward the end of the first half was absolutely huge. Andy Dalton was obviously pretty terrible, with two interceptions thrown on out-routes on what appeared to be horrendous decisions. His day wasn't helped by a deep shot to A.J. Green that hit him in the hands yet fell incomplete. These errors in execution by the players are a big reason why I don't put the majority of the blame on Jay Gruden, although I do think his play-calling could have been more directed toward getting Dalton easier throws to players like Andrew Hawkins and Tyler Eifert. Still, if those players make the plays mentioned above, we probably aren't even talking about Gruden as an issue right now.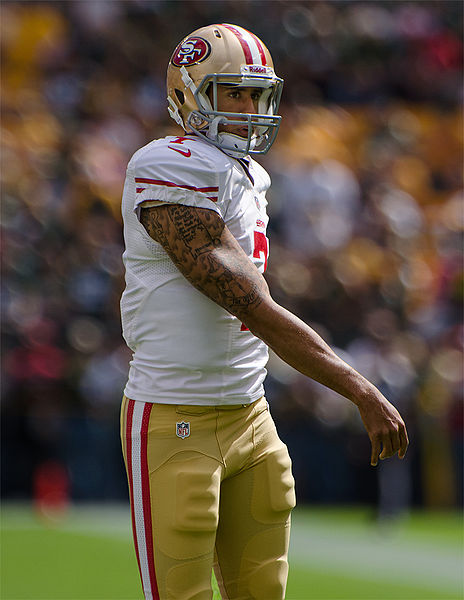 Cincinnati's defensive front was also a huge disappointment on the day, and this game was likely Michael Johnson's last one as a Bengal—however, he didn't exactly make himself any money with his quiet performance. They clearly missed Geno Atkins and his pass rush, but also the run defense he provides when healthy.
49ers 23, Packers 20
The 49ers put this game in the hands of Colin Kaepernick, and he didn't disappoint. While he seemed to stare down his target at times, Michael Crabtree and Anquan Boldin were open enough to the point that it didn't matter. San Francisco's defense was rendered relatively ineffective when Aaron Rodgers went to the hurry-up offense, catching them off-balance, but they came through late in the game when they held the Packers offense to a game-tying field goal instead of a potentially game-winning touchdown.
With the game in the balance, however, Jim Harbaugh clearly made a concerted effort to have Kaepernick decide the game, and his touchdown pass mid-fourth quarter down the seam to Vernon Davis showed why that's not a bad idea—a quarterback with any less arm strength than Kaepernick likely has that ball intercepted by the safety who was inches late. On the 49ers final, game-winning drive, Kaepernick used his physical abilities again, this time his legs, to maneuver San Francisco into field goal range with an 11-yard run on third-and-eight with just over a minute remaining. While it wasn't all pretty from Kaepernick, his elite physical abilities enabled him to make these dynamic, game-changing plays seem routine.
***
All things considered, Green Bay's defense did an admirable job against San Francisco's offense, especially compared to the teams' previous couple meetings. There were a few lapses, such as blowing a coverage on fourth down and allowing a big play to Michael Crabtree, as well as Jarrett Bush losing contain on a critical third down late in the game and letting Kapernick run for an easy first down, but San Francisco has a way of exploiting a team's mistakes and making them look worse than they actually are.
It is unfortunate, however, that Dom Capers' squad was unable to get Aaron Rodgers one more shot at winning the game at the end, whether that would have been from a potential opportunity at an interception by Micah Hyde or the two third down conversions Green Bay let up on the 49ers final drive. Also, on Kaepernick's seam touchdown pass to Davis, Morgan Burnett's physical limitations were evident, as he was unable to get into the lane to make a play on the ball. For someone who just signed a $26-million extension with the Packers, Burnett was exploited and appears to have limited ability in coverage.
While San Francisco's defense did a nice job of containing Rodgers, he was able to exploit the unit when going to the no-huddle offense. Even though he didn't have the best of games, Rodgers still had moments that reminded the audience that he is still the best quarterback in the game today, such as his fourth down escape-and-throw to Randall Cobb, or his 25-yard dime to Cobb later in the game that he threw under pressure and off his back foot.
Side note: credit to James Campen, the Packers offensive line coach, who had this injury-depleted group playing solid football against the elite 49ers front seven.