NFL
Let's Be Blount: Going Beyond Brady Versus Manning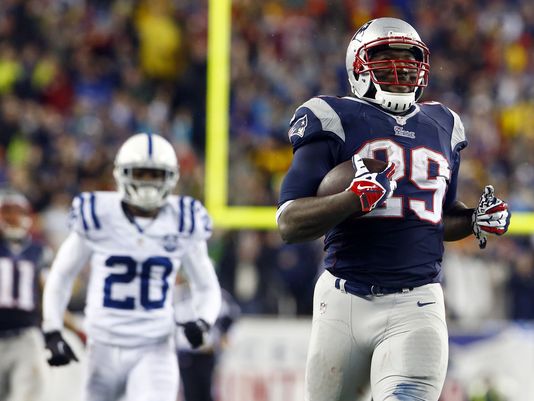 All the tell-tale signs of Brady versus Manning 2014 are here: the Jon Gruden-led Tom Brady love-fest; the scientific dissection of every nonsensical word Peyton Manning utters at the line of scrimmage; the question of clutch; records versus championships. It's all here.
But amid the "greatest quarterback rivalry of all time" talk, there's an assortment of factors that could prove much more telling in Sunday's game.
LeGarrette Blount vs. Denver's run defense
At this point in time LeGarrette Blount should no longer be seen as the Patriots' "secret weapon." The 6-foot, 250-pound tour de force of a running back followed up his 189-yard, two-touchdown performance against Buffalo with a monster four-touchdown game in the Patriots' AFC Divisional Round matchup with the Indianapolis Colts. The Patriots committed their offense to Blount in the Indianapolis game, giving Blount the ball 24 times - in comparison, Tom Brady threw the ball only 25 times.
You can be sure Denver's defense knows all about Blount and will throw a variety of packages at New England to shut him down early. Expect extra men in the box early in the game so as keep Blount from getting off to a hot start. The Broncos' defense is also more adept to handle a big physical runner like Blount. This is a unit that ranked seventh against the run this season, surrendering only a hair over 100 yards per game. For perspective, the Colts' ranked 26th in the league in run defense.
Knowshon Moreno vs. New England's run defense
In the last matchup between these two teams, the Patriots won in a thrilling overtime Week 12 roller coaster of a game. The Broncos owned the first half and were up 24-0 largely in part to New England turnovers and the Patriots' inability to stop Denver running back Knowshon Moreno. The Patriots came out on top with an overtime field goal to seal the comeback, but the defense was ultimately gutted for 224 yards by Moreno.
New England's defense has suffered from major personnel issues due to injury, losing star nose-tackle Vince Wilfork for the season in Week 4 and all-pro linebacker Jerod Mayo in Week 6. The Patriots have seen a lot of improvement from their makeshift defense in young players like defensive end Chandler Jones and rookie linebacker Jamie Collins, and in resurgent veterans such as cornerback Aqib Talib and defensive renaissance man Rob Ninkovich. The squad was able to hold dynamic Baltimore running back Ray Rice to only 40 yards in Week 16, but still ranks 30th in the league in rushing yards allowed.
Shaun Phillips vs. New England's offensive line
The Broncos once vaunted defense has suffered from injuries of their own as well, losing Von Miller to season ending knee surgery. Defensive end Shaun Phillips registered ten sacks this season, but his production slowed as the season progressed. Denver is relying on him to step up and generate the bulk of the pressure on Tom Brady.
The Patriots surrendered three sacks to the Broncos in Week 12, but did well protecting Tom Brady late in the season. The offensive line limited Colts-star Robert Mathis to only one sack and one hit on Tom Brady and has been playing without tight-end Rob Gronkowski. Without the large, physical Gronk to chip Phillips or pick up blitzing linebackers, the Patriots have been relying on tight-end Michael Hoomanawanui for most blocking responsibilities.
Bill Belichick vs. John Fox
When New England restructured its offense to the double tight end set several years ago it surprised a lot of people. They wondered how the Patriots could get the same production from an offense that lacked the same star-studded receiving corps it had in its spread offense days. This year, after the offseason drama surrounding Aaron Hernandez and later after the loss of Rob Gronkowski (again), nobody knew where the offense was going to come from. As of late however, there has been no question how the Patriots have been scoring: run, run, run.
The question Sunday afternoon is which look Belichick will throw at the Broncos defense. Denver has no doubt been watching tape of its Week 12 loss in which Brady threw for 344 yards and three touchdowns. However, the Broncos are also undoubtedly watching tape from last week's Patriots versus Colts game in which New England pounded a beleaguered Colts defense with run after run. Belichick rarely uses the same approach twice; it will be up to Denver's head coach to adjust with New England's varied looks and outfox Belichick.
Reach Sports Editor Matthew Tufts here and follow him on twitter.