Style
Golden Globes 2014 Red Carpet Trend: Metallics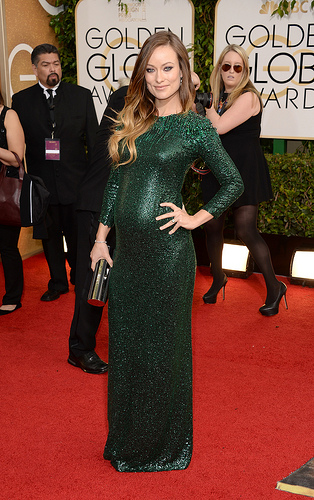 It's all about the shine. Liquid metallics are everywhere this winter, from runways to retail, and, most recently, at this year's Golden Globe Awards.
Metallic fabrics had been a favorite in 2013, and are making a bolder comeback this winter and into spring 2014. This bold fabric is capable of serving as both a neutral and an embellishment to an array of ensembles and accessories.
Stars like Elizabeth Moss, Naomi Watts, and Olivia Wilde are just some of those who donned metallic ensembles at the Golden Globes.
Wilde stunned in an emerald green metallic dress by Gucci. The dress highlighted her baby bump.
Because this piece shone so brightly on its own, it was paired with minimal jewelry and a small, simple clutch.
Though these gowns' colors seem basic, the overall effect is anything but. The metallic look made basic blacks shine, and added texture to white and nude gowns.
Whether metallics came in the form of embellishments or were woven into a gown's fabric, it is clear that the Golden Globes were the stage to showcase a trend that will flood the entire awards season and department stores' racks.
Fashion source Rue La La showcases the metallic look in three ways. They feature a metallic jacquard dress, a luxe metallic sweater, and a foiled metallic look.
The liquid metallic trend is not limited to these options, however. An overall sparkle and a bevvy of bold sequins all make up this unique look.
To make metallics work, pair your metallic choices with simple accessories.
For example, you could pair a metallic top with a simple pant and a pair of black heels. A simple clutch is on-trend without detracting from the outfit's main focus.
Print within the metallic look can work (as can be seen on the metallic jacquard dress), but keep the prints centered on one piece. Adding a printed bag or shoe can appear hectic.
The metallic trend is something that can be worn from day to night, casually or dressed-up. Metallic accessories provide the perfect pop to an otherwise bland outfit, and a metallic dress can make the perfect night-out look this winter. Look for metallics on the runway, red carpet, and at retailers like Forever 21, American Eagle, and Foreign Exchange.
Reach Staff Reporter Mona Khalifeh here