Entertainment News
Justin Bieber Needs To Keep His Social Life Private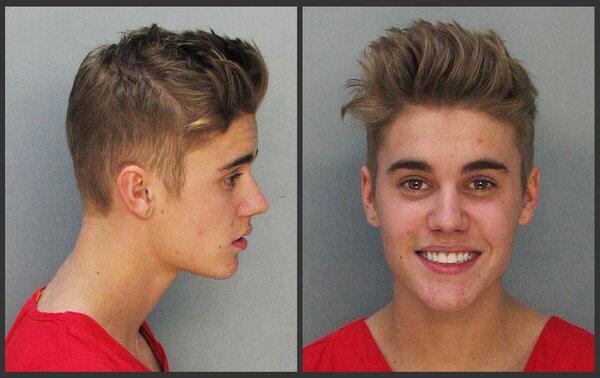 The story didn't just stop at being arrested and getting a DUI. It continued to the weekend and followed Justin Bieber to Panama, where he spent some time soaking up the sun. A couple days after his vacation in Panama, he turned himself in to the Toronto police station. Let's start from the beginning. The Biebs was arrested in Miami on January 23 for drag racing and a DUI. He was released on a bail of $2,500. The bail was $1,000 for DUI, $1,000 for resisting arrest and $500 for an expired license. His solution for getting his life together after an arrest? A rewarding trip to Panama.
His mentor, Usher, and manager, Scooter Braun, met him there. It is assumed by Braun's tweet that they flew down there to talk some sense into Bieber. "Been a long day. Bottom line is we are defined by how we handle adversity. Be there when it counts. Love fully in good times and bad," Braun wrote on Twitter. I think it's safe to assume he is speaking about the situation following what happened with Bieber in Miami. Braun is right, we are "defined by how we handle adversity," but I think Bieber has had too many chances to see how he handles the difficulties in life. It has just been one thing after another; incidents that happened on his tour in Europe and his issues at his Calabasas home. Braun later tweeted, "for all those asking @JeremyBieber and @pattiemallette love their son. Stop passing judgment on a situation you don't understand."
I know Bieber's family is going through a rough patch because of how much trouble he has been in lately, but it amazes me that Bieber's father was on scene when the singer got arrested. His father showed him sleeping at home with his brother on Twitter, so maybe they worked things out there. I am not, by any means, blaming this on his father, I just want to understand why his father let Bieber go through with drag racing intoxicated. I just think his father and Bieber's family have the chance to help him get out of this hole he is in, but encouraging this behavior is not a good idea.
When is it going to stop? Beliebers, start stalking his home in Calabasas now because I have a feeling the pop star won't be in the United States for too much longer. There is a petition with over 100,000 signatures on it that was sent to the White House asking the government to deport Bieber. I don't actually think he is going to get deported back to Canada but I do want to know what he is still doing in the United States if he has been getting in this much trouble in the past year. I wrote last year in June that he needed to take responsibility for his actions, and it seems as though he hasn't quite done that yet.
I think many of us, including me, forget that he is only 19 years old, but people need to stop making up excuses for him. His arrest in Miami should have been his last straw. If he can't get his life together and stay out of trouble for a while, then he needs to go back to Canada and figure things out for himself. He is 19 years old and already getting arrested for driving under the influence when he shouldn't even be drinking to begin with. He is in Canada right now when he turned himself in to Toronto police last week for being charged with assault of a limousine driver back in December. His lawyer believes he is innocent though. I really do hope this trip back to Canada helped him scoop the pieces of his life back together and get it back on track. Many of his fans count on him to produce good music and because of that, he needs to be a good role model for them. Whether these antics have affected his career or not is too hard to tell right now. But his movie, "Believe," was released in December 2013 and only made a little over $6 million compared to his first movie, "Never Say Never," which was released in 2011 and brought in over $70 million.
Bieber has had a lot of success in his career so far and he's very young, which is a job well done for him. It seems that it has gone to his head a little too much though and if he doesn't start being careful in his social decisions, it could ruin his career. The singer should have never gone to Panama after his arrest in Miami. If he needed to clear his head or think about his actions, he could have in his Calabasas home or a friend's home. Taking a trip to Panama with new friend Chantel Jeffries after being arrested wasn't the smartest plan he could have come up with.
If he doesn't want people talking about him and instead focusing on his music like he said at the Billboard Awards last May, then he needs to keep his social life private. It just seems that every time he goes out into the public to party or even when he is at his home partying, something goes wrong and the media ends up hearing about it. Maybe he just needs to stick to hanging out with some of his close friends he can trust until he gets his life back to normal.
This is not the end of the Biebs though. Both of his court dates for his DUI in Miami and assault charge in Toronto are set in March and who knows what will come of them. I just hope they look at him as a human being and not a celebrity because he is too young to get an easy punishment if found guilty. He will just fall right back into what he was doing before if the judges go easy on him. He needs a harsh punishment to realize what he has done and that this behavior is harmful to him. If he doesn't realize this soon, he could potentially end his career before he even turns the legal drinking age in the United States.
Reach Columnist Vanessa Gomez here. Follow her on Twitter here.