Food
January Marks 'National Soup Month'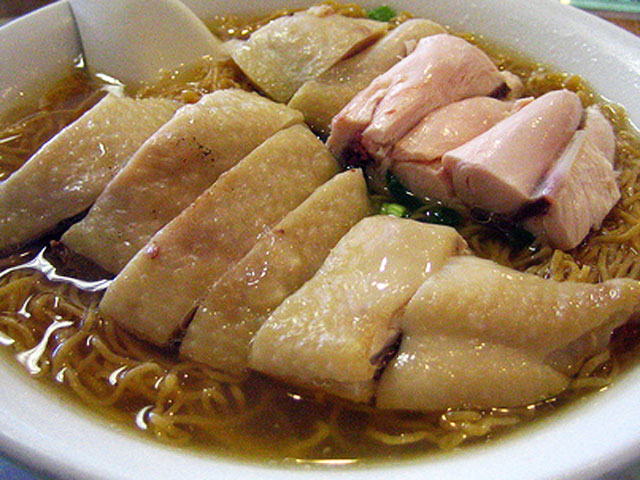 Though Christmas is officially over, the cooler temperatures and dark nights still remain. What better way than to cozy up indoors with a nice, steaming bowl of soup. After all, January does herald "National Soup Month."
Soups come in all different styles and types, ranging from your mom's homemade chicken noodle soup that serves as the typical illness remedy, to thick, hearty English clam chowder or savory chili. There are often two classifications of soup — clear or thick. The thick soups are classified depending on the type of thickening agent used in the broth: for example, bisques are made from pureed shellfish thickened with cream, while purees are vegetable soups with starch. The first soups made date back to around 6000 B.C., and the boiling technique used to cook soup was not invented until the creation of waterproof containers (which didn't happen until about 9,000 years ago). The first soup made was initially known as "sop," which was a type of liquid broth served with bread. People would pour sop over a piece of bread—allowing the bread to moisten and soak up the broth—before they ate it. As the years went on, the sop was placed in deeper bowls and the liquid became the focus of the meal instead of the bread. "Sop" changed to "soup" and the bread became the broth's dipping accompaniment.
Whether it's a basic broth or creamy chowder, everyone has a favorite type of soup. Here are some popular recipes you may want to try out this next month.
Ingredients:
5 C water
2 packages (3 oz. each) chicken-flavor ramen noodle soup mix
2 C (6 oz.) snow peas
2 green onions
1 large carrot
1 lb chicken breasts, skinless and boneless
1 tsp Asian sesame oil
Directions:
In a 4-quart saucepan, heat water with seasoning packets from ramen soup mix to boiling over high heat. Remove strings from snow peas and cut each diagonally in half. Slice green onions and shred carrot. Cut chicken into ¾-inch pieces. Break ramen noodle block into two layers.
When water mixture boils, add snow peas, green onions, carrot, chicken and noodles. Cook 3-5 minutes over high heat or until chicken loses its pink color. Remove saucepan from heat. Stir in sesame oil.
Serves 4
Ingredients:
1 T olive oil
1 lb ground turkey
1 medium onion, chopped
4 tsp chili powder
1 T ground cumin
1 can whole tomatoes in juice, chopped
1 can white kidney beans, rinsed and drained
½ C plain non-fat yogurt
Directions:
In a 12-inch skillet, heat oil on medium-high until hot. Add turkey and ½ tsp salt and cook 6-8 minutes or until turkey loses its pink color throughout, stirring to break it up with side of spoon. Add onion and cook 4 minutes. Stir in chili powder and cumin; cook 1 minute.
Add tomatoes with their juice, beans and ½ C water; heat to boiling on high. Reduce heat to medium and cook uncovered for 10 minutes, stirring occasionally. Ladle chili into serving bowls and top with a dollop of yogurt.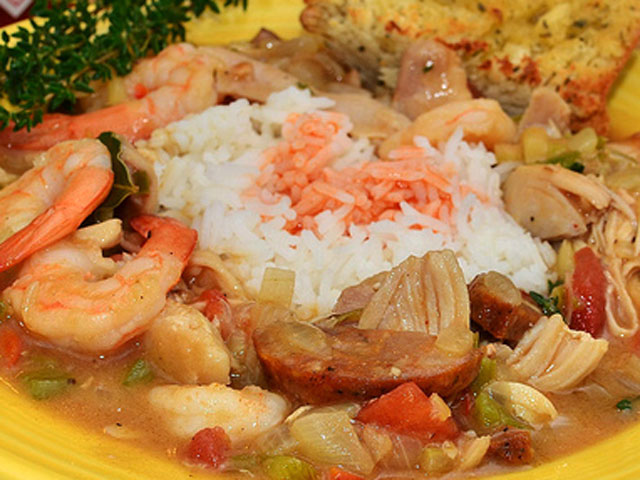 SHRIMP AND SAUSAGE GUMBO
Serves 10
Ingredients:
1 lb hot Italian sausage links, pricked several times with fork
3 T vegetable oil
¼ C all-purpose flour
1 medium green pepper, chopped
1 medium onion, chopped
2 cloves garlic, finely chopped
2 medium stalks celery, chopped
1 can (about 14 oz.) chicken broth
1 can (about 14 oz.) stewed tomatoes
1 C water
1 package frozen sliced okra, thawed
1 bay leaf
¼ tsp dried oregano
¼ tsp dried thyme
Salt
1 ½ C regular long-grain white rice
1 ½ lb. shelled and deveined shrimp
Directions:
Heat 6-quart Dutch oven on medium-high until hot. Add sausage links and cook 8 minutes or until well browned, turning frequently. Transfer sausages to plate to cool slightly, about 10 minutes. When cool, cut sausages into ½-inch thick diagonal slices.
While sausages cool, discard all but 1 T drippings from Dutch oven. Add oil to Dutch oven and heat on medium. Gradually stir flour into drippings until blended and cook 4-5 minutes or until flour mixture is dark brown, stirring constantly. Add green pepper, onion, celery and garlic; cook 5-6 minutes or until all vegetables are tender, stirring occasionally.
Return sausages to Dutch oven; stir in broth, tomatoes, water, okra, bay leaf, oregano, thyme and ¼ tsp salt; heat to boiling on high. Reduce heat to low; cover and simmer 30 minutes to blend flavors.
Meanwhile, prepare rice as label directs. In medium bowl, toss shrimp with ¼ tsp salt.
Add shrimp to Dutch oven; cook 2-3 minutes or until opaque throughout.
To serve, discard bay leaf. Serve gumbo in large bowls. Top each serving with a scoop of rice. Makes about 10 cups.
Ingredients:
Olive oil
½ onion, minced
1 T paprika
1 C lentils
1 can diced tomatoes
6 C chicken or vegetable broth
1/8 T cayenne pepper or hot pepper flakes
1 T dried mint leaves, crumbled and divided
Splash of fresh lemon juice
Directions:
Heat the oil in a large saucepan over medium heat and sauté onion until softened, about 5-10 minutes.
Stir in the paprika; stir in lentils.
Add the tomatoes, broth and cayenne; bring to a boil and cook until lentils are very soft, about 1 hour.
Stir in lemon juice and ¾ of mint.
Serve soup with remaining mint.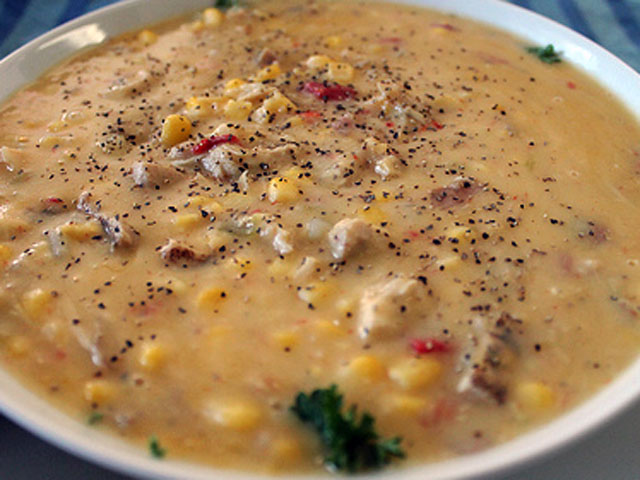 CHICKEN CORN CHOWDER
Serves 4
Ingredients:
1 T butter
6 green onions
2 T all-purpose flour
2 C chopped cooked chicken breast
¼ tsp salt
¼ tsp freshly ground black pepper
2 (10 oz.) packages frozen corn kernels, thawed and divided
1 can fat-free, less-sodium chicken broth
2 C fat-free milk
½ C preshredded cheddar cheese
Directions:
Melt butter in a Dutch oven over medium-high heat. Remove green tops from green onions. Chop green onion tops; set aside. Thinly slice white portion of each onion. Add sliced onions to pan; sauté 2 minutes. Add flour; cook 1 minute, stirring constantly with a whisk. Stir in chicken, pepper, salt, 1 package of corn and broth; bring to a boil. Reduce heat and simmer 5 minutes.
While mixture simmers, combine the remaining corn and milk in a blender; process until smooth. Add milk mixture to pan; simmer 2 minutes or until thoroughly heated. Ladle 2 C chowder into each of 4 soup bowls; sprinkle evenly with green onion tops. Top each serving with 2 T cheese.
Serves 4
Ingredients:
1 T extra virgin olive oil
3 garlic cloves, thinly sliced
2 thinly sliced green onions
4 C fat-free, lower-sodium chicken broth
2 C water
¾ C uncooked orzo
1 T grated lemon rind
1 can chickpeas (garbanzo beans), drained
1 T chopped fresh oregano
1 T lemon juice
½ tsp freshly ground black pepper
1/8 tsp salt
1 package fresh baby spinach
1/3 C grated Parmesan cheese
Directions:
Heat a large saucepan over high heat. Add olive oil to pan; swirl to coat. Add garlic and onions; sauté 30 seconds, stirring constantly. Add chicken broth and 2 C water; bring to a boil. Add orzo, lemon rind and chickpeas. Cover and cook 10 minutes or until orzo is done. Stir in oregano and next 4 ingredients (through spinach). Ladle 1 ¾ C soup into four bowls; top each serving with about 4 T cheese.