NFL
5 Things We'd Like To See In Super Bowl XLVIII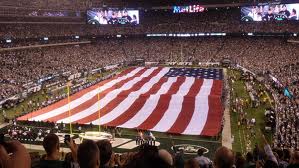 With Super Bowl XLVIII only days away, there are a number of performances fans want to see Sunday, on and off the field. Here are the top five as we head into the Super Bowl home stretch:
1.) Percy Harvin on the field for as many minutes as possible. This guy is electric. He's been dealing with injuries, but when he's in, he causes a lot of commotion for the defense. Teams have to switch their entire defensive scheme to adjust to his presence. All fans (maybe sans Broncos fans) should be on the edge of their seats when Harvin enters the game; he can just be that much of a game changer. He's a marvel to watch and could make the end to a close game very interesting.
2.) The lights stay on. A couple years ago people would be saying this is the most preposterous non-story to focus on in the Super Bowl, but after last years' blackout, it's a matter being looked at with genuine concern.
Luckily for the Broncos, Seahawks and all football fans who will be in attendance, Gov. Chris Christie has made it clear that heads will roll if any such nonsense happens in his state. Harsh? Well according to the governor, "That's the way we handle matters in New Jersey."
3.) A vintage Marshawn Lynch "beast-mode" run. In all my years watching the NFL, I have yet to see a running back who can break tackles like Lynch. We all remember when he cemented his nickname against the Saints in 2011, and "Beast-mode" hasn't looked back since. However, it's worth noting that the Denver defense tied for seventh in the league in rush yards allowed in 2013, surrendering only 1626 yards during the regular season. The team they tied with: the Seattle Seahawks.
4.) A top-three commercial of all time. How many times will Anheuser-Busch InBev play the clip from Manning's AFC Divisional matchup post-game press conference where he made it clear that "getting a Bud Light" was "priority number one?" The international brewing company already tweeted a Vine of his statement under their Bud Light handle, but we all know how capable this company is of producing standout Super Bowl commercials. (Damn you, Magic Fridge…)
Regardless, Bud Light marketing officials can celebrate their creativity on their new "Bud Light Hotel," a four-thousand-passenger Norwegian Cruise Line ship.
5.) A last-second, Peyton Manning hail mary attempt to Demaryius Thomas in single coverage with Richard Sherman. No matter the outcome, just think about the post-game press conference. Would it be another "That's the result you're gonna get" episode or would we get a "Well I said he was a top-five receiver for a reason" answer?
Also, us writers would have a field day with the headline Hail De-MARY-ius.