California
Education Leads Brown's Proposed Budget Spending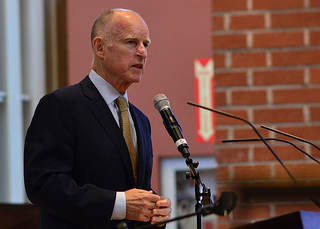 Education is at the forefronts of California Gov. Jerry Brown's budget proposal for the upcoming fiscal year, with billions suggested to go back into K-12 education.
"We're putting $10 billion [more] into the schools of California after years of drought and cutbacks and pink slips for teachers,'' Brown told the Los Angeles Times.
According to the proposed budget, Brown would devote $61.6 billion to elementary and secondary schools—an increase of $6.3 billion. The total per pupil spending would rise to $12,833, adding an extra $848 per student.
The budget would also eliminates all remaining debt owed to public schools from the general fund given that deferrals for K-12 funding to fill previous budget gap, reached a high of $9.5 billion in the 2011-12 fiscal year, according to the Associated Press. By doing so the budget calls for an additional $3.4 billion to go to the schools to make up for unpaid obligations in previous years.
Having worked through the education cutbacks in California, Laura MacKenzie, an English teacher at Brawley Union High School located in Southern California, shared her feelings about Brown's budget.
"[T]he funding proposal sounds good at face value. I question what restrictions will be placed on it," Mackenzie said. "Will schools be able to use it in whatever capacity they need?"
"The truth is I'm skeptical," she continued. "I wonder, are we going to be taxed even more than we already are just to throw money at education which, in all honesty, will probably be spent unwisely."
MacKenzie's skepticism was also felt by some college students who were concerned about how Brown would stop rising tuition fees.
Currently the governor's budget intends to add a just over a billion dollars to higher education, for a total of $26.3 billion. That includes an additional $142.2 million each from the general fund for the University of California and Cal State systems, the Times reported.
His budget would help college students "by holding tuition flat and by encouraging the universities and colleges to enable students to get through in four years instead of the much longer period that seems to increasingly be the order of the day," Brown told the Times.
Stacy Cabanillas, a student at Cal Poly Pomona, expressed similar doubts about how efficiently the funding will be used.
"He needs to be really specific about how the [universities] will be able to use that money because that could stop tuition, but the schools could hike up health fees and other small things that add up to a lot," Cabanillas said. "So it's nice that he's keeping the tuition down, but he has to address the other problems— like how the schools actually use the funding."
Taking a different outlook on Brown's plans, UC Berkeley student, Jordy Lizaola, shared a more hopeful outlook for the coming fiscal year.
"[F]rom what I've read about this budget, if everything is true and it all works out, I see it as something positive. What this means for me as a UC student is that Jerry Brown, and whoever else is involved with this proposal, is aware of how tuition has been rising and how it's taking students longer than four years to get their bachelor [degrees]," Lizaola said.
"I can see how it will encourage students to get through in four years, but I know that not everything is perfect so this proposal could possibly have flaws that I'm not aware of just yet," Lizaola also added.
The majority of the funds geared toward the schools will come from the state's general fund, which is made up of personal income tax, sales and use tax, corporation tax and insurance tax, according to the Associated Press.
As for the concerns with an increase in taxes, Brown told the Times, "I don't think this is the year for new taxes. I just think we want to do everything we can to live within our means."
Other programs that will see an increase in funds includes health and human services, which will see a 1.6 percent increase of $28.8 billion, corrections and rehabilitation, which will see a 2.1 percent increase of $2.1 billion, and natural resources which will see a 2.3 percent increase of $2.1 billion dollars.
In total, Brown intends to fund his budget by spending $106.8 billion from the state's general fund and a total of $154.9 billion from bond funds and special funds that are dedicated to a specific program, according to the Associated Press.
Brown is also continuing to push for funding the high-speed rail project. He is proposing to direct $250 million in proceeds from the cap-and-trade, greenhouse gas emission fees to the project, according to the Associated Press.
Brown noted within his budget that funding is "critical to addressing the overall funding needs" for the first leg of the project in the Central Valley, for "leveraging additional funding opportunities, and moving the project forward while legal issues surrounding Proposition 1A are being resolved."
To view the proposed budget in its entirety, click here.