Food
DeLuscious Cookies + Milk: Redefining 'Delicious'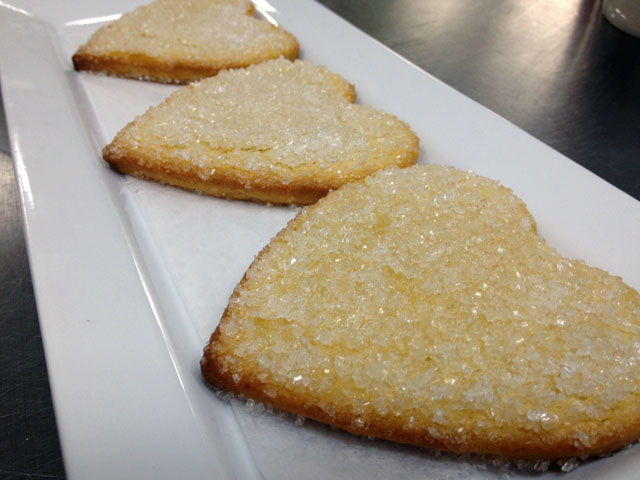 If
Lydia Shayne
could give one piece of advice to anyone, it would be simple, clear and applicable to those in numerous stages of life.
"Hone in on what you're passionate about and give it everything you have," she states. "It doesn't matter what the specific business is that you do; the important thing is that you feel passionate about it. If you spend that much time on it, it will turn into success."
"I don't measure success by dollars," Shayne adds. "I measure success by your level of happiness, enthusiasm and creativity."
With a background in TV news and politics, Shayne never thought she would one day own a cookie company. But her business, DeLuscious Cookies + Milk—located in Hollywood—was created in 2002 and is still going strong today.
When it comes to her company's "uniqueness" factor, Shayne is quick to cite three non-negotiables: flavors, textures and high-quality ingredients. All three play integral roles in the foundation of DeLusious Cookies + Milk.
"Is it crispy? Is it chewy? Is it thick? Is it thin? The mouth feel is very important," Shayne explains. "But it's [our product] not just about the texture and flavors; it's also about the quality of ingredients. [For example] for our 'Red Velvet White Chocolate Brownie,' I'll use imported Valrhona cocoa powder, which is a French cocoa powder that has a high cocoa butter fat content, which creates a denser, richer flavor."
"My philosophy on brownies is that they should be really fudgy, dense and not cakelike," she clarifies. "If you want cakelike [texture], you're going to eat cake, not a brownie."
Besides this integral trifecta—flavor, texture and premium ingredients—good customer service is also extremely important to Shayne.
"The quality of service has to be, at a minimum, equal to the quality of the cookies, but it actually should be better than the quality of the cookies," she says. "People are not only buying our products; they're also buying the experience that they have. If someone sends cookies to an apartment, we'll call the apartment to make sure that someone's actually going to be home [to receive the cookies]. We'll check weather forecasts with FedEx if we're sending the cookies to the East Coast to make sure they'll get there if they're having a snowstorm. Do we have to do that, no; are we required to do that, no. There's a lot of time, labor and expense that goes into something like that, but at the end of the day, it [the product] has my name on it … and if it's got my name on it, it has to be something that I can be proud of."
And it's Shayne's attention to details that ensures a delicious product that will last. For example, all of the cookies produced are individually wrapped, whether they are ordered by boxes or by singular amounts.
"We wrap our cookies individually for freshness," Shayne says. "I feel a little safer if they're shipped or when they're going someplace, knowing they're not floating around in a box."
DeLuscious has a variety of classic flavors—including "Chocolate Candied Pecan" and "Peanut Butter Chocolate"—but Shayne narrows down the most popular ones to five.
"There's 'Chocolate Chip,' which is made with three different kinds of chocolate, including imported Belgian chocolate," she says. "Our 'Cinnamon Brûlée, which isn't a traditional Snickerdoodle — it has a crème brûlée finish on top of it, yet, it's a chewy, buttery cookie. Our 'Oatmeal Raisin' is made with California Thompson raisins … the plumpest, moistest raisins you can get. 'Peanut Butter' has tons of peanut butter in it, so you know that you're eating a peanut butter cookie. And then there's 'Chocolate Decadence,' which is a dark, rich cookie that's rolled in powdered sugar, baked and has a brownie-like texture."
These "Classic" flavors can be likened to more traditional, everyday flavors, while the company's "Couture" flavors are a little more upscale and, as the website describes, "are made specifically for those who desire a cut above."
"The Couture flavors are where I can go crazy," Shayne laughs. "The sky's the limit. Sometimes, it's a joint effort [with my staff]. I don't think it's just one person that creates; having other opinions is equally as important."
One such Couture flavor is one of Shayne's favorite brownies, which is featured in November: the decadent "S'Mores Brownie."
"It has a thick graham cracker crust and, sandwiched between two layers of our triple fudge brownie, is a layer of handmade marshmallow," she explains. "It's topped with marshmallow and drizzled with chocolate."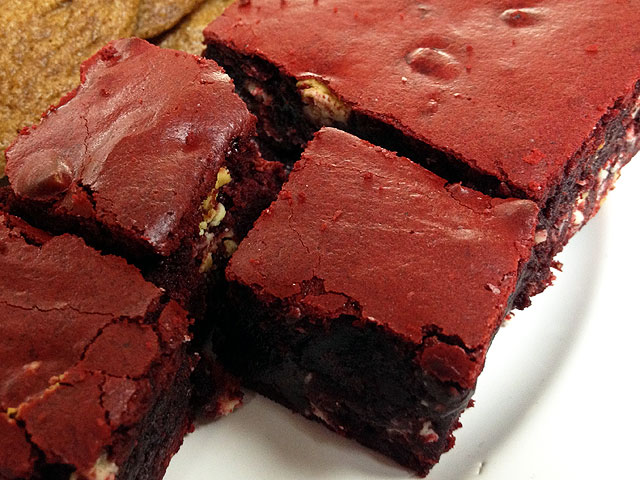 Some of other the Couture products include a "Triple Chocolate Caramel Brownie"—"I didn't like any of the caramels that I tasted, so I just decided to make my own … so it's hand made and topped with
Fleur de Sel
," Shayne explains—and "Raspberry Cream," a gooey butter cookie that's filled with white chocolate and raspberry jam and dusted generously with powdered sugar. The popular, moist, rich "
Red Velvet White Chocolate Brownie
"—red velvet brownies consisting of creamy Valrhona cocoa powder and a decadent white chocolate filling—is also part of the Couture menu.
Every month, the company features a different "Couture Dozen," Shayne explains, because she "gets bored if things don't change." For example, the "January Couture Dozen" comprised "Chocolate White Chocolate M&Ms"—a dense, truffle-like cookie with a white chocolate filling and M&M topping—"Red Velvet White Chocolate Brownies" and the ever-popular, chewy "Chocolate Chip" cookies.
In addition to its various assortments of dozens, DeLuscious is also currently offering unique treats for Valentine's Day. For instance, the festive, heart-shaped "Lemon Shortbread Cookie" features a tantalizing treat made with the zest and juice of fresh lemons and is completed with sparkling sugar. Meanwhile, the dainty "Red Velvet Cakette" features a heart-shaped, cake-like cookie filled with a unique cream cheese buttercream, a Belgian dark chocolate topping and a hand-carved white chocolate heart decoration.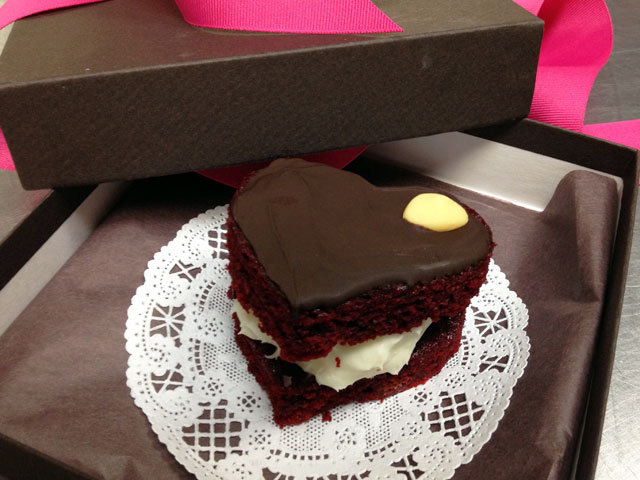 For those looking to order cookies for Valentine's Day, Shayne recommends ordering in advance, but reassures customers that Valentine's Day products will be available throughout the entire Feb. 14 weekend.
"Valentine's Day is insane … it's not Valentine's Day, it's Valentine's week!" she laughs. "Since Valentine's Day is on a Friday, I recommend that customers let us know what time people are going to be leaving the office [if they're ordering for delivery] — that's critical to make sure that we don't send it there when someone's already left. Customers can call us, order online, email us or fax us."
In addition to making sure there are numerous cookie options for special occasions and holidays, Shayne is currently working on expanding her line of vegan and gluten-free cookies. The vegan line—appropriately called VeLuscious—currently features the company's top five cookie flavors, according to Shayne.
"The vegan cookies came about because a girlfriend of mine became vegan, so I wanted to create a vegan cookie for her so she could still eat the cookies," Shayne says. "The goal was to create the same texture and flavor that we have in our regular cookies, and that's what we really achieved."
The company's first gluten-free cookie was created in 2005; Shayne says that, now, her company even features what they call a VGF—"vegan/gluten-free"—cookie as well. And her goal is to continue to keep expanding these lines and coming up with new creations, all the while sticking to her philosophy.
"The irony is that none of these [vegan, gluten-free and VGF] were created because of a business plan," Shayne says. "It was really out of a passion. Again, I have to go back and emphasize: creativity comes out of your passion … it doesn't matter what the industry is."
Get a preview of some of the deliciousness that DeLuscious Cookies + Milk offers below: