Los Angeles and Region
Community Vigil Following Resignation Of L.A. County Sheriff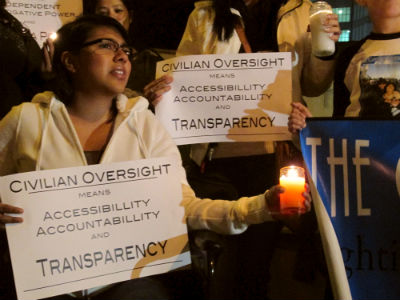 East Los Angeles native, Yvette Madrid never imagined she would have the courage to talk publicly about her family's encounter with the Los Angeles Sheriff's Department, but surrounded by supporters, she and several other community members spoke out about their experiences, Wednesday evening.
Gathered in front of the Los Angeles County Jail, close to 50 community members gathered together for a candle light vigil in memory of those who were allegedly abused and killed at the hands of L.A. County Sheriff's Department.
The Coalition to End Sheriff Violence in LA Jails organized the vigil with just a day's notice, following L.A. County Sheriff Lee Baca's resignation on Tuesday.
"Today was important for us because we know people want to know what the community is thinking about the Sheriff's Department and the resignation," said Patrisse Cullors, founder and executive director of the coalition. "Many of us including myself have had loved ones brutalized by the Sheriff's Department and some have even been killed… so it's a must that our voices be heard."
For Madrid, talking about her son, Gabriel Gonzales, who endured three shots by deputies, was important to her because she wanted to help raise awareness of how common abuse on behalf of the sheriff's department is.
"My son had accidentally cut himself and when we called 9-1-1 the Sheriff's Department arrived and told him to put his hands in the air and that's when they shot him three times. He survived, but he has very bad post-traumatic stress disorder," Madrid said. "I realize now it's important to spread the word because this has happened to so many other people."
Similar sentiments were expressed by East Los Angeles mother Sandra Neal, whose son was beaten by deputies so badly that he suffered from a fractured skull, a collapsed lung, and internal bleeding.
"As a mom it angered me," Neal said. "I had to keep reminding myself I was lucky I had my son because I've met mothers who have had their sons killed by deputies."
Having personally experienced abuse at the hand of the Sheriff's Department, Los Angeles native Aloni Bonillas spoke out about how she was beaten by deputies within a hospital.
"I don't blame the people who don't report the deputies who beat them because they have to report to the same abusive organization," Bonillas said. "It doesn't feel good knowing these people are just going to laugh in your face. I stand by the families who have lost loved one because I know what their loved ones went through before they died."
As the candlelight vigil came to a close, Cullors reasserted the need for a civilian oversight to be put in place to hold the Sheriff's Department accountable.
"We're hoping and praying that there will be a new era in the Sheriff's Department and the people's voice will be heard," Cullors said. "Our primary demand is civilian oversight of the department, permanent civilian oversight."
Staff Reporter Celeste Alvarez can be reached here or follow her on Twitter here.