California
Gov. Brown's Budget Neglects Early Childhood Education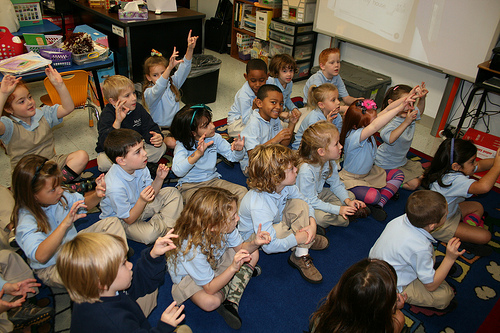 With a budget surplus for the first time in years and Brown's verbal support of making education a top priority, many expected big things when Governor Jerry Brown released his 2014-15 proposed budget.
Though it does add $10 billion to the California overall education budget, what surprised politicians and educators was that the proposed budget did not include funding for early childhood education, namely pre-kindergarten programs.
Brown is more concerned with years of deferrals and debts owed than funding programs, and with this proposed budget, he's successful when looking at the budget through this lens. He's constantly talked of practicing frugality with the budget surplus, while balancing out past years' debts, like taking the additional funding from the Prop. 98 General Fund and eliminating all remaining outstanding debt on the education front, according to the budget summary.
Politicians have recognized that Brown needs to be "wise" about spending the budget surplus and many, in particular Senate President pro tempore Darrell Steinberg, have acknowledged the merit in his austerity, but most still believe that early childhood education is a wise investment.
"There are few better uses of taxpayer dollars than investing in evidence-based change providing young people, 4-year-olds, the head start that they need," he said, in a news conference in south Sacramento earlier this month.
Why is Darrell Steinberg important? To combat Brown's neglect of early childhood education funding, Steinberg and other Senate Democratic leaders have proposed a bill to put early education back on high priority, acccording to edsource.org.
The Kindergarten Readiness Act of 2014 will essentially provide universal pre-kindergarten to all California schools. This new grade, called transitional kindergarten (TK) is designed for kids who were affected by the Kindergarten Readiness Act of 2010, which pushed the cutoff date for when kids could enter kindergarten. Transitional Kindergarten would provide the kids who are "too young" for kindergarten a buffer year to mature into actual kindergarten, according to Steinberg in a statement.
Also in support of the proposed bill is State Superintendent of Public Instruction Tom Torlakson, who co-authored the bill.
How much would it be for an extra grade for pre-school kids? The additional funding would be $198 million each year, for a total of $990 million by 2019-20 when the program would be fully implemented, according to Steinberg.
In context, Governor Brown's proposed budget adds $10 billion to K-12 education. The Kindergarten Readiness Act would require only 2 percent of this increase (not even of the entire allotted budget to education).
Are California politicians too eager to spend the surplus?
While supporters of transitional kindergarten say that it is a vital program that is "wise spending" of the surplus, history's shown that there have been generations of kids who have gone without an extra year of kindergarten and turned out fine.
Governor Brown's proposed budget will be revised and released in mid-May, and approved in the summer of this year.
Reach Staff Reporter Katie Chen here. Follow her on Twitter here.