Opinion
Is Beyoncé The Next Betty Friedan?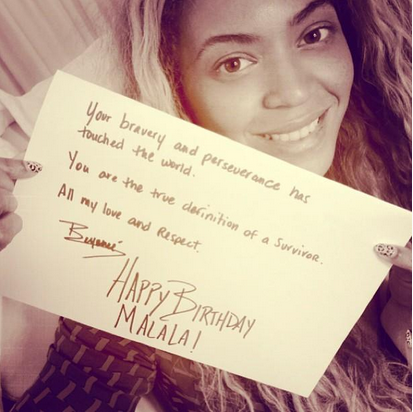 Beyoncé/Sasha Fierce/Queen B/Feminist B.
Beyoncé's feminist credentials are without question strong, with her latest self-titled album eliciting response from what seemed like every cultural expert's evaluation on the interwebs (which of course meant everybody).
But in her latest work, an essay she penned for journalist Maria Shriver's "The Shriver Report: A Woman's Nation Pushes Back from the Brink" that was published in conjunction with The Center For American Progress, Beyoncé moves beyond "bow down b*****s" and instead speaks to the masses with a clear feminist message: gender equity has not yet been achieved in the United States and that must change.
The social consciousness in the essay could not be clearer: "Women are more than 50 percent of the population and more than 50 percent of voters. We must demand that we all receive 100 percent of the opportunities," writes Beyoncé. But here I am stricken by something different. Something beyond the miracle post-baby body, the voice, the hair, the fashion, Blue Ivy's musical debut or Jay Z's stacks on stacks. Beyoncé here is surreptitiously but surely enough securing herself the designation as one of the 21st century's leading feminist leaders.
I do not make this claim lightly, and I am not vying for your attention by mentioning Beyoncé. Anybody can do that. Beyoncé's essay marks an effort to transmit a clear feminist message in a medium outside of her musical and performance talents. Similar to how Jane Fonda, Ellen Page, Lena Dunham and Toni Collette have leant their celebrity to the feminist cause, Beyonce has utilized her social and cultural authority as a launch point for advancing the feminist cause.
This, of course, is nothing new to Beyoncé. "Bootylicious" and "Single Ladies" have been around for quiet sometime now. What makes this essay distinct is that Beyoncé has advanced her feminist message to a point where she is becoming almost comparable to past feminist icons and leaders. Consider this lyric from Beyoncé's song "Flawless":
"I took some time to live my life / 
But don't think I'm just his little wife
 / Don't get it twisted, get it twisted 
/ This my shit, bow down bitches."
Now compare this to memorable quotes from other infamous feminists: Betty Friedan saying "No woman gets an orgasm from shining the kitchen floor," or Gloria Steinem saying "Some of us are becoming the men we want to marry." Like these women, Beyoncé asserts an indomitably feminist stance in her work in a way that gains the adoration and respect of society. Her lyrics are so memorable and so saturated with personal liberty that she, like many great feminist leaders did, provokes the human consciousness in such a powerful way.
Within a historical context, Beyoncé's work, specifically her self-titled album, embodies the type of social-conscious jolt that ignited second-wave feminism in the 1960's. Betty Friedan's "The Feminine Mystique" remained on the New York Time's Best Seller List for six weeks and sold 1.4 million copies in its first paperback edition alone. "Beyoncé" sold 430,000 copies in one day alone, and captured the top of the charts for a number of weeks. Both works advocate a distinct feminist perspective, and both received the adoration of the public.
Mrs. Knowles-Carter's mastery of all channels of communication serves only to strengthen her capacity to lead the feminist movement. Each hip gyration or provocative outfit showcased in the "Beyoncé" visual album, coupled with her millions of social media followers and beloved singing voice, demonstrates a proficiency of communication that every record label dreams of. As with the great feminist leaders of the past, Beyonce has a vast allegiance dedicated to her every word. Thus it stands to reason that Beyoncé in a position as a feminist leader could blossom into something quite significant and historically memorable.
If not all of society, Beyoncé surely has a cap on the attention of what seems like every millennial around. As was shown in a Compete PRO Data analysis, Beyoncé's website experienced a 1071.51 percent day over day increase in daily reach and a 4074.24 percent increase in daily attention following the announcement of her new album through Instagram. Now, more than a month later, all social media users are still abuzz with Beyoncé. This particular point is important, suggesting Beyoncé is uniquely qualified to lead a type of 21st century wave of feminism. Her cross-platform media penetration and marketing innovation could easily be utilized as instruments of social change, and to no surprise, Beyonce has already utilized this channel to impressive success.
It should come as no surprise than Beyoncé has fostered the closest of friendships with First Lady Michelle Obama, and elicited both the adoration and awe of feminists all around. Her voice is powerful, her message clear, her spirit strong. With her essay, Beyoncé has demonstrated maturity in asserting equality and social and economic parity of the sexes. Indirectly through her album, she flexed the authority she has in gaining the attention of a generation who struggles to devote their attention to any one thing.
Her power is unquestionable and her potential to lead 21st century feminism is clear.
Maybe "Beyoncé" will be this generation's "The Feminine Mystique"? With its popularity among youth and clarity of feminist message, it would be quiet surprising if it were not recognized as such. And maybe her essay will inspire a sequence of Beyoncé-esque feminism actions.
We have a new feminist leader in the making. Her name is Beyoncé Knowles-Carter and guess what? She's already got us all captivated by what she has to say.