National
Aspen Airplane Crashes Leaving One Dead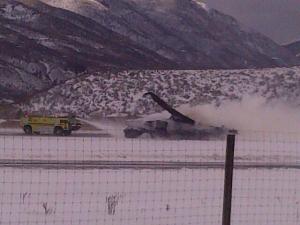 At least one person died when a plane crashed at the Aspen airport in Colorado on Sunday afternoon. Officials reported that two more were reported injured.
Three people were aboard the plane, according to Thomas Wright, a dispatcher with the Pitkin County Sheriff's Office, one person was injured severely and another suffered non-serious injuries. The flight originally took off in Toluca, Mexico with a stop in Tucson before arriving in Colorado.
From USA TODAY:
"The plane was trying to land when it ran off the right side of the runway, flipped and burst into flames.
Alex Burchetta, director of operations for the Pitkin County Sheriff's Office, identified the man who died as Sergio Carranza Brabata of Mexico. He did not release the names of the two injured, and he did not know where in Mexico Brabata lived.
'The injuries were traumatic in nature, but they were not thermal," Burchetta said. "So the fire never reached inside the cabin as far as we can tell.'"
The plane was a Canadian-built twin-engine Bombardier Challenger 600 set to seat 19 passengers and up to two crew members.
Read the full story here.
Reach Executive Producer Eric Parra here.