Arts+Culture
7 Unforgettable Super Bowl Halftime Shows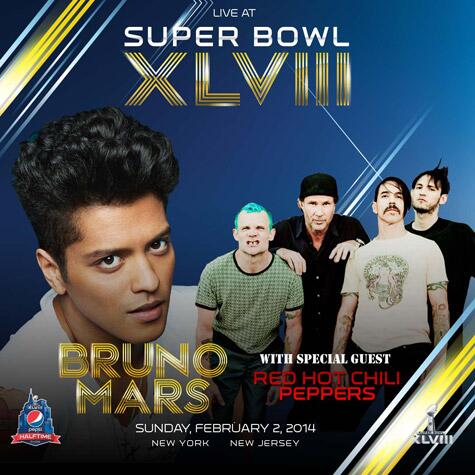 From its constant coverage, popular predictions, and overall hype, to the highly anticipated and outrageous commercials, the Super Bowl has wriggled itself into a national phenomenon so wide it drew 111.3 million viewers to NBC in 2012, making it the
most watched
Super Bowl of all time. One program, however, attracted more viewers than the Super Bowl itself that year: the Super Bowl halftime show.
Madonna's 2012 halftime performance with LMFAO, Cee Lo Green, Nicki Minaj and M.I.A. hit 112.5 million viewers, up more than 1 million from the Super Bowl itself. In some ways, the halftime performance is arguably more anticipated than the game itself, a result of some of the incredible or controversial performances in the past.
However, the Super Bowl halftime show was not always such a draw for American viewers. The first halftime show that made an effort to appeal to more than just football viewers took place in 1989, complete with a crew of 2,000 dancers, an Elvis impersonator and a few 3-D effects to be viewed using the classic red and blue glasses. It wasn't even until 1991, when New Kids on the Block made an appearance that the halftime show began its tradition of star-studded performances. Even so, that performance was actually ignored in favor of a news update on the Gulf War; it didn't even air on television until after the Super Bowl had already finished. Since then, legends like The Rolling Stones and Paul McCartney have graced the halftime show stage and earned their rightful airtime. A Super Bowl halftime show needs more than just legends, it seems—it needs buzz.
Here are seven halftime shows that got America talking:
Super Bowl XXVIII (1993) – Michael Jackson
It has been claimed that Michael Jackson's halftime show in 1993 actually saved the Super Bowl. Following a largely ignored halftime show starring Gloria Estefan in 1992, Jackson kept the audience engaged not only through halftime, but also through the second half. In fact, for the first time ever, the number of Super Bowl viewers actually increased during the halftime show, leading his performance to boost the 1992 Super Bowl's ratings 8.6 percent over the previous year. Jackson not only helped the Super Bowl, but he also he helped himself: his set list included three songs from his 1991 album "Dangerous," in addition to his 1982 single "Billie Jean." In the week following the Super Bowl, "Dangerous" rose to No. 26 on the Billboard 200 chart from its original spot at No. 88. His show hasn't been forgotten yet either; Buzzfeed went as far as to say that it is the best Super Bowl halftime show.
Super Bowl XXXV (2001) – Aerosmith, 'N Sync, Britney Spears, Mary J. Blige and Nelly
Though possibly the strangest combination of acts the Super Bowl has seen (until maybe this year…but more on that later), the 2001 halftime show has generally been seen as the first halftime show that truly embraced current pop stars. As if the star-studded line up isn't enough, the act features an intro clip including Ben Stiller, Adam Sandler and Chris Rock giving advice to 'N Sync and Aerosmith, in which Stiller refers to them as "'N Sync-osmith" and "Aerosync." 'N Sync performed "Bye, Bye, Bye" and "It's Gonna Be Me," while Aerosmith performed "I Don't Want to Miss a Thing" from the 1998 movie Armageddon and promoted its upcoming album "Just Push Play" with their single "Jaded." The show closed with probably the most fun-filled performance of "Walk This Way," complete with a group running man from 'N Sync, and surprise appearances from the one and only Britney, Mary J. Blige and Nelly, who rapped a verse.
Super Bowl XXXVI (2002) – U2
Just a few months after 9/11, U2 took the Super Bowl stage respectfully and poignantly. Though they played their uplifting hit single "Beautiful Day," they acknowledged the tragedy through their famous performances of "MLK" and "Where the Streets Have No Name," during which the names of 9/11 victims were projected on a giant screen behind the band. After their performance came to a close, Bono lifted his arm to reveal an American flag sewed into the lining of his jacket, touching the hearts of mourning Americans across the nation.
Super Bowl XXXVIII (2004) – Janet Jackson and Justin Timberlake (and Diddy, Nelly, and Kid Rock)
Janet Jackson's infamous turn on the Super Bowl stage is still being debated and analyzed as it closes in on its ten-year anniversary. Though "Nipplegate," as the nip-slip incident has been coined in allusion to the Watergate scandal that rocked the 1970s, only lasted a total of 9/16 of a second, it was widely criticized for its exposure on a program viewed by all ages. Whether it was a mistake or not remains to be decided, as three of Jackson's albums more than doubled in sales in the week following the performance. Timberlake's album "Justified" also received a cut of the controversy, increasing 160 percent in sales. The only performers with regrets may be Diddy, Nelly and Kid Rock, who fell into Nipplegate's shadow and remain largely unremembered.
Super Bowl XLVI (2012) – Madonna, LMFAO, Cee Lo Green, Nicki Minaj, and M.I.A.
Madonna's performance is noted to be the first and only Super Bowl halftime show that actually received more viewers than the Super Bowl itself. However, that is not the only aspect of the show that created buzz: during the performance of Madonna's new single, "Give Me All Your Luvin'," guest performer M.I.A. flashed the camera a nonchalant middle finger at the end of her lines. It seems the NFL was not in on the plan, as the screen blurred about a second after in a late attempt to censor the colorful gesture. The NFL reportedly fined M.I.A. $1.5 million for violating her contract, "ensur[ing] that all elements of [her] Performance, including without limitation [her] wardrobe, shall be consistent with such goodwill and reputation." M.I.A later claimed the gesture was honoring Matangi, a Hindu goddess whom M.I.A. named her most recent album after and whose symbol is the middle finger. Even so, not everyone was so convinced.
Super Bowl XLVII (2013) – Beyoncé, Kelly Rowland, and Michelle Williams
Beyoncé's performance is frequently criticized for its failure to top Madonna's record high audience, pulling in only 104 million viewers to Madonna's 112.5 million the year before. It's also the source of a few unattractive pictures circulating the Internet in memes, proving that even Queen Bey can fail to be photogenic sometimes. Even so, the phenomenal live singing and surprise reunion of her past girl group, Destiny's Child, leaves the performance an ultimate success for Beyoncé. The combined album sales for both Beyoncé and Destiny's Child increased 40 percent in the week following the performance, and Beyoncé's past hit "Crazy in Love" was resurrected with a 203 percent boost in sales after her rendition during the halftime show.
Super Bowl XLVIII (2014) – Bruno Mars and the Red Hot Chili Peppers
After such an all-around adored performer like Beyoncé, the strange pairing of Bruno Mars and the Red Hot Chili Peppers is drawing a fair amount of negative attention since its announcement a few weeks ago. Fans of the Red Hot Chili Peppers are especially confused, and have been voicing their opinions on Twitter. A few of these statements can be seen below:



Whether two acts will be able to pull off a successfully received collaboration remains to be seen. Alan Light, the former editor-in-chief of Vibe and Spin, told USA Today he thinks they might: "There's enough overlap between (the Chili Peppers') funk thing and (Mars') soul thing that they can find something that's going to meet."
Of course, only Sunday will tell.
Reach Staff Reporter Caitlin Plummer here. Follow her on Twitter here.