Opinion
Utah And The Future Of Same-Sex Marriage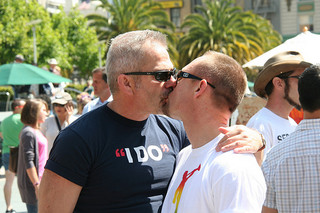 This was undeniably a cornerstone year for gay rights with the
repeal
of parts of the Defense of Marriage Act (DOMA), and same-sex marriage newly allowed in the states of Maryland, Rhode Island, Delaware, Minnesota, New Jersey, Hawaii, New Mexico, Utah and Illinois (effective 2014). Thirty six percent of states
now allow
same-sex marriage. The year brought the total of the U.S. population living in a state that allows same-sex marriage to 38.9 percent.
However, U.S. District Judge Robert J. Shelby forcing of same-sex marriage into Utah has a larger impact than New Jersey, Illinois, Hawaii, New Mexico or some other states allowing same-sex marriage.
Utah is the first red state to allow same-sex marriage. It was absolutely an unexpected win for gay rights, according to most people. No ranking had them as the next state to legalize gay marriage. Utah had one of the smallest same-sex couple populations, with 4.5 same-sex couples per 1,000 households, and only 36 percent of the state's residents support of same-sex marriage.
The home of the Church of Jesus Christ of Latter-day Saints, Utah has a history of staunch opposition to gay marriage. Even after the verdict was pronounced, the church reaffirmed its support for "traditional marriage."
Moreover, Utah is a Republican and conservative state. Republicans make up the legislative upper and lower House majorities and dominate state demographics. The governor, both U.S. senators and the entire U.S. House delegation are all Republican. In the last election, 72.8 percent of the population voted for Romney, a presidential candidate against same-sex marriage.
Furthermore, Judge Shelby's verdict overturned a same-sex marriage ban passed by Utah voters themselves just 10 years ago, in 2004. The justice declared that the ban violates gay and lesbian couples' rights to due process and equal protection under the 14th amendment. He said that the state had failed to show that allowing same-sex marriages would affect opposite-sex marriages in any way.
Therefore, unlike court case decisions in other states, Utah's overturns a state constitutional ban. Declaring a state constitutional ban unlawful will potentially affect similar legislation in Arkansas, Idaho, Kentucky, Louisiana, Mississippi, North Carolina, Oklahoma, South Carolina, Tennessee, Texas and West Virginia.
In a June 16, 2013 article, PolicyMic's T. Chase Meacham listed Utah as one of the seven states that may never legalize gay marriage. Utah bans joint adoption by same-sex partners and offers LGBT individuals no extended rights for hospital visitations, no protection against employment and housing discrimination, no inclusion in hate crimes, and no protection in schools. Only a few months after this article was published, Utah jumping from no protection to allowing same-sex marriage deals a massive blow to anti-gay activists due to its glaring demographic irony and direct answer to many court questions about the legality of bans against same-sex marriage.
Utah and the events of 2013 have provided the groundwork for what will probably be 50 percent of citizens living in a state that allows same-sex marriage by the end of 2014. Next year, we may see states such as Oregon, Colorado, Ohio, Pennsylvania, Michigan, Arizona, Nevada and Virginia allowing same-sex marriage.
Reach Contributor Kevin Cheberenchick here.