USC Sports
USC Sets Bar High For Next Season After Big Win Over Fresno State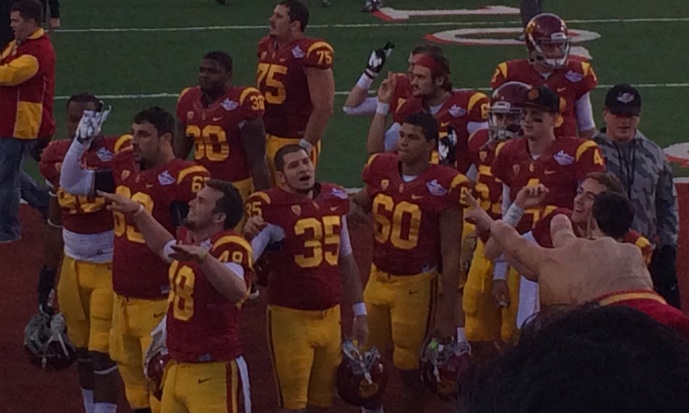 There were whispers that USC wouldn't show up after Ed Orgeron's resignation and another lackluster bowl game. Those whispers were silenced rather quickly however, as the Trojans get off to a fast start and didn't look back in their 45-20 win over Fresno State in the Royal Purple Las Vegas Bowl.
In a roller-coaster season for USC, they ended on a high-note after winning their first bowl game since 2009 under interim coach Clay Helton. The Trojans scored 35 first-half points, and held on in the second half to win their 10th game of the season. As the clock was winding down to end the game, the USC fan base chanted, "We are SC!" Even though this team lost four games this season, it was clear that after Lane Kiffin was fired, this team made several positive strides.
It was announced during the game that USC would retain Helton as their offensive coordinator.
This game was the fourth time this season that USC reached the 40-point plateau, and three of them came when Helton took over playcalling duties from Kiffin. The offense exploded today, led by quarterback Cody Kessler and wide receiver Marqise Lee. Kessler had a career-high in both passing yards and touchdowns, as he accumulated 344 yards to go along with four scores. He won the Rossi T. Ralenkotter Game MVP after his great performance. Lee put together his best game of the season, catching seven balls for 118 yards and two touchdowns.
"When you talk about Cody Kessler, you are talking about an absolute general," said Helton after the game. "Could not think of a better performance from this team today."
Nelson Agholor added another two receiving touchdowns and 94 yards. USC's run game gained 155 yards, led by an 87-yard performance by Buck Allen, who also scored two touchdowns. The offense, outside of the third quarter, was in-sync and had arguably its most-balanced and best effort this season.
Yet, while the Trojans celebrate in Vegas after their big win, it's clear that after this game, that very high expectations will be set for incoming coach Steve Sarkisian. Sarkisian watched from USC athletic director Pat Haden's box throughout the game as the Trojans took care of business at Sam Boyd Stadium.
"We still lost four games this year," said Kessler. "Next year we don't want that to happen."
There will be a few players that are gone after this season, but this is a team that still has a lot of talent on both sides of the football. Sarkisian will be inheriting a team that had a double-digit victory season, even though he has never accomplished the feat himself. USC showed a lot of energy and passion this game, and a side of the team that was rarely displayed the past two seasons.
USC's defense also stepped up today against highly touted quarterback Derek Carr. Carr was the nation's leading passer heading into this game, but struggled throughout and passed for only 217 yards. Carr was inconsistent throughout the game, missing several throws that he made over the course of the regular season. Carr was also picked in the end zone by Josh Shaw, and seemed uncomfortable from the pressure that the Trojans were generating.
USC and Fresno State will play each other at the beginning of the next season as well at Los Angeles Coliseum. Sarkisian will be USC's fourth head coach over the past two seasons in that game. Yet, it felt like today was the beginning of a new era at USC rather than waiting until the following year.
"We did it Trojan style," exclaimed Helton.

Reach Senior Sports Editor Max Meyer by email.