Sports
USC Football Roundtable: The Sarkisian Hire, A Week Later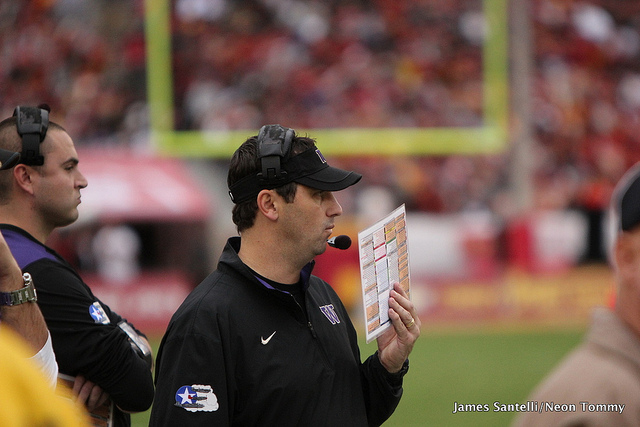 It's been a long week in Troy. Last Monday, USC AD Pat Haden hired Steve Sarkisian as the Trojans' new head coach and lost interim coach, and fan favorite, Ed Orgeron in the process. Sentiments surrounding the hire have been
split in the locker room
and the Los Angeles area. In an effort to develop some definitive clarity, we brought together our four USC football writers to judge the hire and the future of USC football, all with the benefit of some 20/20 hindsight!
In one word, what was your reaction to the news that USC had hired Steve Sarkisian?
Jeremy Bergman: Long-term. Is that one word or two words? Does a hyphen count? Whatever. Sarkisian's pedigree is impressive, inheriting an 0-12 Washington program and restoring it at the very least back to bowl eligibility. His five-year reign in Seattle suggests that he cannot only coach a team with brute leadership as Orgeron had done, but develop and sustain a consistent identity within the program for the long run. Though Coach O does not benefit from a large sample size of games, or at least one full season as the Trojans' head ball coach, some may deem it unfair to judge him in this manner. Still, Haden clearly felt Orgeron was more of a spark plug than a generator.
Max Meyer: Disappointed. I'm not that surprised that Pat Haden decided to hire one of Pete Carroll's former assistants as USC's new head coach, but I thought he would do better. The big reason why I liked his Andy Enfield hire a lot was because that hire was thinking outside the box. Steve Sarkisian will be a good coach, but since Haden's legacy as athletic director is riding on this decision, he could have made a better hire.
Mike Piellucci: Baffled. When you have that much time and resources to make this hire, with USC trending in the right direction as a program now that sanctions are almost in the rearview mirror, I'm sort of stunned that this is what Haden has to show for it. That certainly doesn't mean it won't work; a flawed hiring process and successful result are not mutually exclusive. But to be so infatuated with Sarkisian as to not even interview James Franklin – who had done more with considerably less – is a head-scratcher for me, and that's just to cherry pick one name in consideration. Factor in this news breaking extremely quickly after Sarkisian's name was starting to heat up, and there's a lot to be made sense of.
SEE MORE: Sarkisian Introduced At USC, Talks Titles And Change On Offense
What is a realistic expectation for Sarkisian's first season in 2014?
Bergman: He said it in his press conference and its not too far-fetched: win championships. Though USC is at least a year away from a serious BCS run, Sark's first year has the potential for Roses. USC doesn't play Oregon and Washington - again - and gets Arizona State and Notre Dame at home. An improved and healthy running back corps coupled with an older, maturer Max Browne under a spread Sark regime is a recipe for mediated success in 2014.
Jacob Freedman: I think the timing will allow Sarkisian to reel in a top-10 recruiting class nationally. On the field, the schedule isn't a doozy outside of trips to Stanford and UCLA. There will be hiccups in the offense, but a 10-3 season isn't out of the question with the talent on USC's roster.
Piellucci: A lot still has to play out with regards to NFL defections (I think most of the juniors wind up staying) and the recruiting class (which I have very good reason to believe will be stellar). Assuming those predictions are correct, I see no reason why USC can't push for a 10-win season next year, given how they performed this season and that they'll have more quality depth as well.
People panning this hire believe that Sark isn't good enough to lead USC to a national championship. But given that USC is still on NCAA probation, is that a realistic expectation to have in the next few years of the program?
Bergman: As I said before, Sark isn't expected to be an interim head coach, like Orgeron; he's here for the long haul, which extends past the sanctions. With Orgeron's resignation and the likely departure of many of Kiffin's old assistants, that previous regime will disappear, as will its failings under the sanctions. There is no reason not to believe that the University of Southern California Trojans can win a national championship within five years, based on tradition and the recruiting that benefits from it. Nick Saban didn't win at Alabama in his first two years (he lost a Sugar Bowl to Utah!) and five years later, he is immortalized in that state - well, not since last Saturday. So give Sark time to recruit and build his program, at least two full seasons, before you get all antsy about national championships.
Freedman: No doubt. Considering that USC went 10-2 in 2011 and won six Pac-12 games in a row this year, the potential and ability is there for a title run. The depth will remain an issue, but USC's struggles on offense should be cured after a season of adjusting to Sarkisian's faster-paced tempo. Maybe not next year, but if Sarkisian does his "quarterback wizard" thing with Max Browne, then making the NCAA Playoff could come into play sooner rather than later. It will take a small wave of fortune to get there, but when is that not the case in college football?
SEE MORE: USC's Failure To Escape Carroll Era Will Doom Football Team
Meyer: The realistic expectation for this program has to be making the Pac-12 championship game. USC is in the easier Pac-12 division, and they have the talent to compete with UCLA and Arizona State at the top. The Trojans cannot settle for the Sun Bowl or the Las Vegas Bowl, although a BCS bowl may be unrealistic, at least for next season. Sarkisian's Pac-12 record and his performance against ranked teams when he was at Washington aren't very encouraging, but maybe it's just because it was tough for him to do more with less talent than the upper echelon of the Pac-12.
Fill in the blank: The most important recruit - high school, current USC draft-eligible player, or assistant coach - that Sark must sign is _________
Freedman: Marcus Martin. I think the defensive players were going to leave if Orgeron did, but Martin emerged as the leader of the line this season, and his injury was an under-covered reason why the USC offense struggled against UCLA. He was an All-Pac-12 selection, and while his knee injury keeping him out 2-3 months will help his case to stay, Sarkisian needs to make sure his rookie season at USC won't be with a rookie snapping the ball at center.
Meyer: I'm skeptical that any juniors will return, considering how heartbroken they were about Coach Ed Orgeron's fallout following the Sarkisian hire. So I'll go with five-star cornerback Adoree' Jackson as USC's most important recruit. USC's cornerbacks were one of the biggest weaknesses on the team this seasn, and Jackson could very well be the top corner as a freshman. He's an electric playmaker and has the potential to be a lockdown guy. Additionally, I'd prefer to have at least three years of Jackson compared to one more year for any of the juniors, including Marqise Lee.
Piellucci: Adoree' Jackson. USC has produced more NFL talent than any school ever and is in the top-five for All-Americans, so it might surprise you that there's only been one All-American cornerback in the program's history (Nate Shaw in 1966, for those curious). It really isn't hyperbole, then, to say that Adoree' Jackson could be one of the most talented players ever to sign with the Trojans at that position if Sarkisian can reel him in. I thought Kevon Seymour turned in a solid sophomore season in his first-year as a starter and Chris Hawkins has all kinds of potential coming off a redshirt year. But nothing else is certain, given that Josh Shaw might be NFL-bound and is a better fit at safety even if he isn't. Jackson really could walk into a starting job should he enroll at USC.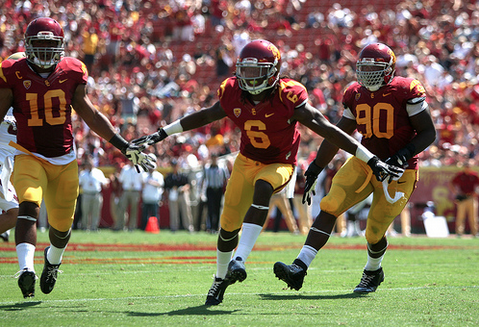 SEE MORE: USC Players, Alumni Split On Orgeron Dismissal, Sarkisian Hire
Finally, what is your confidence level in Pat Haden after this hire?
Bergman: I wasn't here for the Carroll years, but I imagine they were swell. So swell that powerful alumni will not settle for anything less than similar results immediately with Haden's first football coaching hire, which is unfair. While Haden sentiments in the OC may be volatile, I support the athletic director. This is his hire. He didn't hire Lane Kiffin; he inherited him. A Rhodes scholar and USC quarterback, Haden deserves trust from the trustees until his business decisions deem him unfit in this capacity. Being that its been less than 48 hours since his first move, I say it's a tad early to start calling for his head. Let's wait until Friday.
Freedman: Moderately high. Despite what we might think, it sounds like Haden did his due diligence in the search. He interviewed Chris Petersen and it wasn't a fit, Jack Del Rio was a safety hire, Orgeron needed to do more than beat UCLA and James Franklin scared USC away with his unfamiliarity with the West Coast and other issues. I do wish Haden was willing to wait until the end of the season to interview Texas A&M's Kevin Sumlin, but it sounds like Sarkisian was the one who blew USC's brass away. The Orgeron saga made Haden's decision a lot more painful, but he made the decision based on the next eight years rather than last eight games, and for that he earns a nod of approval.
Meyer: Before the hire, it was at 95 percent. Now, I'll say it's at 75 percent. Haden not firing Kiffin after how the team finished last season doomed this season for the most part, but USC still had a chance to have a fairy tale season. Yet, with Clay Helton now as the interim interim coach for the bowl game, I'd imagine the Trojans will come out flat for their bowl game. I wish Haden would have made his decision after the season was over instead of trying to win the coaching race versus potential heavyweights in Texas and Florida.
Piellucci: This may sound like a copout, but the answer for now is "neutral" because he's hired so many new coaches who all have turned in a very small sample size of work. I'm not thrilled about the Sarkisian hire but he could very well prove me wrong, whereas I really like the Enfield hire early on but who can truly judge the next five years of the basketball program in a couple of months? What I will say about Haden is that he's doing it all his way; however this plays out, no one can claim he wasn't decisive or, for that matter, that he won't take a very large share of credit or blame for the results.