Los Angeles and Region
Union Teachers Protest LAUSD 'Teacher Jails'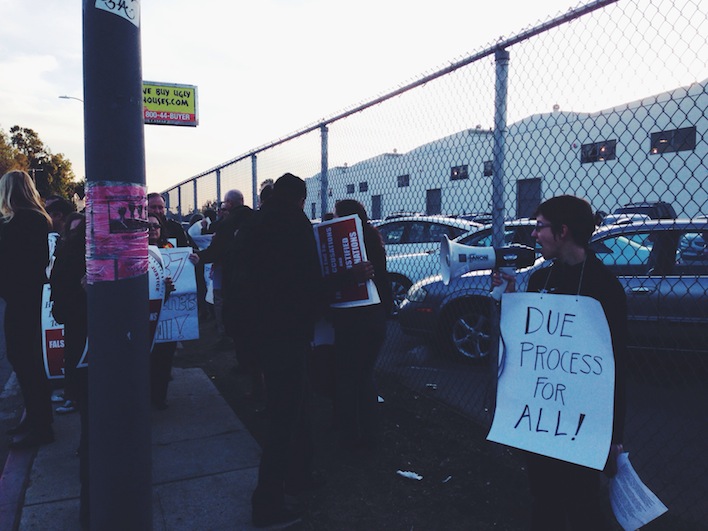 United Teachers Los Angeles is urging the L.A. Unified School District to end its methods of housing teachers who face allegations of misconduct in Educational Service Centers throughout the city.
These service centers — or "teacher jails," as many union members call them — are where teachers who have been taken out of their classrooms go to clock in, presumably get some work done and wait indefinitely as investigations take place. Though they still receive their paychecks, teachers are given little guidance as to how they should spend their time, and in at least one location, they don't have access to the Internet.
Investigations, meanwhile, can take months — in some cases, years — and all the while, many teachers often don't know of what they've been accused. UTLA is imploring the district to notify its teachers of their alleged offenses within 10 days of removal from the classroom.
"Under the current leadership of LAUSD over the past few years, we've seen this acceleration of teachers who are being housed at these service centers," UTLA Secretary David Lyell said. "And there's no uniformity in how they're treated."
Lyell said some teachers in the district are required to clock in for three-hour shifts. Others, six-hour shifts. When the union asks the district for answers about the lack of consistency, he said, it gets no response.
The "current leadership" Lyell is referring to is district schools chief John Deasy, whose contract was extended through 2016 back in October. That decision received praise from some, including Mayor Eric Garcetti, and criticism from others, namely union members. Since Deasy has been in charge, the number of teachers pressured to resign or fired outright has shot up dramatically.
"We have a moral obligation to students to have them in front of a highly competent teacher," Deasy told "LA Weekly" back in April.
The obvious intention behind the spike in terminations is to get bad teachers out of the classroom. But a growing number of teachers and union leaders insist motives go deeper than that.
"It's under the guise of protecting students, but it really feels like union busting," Lyell said. "We don't want any teacher in front of students who's abusing kids, but that's not what this is about. This is an attack on seniority. These are older teachers."
On Dec. 9, union members and supporters gathered in protest of "teacher jails" outside of each of the district's four ESCs. At the East location in Lincoln Heights, an estimated 200 people came to hold up signs and light candles for housed teachers. While many of those currently housed teachers were eager to share their stories, most agreed to speak only on the condition of anonymity. They each feared that speaking out publicly could further jeopardize their jobs, to which they don't know whether they'll get to return or not.
"It's still so raw," one woman said, teary-eyed.
Another woman, E., was in her 29th year of teaching when she was placed in one of the ESCs.
"You never think you're going to be there," she said. "But after 29 years of service, this is what you get."
E., who has been a community activist and once served on the board, is one of many who believes the district is targeting teachers with seniority. She said when she was one year shy of becoming eligible for retirement and receiving her pension, she was threatened by a student in class. E. said the student later complained about her and, without an opportunity to defend herself, E. was removed from the classroom. She's been at the ESC for two months and doesn't know whether to stick with her union representative or hire an attorney.
Arlene Schery, also a teacher of 29 years, is one of the outspoken few who isn't afraid to give her name on record. She and a fellow colleague took it upon themselves to survey the 260 currently housed teachers within the four ESCs to collect personal information —namely their age, sex and race — to determine whether there was a trend in housed teachers with decades of experience.
"We were able to determine of the 260 names we gathered, 240 were over 40 [years old], which is 92 percent," Schery said. "Our feeling is it should be the same composition as the regular population, and only 30 percent of us are over 40. So there's a big discrepancy."
Schery and others feel older teachers are being let go for innocuous incidents because their paychecks are higher and they're that much closer to receiving their pensions.
Media requests to the district on the issue are handed over to reps at the PR firm, Cerrell Associates. Sean Rossall, vice president of media relations and crisis communication, denies that seniority has anything to do with deciding who gets housed or fired.
"If we have allegations of misconduct, we're always going to err on the side of student safety," Rossall said. "And if that means housing a teacher, that's what we're going to do, but age doesn't factor into that discussion, nor does tenure with the school district."
Back in April, the district's school board voted unanimously to pass the resolution "Protect Children and Safeguard Due Process," a movement by board member and criminal prosecutor Tamar Galatzan, which promised cases would be conducted by impartial and independent investigators.
The resolution also indicated that teachers would be told generally what led to them being removed from the classroom and about how long they could expect to be out. But many teachers say that's not happening.
Tamar Galatzan couldn't be reached for comment, but Rossall says part of the reason for a lack of notification is that in some cases, informing teachers of the allegations might impact the impartiality of investigations.
"It might allow teachers to try and contact students or parents," Rossall said. "There are a whole variety of ways it could impact the investigation and prevent us from making an unbiased judgment about what's happening."
Aside from the new leadership at LAUSD, a big part of the reason the issue has exploded in the past couple of years were the cases of sexual abuse at Telfair Elementary School in Pacoima and Miramonte Elementary in South L.A. that were exposed in 2012. Now, a "zero-tolerance" policy that warns teachers against looking at students the wrong way is educators' new reality.
Arlene Schery said she wants to see the Equal Employment Opportunity Commission pursue an age discrimination case for allegations that would be considered "de minimus" so that an accusation doesn't automatically equal termination.
"They don't check on the credibility of the kid or the witness," she said. "And the built-in excuse is they're protecting the rights of children and the potential for future lawsuit because they didn't fire someone with a charge to begin with."
David Lyell echoed Schery's sentiment, saying the union is "at a crisis point" and sees a clear attack on both seniority and due process.
"It's really demoralizing," he said. "Somebody's been teaching 20 years, and all of a sudden an administrator shows up and says, 'Clean up your desk, you're gone.' They're not treated with respect as adults and professionals who have given their lives to public education."
Lyell said the union has filed a PERB charge against the district for failing to provide a list of all its housed employees and that the union is considering further legal action. He said real change will only happen if they "keep the pressure on."
Reach Staff Reporter Cassie Paton here. Follow her on Twitter here.