Los Angeles
A Tale Of Two Cities: "Smogtowns" Of Los Angeles And Beijing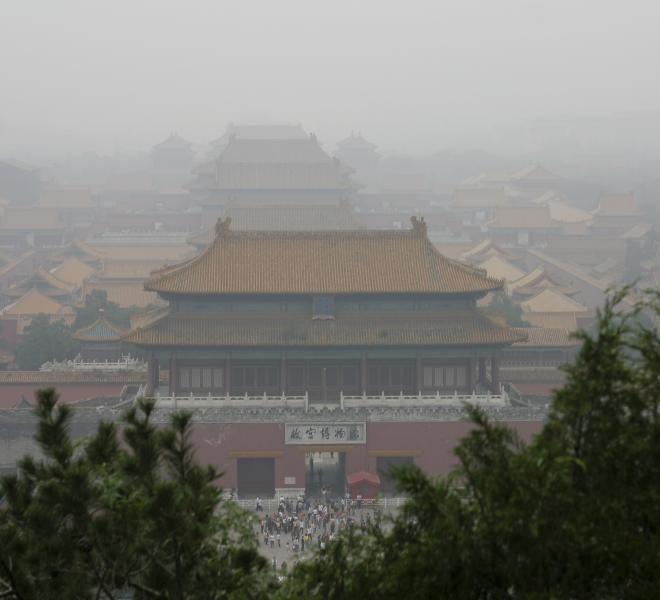 While suffocating smog fills the skies over Beijing, policy makers from both sides of the Pacific are making efforts to clean up the air in China. What China really needs is not advanced technology, but an effective air quality control system and a comprehensive environmental improvement strategy.
NASA's satellite photo snapped from space last week shows that about one sixth of mainland China's territory was covered by a shocking gray haze. The infamous choking smog severely hit major cities including Beijing, Shanghai and Harbin.
The air quality index has been over 300 for the past few weeks according to Chinese measurement standards. When the air quality index is more than 300, it means that the air a health hazard and the highest level of air pollution alert should be issued.
"Even regular people will have serious health threats [under 300]," explained Dr. Yifang Zhu, an associate professor in UCLA's Environmental Health Sciences Department.
As the public rage against Chinese environmental protection agencies reached a summit during the past few months, many Chinese residents are urging their government to resort to solutions from cities in developed countries. The first city that came to mind was none other than Los Angeles.
Beijing, the political and cultural center of China, and Los Angeles, the most densely populated city on the West Coast, were mentioned together not because of the economy or culture, but ironically, the smog.
"I came to college in Los Angeles to Occidental College, which is sort of near the foot of mountains, where all the smog gets trapped. On the very first day I played basketball with some people in my dorm. It was an air-conditioned gym, and halfway through the game I suddenly blacked out," said William Kelly, vividly describing his realization of how bad the air quality of Los Angeles was in 1960s. "It was a stage two smog alert, and I was playing basketball."
Kelly is a Los Angeles-based correspondent with California Current and co-author of the book "Smogtown: The Lung-Burning History of Pollution in Los Angeles." He was the spokesman at the South Coast Air Quality Management District in Los Angeles and where he has worked for 14 years.
The air is something that 25 million people in and around China's capital breathe every day. What Los Angeles could offer Beijing from its own struggle with pollution does not only affect the air quality in a faraway land, but can also help protect Los Angelenos from harmful air pollutants that travel thousands of miles across the Pacific.
Many researchers and academics in both countries suggest that the incompetence of regulatory agencies, rather than a lack of advanced technologies, is the major reason behind China's failure in clearing its toxic and severe smog.
"In California we have a very strong connection as researchers to talk to regulatory people, so they know what we are doing, they know what the most recent research findings are and they can turn those findings into policies," said Zhu.
For a long time, Beijing authorities have been passive and reluctant to set strict standards on air quality control because of attempts to balance the trade-off between the environment and the GDP.
According to CBS, Chinese aviation authorities are going to "require captains of domestic flights into Beijing to master low-visibility landings to combat chronic flight delays that have been worsened by heavy smog."
"In Beijing, the air quality management system is not there, so the gap isn't the science and technology but management, policies and regulations," added Zhu.
Besides playing a more active role and building up an effective management system, Beijing also needs a strategic scheme to fight a long-term battle against its stifling, hazardous smog.
In 1960s, there were a variety of pollution sources in Los Angeles area—including industry, mobile and residential sources. It means that the regulation on one single source wouldn't work. For example, only controlling the number of cars or only banning people from burning garbage in their backyards would fail to fix the situation.
"The biggest and the most successful measure was really to have a systematic plan, a comprehensive plan for addressing the problem. Without that, the efforts tend to be scattershot," explained Kelly. "It was not until that comprehensive approach was taken and atmosphere science brought debate on the problem that dramatic progress was achieved in Los Angeles."
Beijing doesn't only suffer from its own local pollution sources such as cars, constructions and population, it also subject to the regional impact; it gets a lot of pollution that is transported from the adjacent Hebei Province.
"Understanding where all the air pollution comes from and then devising regulations to control virtually every source of air pollution that is technically feasible to do so," said Kelly. "That's some sort of unified approach China has to take."
"What I saw in Beijing was a geology and weather pattern that looked like Los Angeles and the air pollution challenges they were facing in the 1950s to 1970s," said Gina McCarthy, administrator of the U.S. Environmental Protection Agency, to the South China Morning Post.
McCarthy traveled to China last week in an attempt to discuss with Chinese officials about creating a framework of bilateral environmental cooperation in the future. China and the U.S. are the two largest countries in terms of carbon dioxide emission.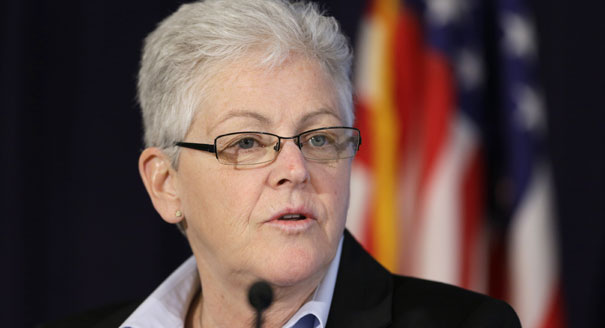 "I think California is probably the leader in environmental regulation and environmental cleanup. The reason is that the air pollution here was so terrible and area really became like a scientific laboratory," said Kelly.
But you might think: why should I even bother to care about China at all?
"We know that pollution is emanating from China and is reaching our West Coast," McCarthy said on a press conference on Dec.2.
What McCarthy said was not without scientific support, it is likely that air pollutants such as sulfur and mercury emitted from China would travel within the global atmosphere and ultimately affect people, agriculture and rivers in the U.S. in forms of rain and snow.
"They could follow the global wind and travel around the world, so it's possible, even if the impact would be rather small comparing to the immediate, local pollution," explained Zhu.
Los Angeles, much like Beijing, has a long history of fighting against the smog. It wasn't long ago that Angelenos woke up to find their city enveloped by thick blankets of mysterious colored gas, so they can speak from experience.
"I always thought Orange County was called Orange County because the air was orange there," said Kelly.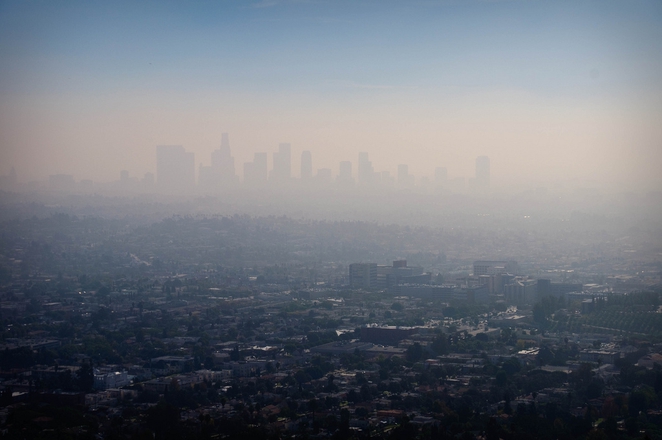 The latest research conducted by the Chinese Academy of Sciences suggests that air pollution can lead to potential infertility among human beings.
"The major piece of news that is coming out in our field is the air pollution including the fine particulate matter, PM2.5, has been classified as the number one carcinogen for human beings," said Zhu. "There also have been more findings linking PM2.5 exposure to various health effects including birth effect and neurotoxicology effect."
Los Angeles and Beijing have entirely different political infrastructures, population composition and environmental standards, but in terms of air, it may take international collaboration between the former "smogtown" and the current "smogtown" to deal with worsening air pollution.
Zhu's team is currently trying to promote the bilateral connection and discussion between policy makers in China and Southern California, such as the South Coast Air Quality Management District and the California Air Resources Board.
"Air doesn't stop flowing at the border line, it just flows wherever the wind blows," said Zhu.
Reach Staff Reporter Zihao Yang here.