USC Sports
Sarkisian Introduced At USC, Talks Titles And Change On Offense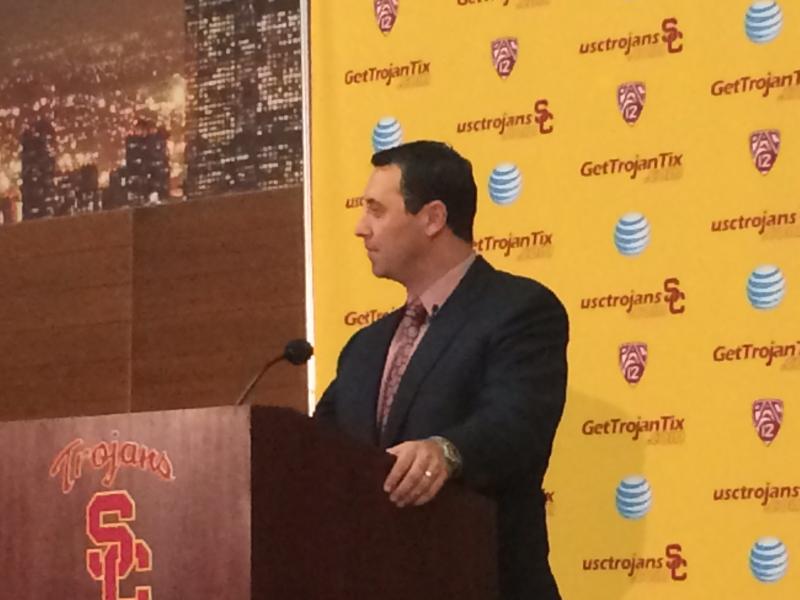 He may not have been the candidate the fan base expected, but on Tuesday, new USC head football coach Steve Sarkisian made his first impression as the next face of the Trojans program. Hired yesterday after five years at the University of Washington and multiple stints as a USC assistant, the 39-year-old Torrance, California native was energetic to the point of bubbliness during his introductory press conference at USC's John McKay Center.
"This is home," he said. "It's awesome to see so many familiar faces in the crowd. It's good to be home. I'm the luckiest guy in the world."
Sarkisian compiled a 34-29 record at Washington, winning eight games for the first time in his tenure by beating Washington State 27-17 last Friday. USC, however, has significantly higher expectations year in and year around, and Sarkisian was quick to acknowledge that. "I think we have a championship-caliber roster," he said. "We're here to win championships...I came here to win championships, and so did all of these players… Rebuilding is not a word around here. Coach O [Ed Orgeron] proved that us," he said, mentioning the interim's 6-2 record after taking over for the fired Lane Kiffin in late September.
USC athletic director Pat Haden was very detailed on why Sarkisian was the final choice. Haden said Sarkisian was the only candidate offered the job after interviewing five candidates, three of the others being Orgeron, Boise State head coach Chris Petersen and Denver Broncos defensive coordinator Jack Del Rio. According to a report, Sarkisian interviewed secretly in early November. Among Sarkisian's qualifications, according to Haden, was that he "connects with people in a positive way," and is a "person with energy and passion for this job, a strategist, and has a true understanding of USC, it's rich tradition and unparalleled heritage."
READ MORE: Life After Coach O: The Aftermath At USC
Sarkisian was to the point on the changes he plans to implement at USC. He mentioned the no-huddle offense he employed at Washington, as well as maintaining balance in the offense but ultimately focusing on a power run game. Washington's Bishop Sankey finished second nationally with 1,775 rushing yards this season. There's little doubt he will call the plays, especially considering his reputation for developing quarterbacks while at USC. "I was with him for 4 of my 5 years at USC. Great recruiter, motivator and teacher," former USC QB and Heisman Trophy winner
Matt Leinart tweeted
after the news broke yesterday.
Sarkisian also plans to change media availability to practices. Kiffin shut out media this year from practices, but Sarkisian plans on opening spring practice to the public in addition to the media, and plans on having open reporting policies in fall practices, although he mentions he will limit access during "game mode."
A lot of chips have yet to fall in determining how Sarkisian will start off at USC. USC's draft-eligible juniors, including wideout Marqise Lee and linebackers Hayes Pullard and Dion Bailey, have yet to decide whether they will enter the NFL draft or stay another year at USC. "The key thing for me is that I want them [the juniors] to make an educated decision...not an emotional decision," Sarkisian said.
READ MORE: USC Players, Alumni Split On Orgeron Dismissal, Orgeron Hire
Whether Washington defensive coordinator Justin Wilcox and defensive line/recruiting coordinator Tosh Lupoi will follow Sarkisian is still unknown, as is the status of USC's current assistants. Sarkisian also emphasized the importance of keeping USC's mid-year enrollees, especially considering the impact of last year's spring semester additions in starting safety and All-Pac-12 honorable mention Su'a Cravens, running back Justin Davis (6 TDs) and safety Leon McQuay III.
Sarkisian said his first practice with the team won't be until the spring, and that he'll be focusing more on recruiting and arranging his staff. "I will be around and active, but by no mean and I am going to try to step on their toes and what they've done this season," Sarkisian said, referring to current interim head coach Clay Helton and the current squad as they prepare for their yet-to-be-announced bowl game.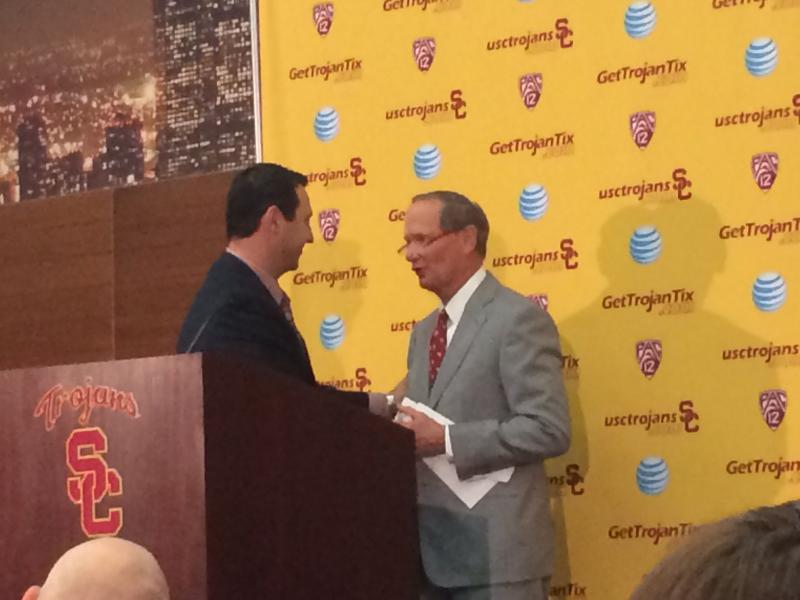 Orgeron's departure on Monday after not receiving the head coaching job left players stunned with many in tears. Haden said he interviewed Orgeron for over three hours for the position several weeks ago, but did not go into detail on why Orgeron did not receive the job, only mentioning that a win over UCLA last Saturday (USC lost 35-14) would not have guaranteed Orgeron the position. "A special thank you to Ed Orgeron. One of the greatest Trojans of them all," Haden said shortly after the start of the press conference.
A big plus for Sarkisian will be his familiarity with many of USC's players due to his time recruiting at Washington. He said that about half of USC's recruits he tried to bring to Seattle had their choice come down to USC and the Huskies, including current quarterback Cody Kessler. "Sark is a QB guy and he's coached some of greatest in SC history. I'm excited to play for him," Kessler said.
Still, there will be the awkward gap left by Orgeron's departure for USC's roster. "Yesterday it was a lot of disbelief, sadness and anger," junior safety Josh Shaw, one of the players still deciding on whether to enter the NFL draft, said on the emotional state of the team. "Now, guys are learning it's a business and that we have to move forward in life."
"I don't think it will happen in one or two days," he said on adjusting to life with Sarkisian and without Orgeron. "Sarkisian is new here. We have to learn how to gravitate towards him, and that's going to be a process".
For now, Sarkisian is thrust into a big job with even bigger expectations. "I told him: beat Notre Dame and UCLA," Haden jokingly said to the crowd when he walked past Sarkisian to allow the new head coach his first words. The remark earned a hearty laugh from the crowd, but there's little doubt that Haden meant what he said. Sarkisian, now in his fifth stint at USC, showed in his presser that he knows success at USC is no joke.
Reach Senior Sports Editor Jacob Freedman here or follow him here.