International
Phony Signer At Mandela Memorial Raises A Few Questions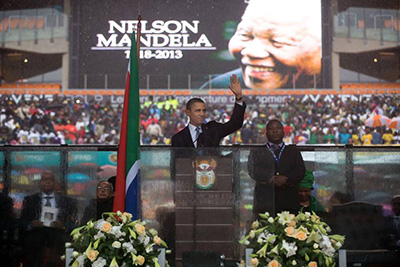 The sign language interpreter from Nelson Mandela's memorial service has been uncovered as a 'fake.' Just two days after the service sign language experts have come forward to call Thamsanqa Jantjie out, claiming that the gestures he was using contained no meaning whatsoever, with the exception of a few words such as 'rocking horses' and 'prawns.' It was simply gibberish.
Jantjie blamed the incident on a schizophrenic episode he was having during the service, explaining that he was hearing voices that made translating the service nearly impossible. "There was nothing I could," he said. "I was alone in a very dangerous situation."
Several aspects of this story, including some of the ways in which it has been reported on are unsettling. Here are some questions that the story of the fraudulent signer highlighted.
1. How could Jantjie have been hired to sign at the memorial service of one of the world's most influential people…especially when he had had similar problems before? According to USA Today an interpreter from the Deaf Federation of South Africa watched a previous video showing Jantjie signing. He described what he saw. "There was no sign language used. It was only slapping of hands and movement of arms."
One would think that when choosing the sign language interpreter for the memorial service of Nelson Mandela, that recommendations would have played a major role in the selection process. If this man had been known for these previous mishaps, how was granted such an honorable gig?
2. If his story is truthful and he had suffered from a schizophrenic hallucination while on stage, why was his signing coming across as gibberish to those who could understand?
READ ALSO: Thousands Gather For Nelson Mandela's Funeral
3. Was this man screened prior to being included in such a large, world-wide event, where major leaders gathered? This is nothing against his having schizophrenia, this is merely a question of security at these massive events. Clearly, if Jantjie's past came back to haunt him only two days after his performance by people who had seen his previous work, determining whether he was suitable or not to interpret the service could have, and SHOULD have easily been handled in a matter of hours.
USA Today reported that the government had hired Jantjie for the memorial and had not been aware of complaints regarding his quality of services, qualifications or reported illnesses. Those first two pieces of background information seems pretty vital when making this choice. If they neglected to check out his sign language qualifications, what else did they forget to check?
4. Is anyone else bothered slightly by the discrimination against the mentally ill throughout this coverage?
"[Jantjie] has been violent and was hospitalized in a mental health facility for more than a year…[He] stood approximately 3 feet from President Obama and other world leaders during Tuesday's ceremony to honor Mandela, and the state of Jantjie's mental health that day will raise serious security questions for South African authorities."
This statement is bothersome because it leaves vital questions unanswered and therefore leads the reader to only assume that this man is violent because he is mentally ill. When was he hospitalized for his mental illness? If it was when he was first diagnosed, perhaps years ago, it is unfair to leave this information out and portray him as a security threat for his medical history.
What was his 'violent' offense? And what does it matter if he was standing 3 feet or 30 yards away from Obama? The way this is written makes it sounds like our nation dodged a bullet when its leader stood next to a person with schizophrenia and managed to walk away unharmed.
This coverage not only paints him in a potentially unfair light, it also perpetuates the stereotype that people diagnosed as mentally ill are violent, which more often than not is not the case.
This situation was no one's fault but the person who chose Jantjie as the sign language interpreter--a man who should have never been selected, not because he has schizophrenia, but because he was not qualified. And in the end, the people who suffered the most were the hearing impaired viewers of the memorial service. That is unless Jantjie somehow told a compelling story of prawns and rocking horses in the midst of his gibberish.
Contact Executive Producer Kaysie Ellingson here.