California
An Overseas Chinese Student's New American Dream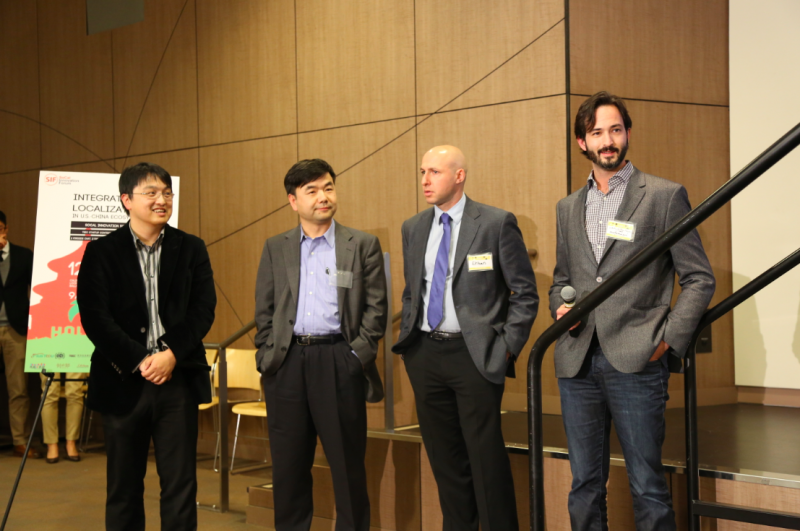 In a dark room with investors at the SoCal Innovation Forum, Leran Liu, a Chinese graduate student from University of Texas, Dallas gives a presentation on an application that helps companies to promote their brands with social network that he developed. As his business expands, Liu hustles between different events for investors.
Liu went to University of Texas, Arlington in 1999. His parents hoped he could get a high-paid stable job in the United States one day. He majored in computer science and spent eight years developing patient record system for hospitals before moving on to graduate school. In the past 15 years since he landed in American. Chinese students in American University have grown from 30,000 to 400,000, according to the Education Ministry of China. But the new generation has a different understanding about what the "American Dreams" is.
"When I first came to America, success had more to do with having a job and a green card. Now Chinese students are living another 'American Dream.' They want to start a company, being their own boss and bring their company back to China. The ultimate goal here is building a global business," said Liu.
David Wolf, Managing Director of Allison Partners' Global China Practice, said Chinese expats have huge advantage in breaking into the Chinese market.
"This is a whole new generation and a sunny generation of entrepreneurs. They understand their own culture better and they understand the American culture better than their peers in China. They think American as an important part of their business just as they think China as an important part of their business," said Wolf.
The new generation is also entering the market at a right time, according to Wolf. With the GDP taking a brake, state government is looking at ways to put the economic on a sustainable mode. For years, China has relied on low-cost manufacturing factories. But as labor cost increase, the central government sets up minimum Researcha and Development investment for industry, such as solar panel. And the pressure on local companies and officials is building on when President Xi Jingping seals domestic technology innovation on his next-five year agenda.
After Liu's presentation, Zheng Handong, an official from Zhengzhou, one of China's super cities with 11 million population, said he was impressed with creativity among overseas Chinese entrepreneurs. He flew directly from Zhengzhou to attend the SoCal Innovoation Forum hosted by Plusyoou, a USC graduate student started entrepreneur platform. High unemployment and low wages in the city created an outflow of young people seeking jobs at east coast factories. Southwest of the city, local government approved a cluster of office buildings that may attract high-tech startups to move in.
"The labor intensive industries have taken a toll on our economy. We have been the world's factories for years, but in the future, China wants to become a technology leader as the United States," said Zheng.
Zhang said the local government would provide better working environment and more policy incentives for oversea students. But Wolf points out that China fails to offer a supportive environment for new business.
"In America, you can start a business in garage, but it's more difficult to be a small company in China, because people lack an openness to new ideas and entrepreneurs."
Michael Jin, an angel investor from Beijing said Chinese investors are reluctant to finance startups in early stage.
"Chinese student in L.A. have great business ideas. The problem is they are just out of school with little experience running a company. Neither do they have a step-by-step plan to fund and grow the business. Mainland China investor are mostly interested in companies whose product has some degree of recognition in that market."
Reach Staff Reporter Meng Meng here.