NFL
NFL Week 14 Predictions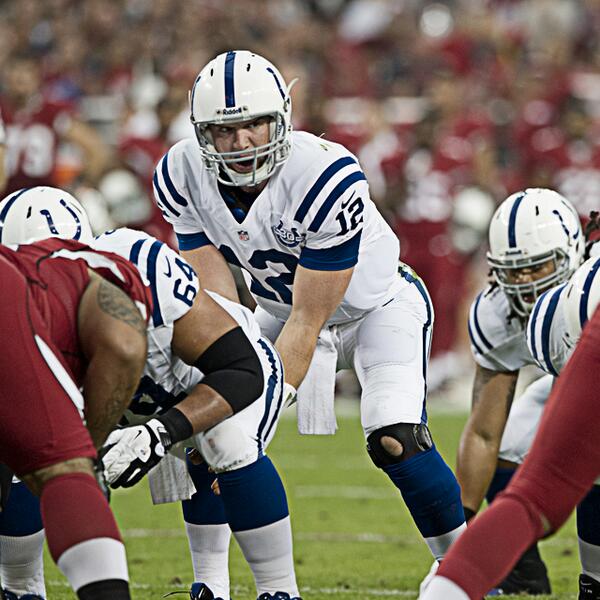 Indianapolis Colts (8-4) @ Cincinnati Bengals (8-4)
Christopher Coppock: Colts 28, Bengals 24
In a battle of two 8-4 teams, expect the Colts to come out on top, despite the fact that Trent Richardson single handedly destroyed my fantasy season. It got so bad a couple weeks ago I just dropped him for Danny Woodhead. At least he's averaged about 9 points per game. In other news, Andrew Luck will manage to outperform Andy Dalton, despite lacking Reggie Wayne, and as a result will be able to lead the Colts to a narrow victory, thereby cementing their playoff status.
Law Murray (@1maddskillz): Bengals 24, Colts 20
The Colts have pretty much wrapped up their sorry division by sweeping the Titans and winning more games than the Jaguars and Texans combined, so they can go back to being the mediocre team that they have been since their bye week. Quarterbacks have gone to die in Cincinnati this year as the Bengals have allowed only three TD passes against nine INTs during their 5-0 start at Paul Brown Stadium. Of course, trusting Andy Dalton is a risky exercise, so the Colts will stick around longer than they should. This game is huge for Cincinnati, as they haven't locked up the AFC North yet.
Russell Simon (@RSimonSays_USC): Bengals 24, Colts 13
The Colts are slated to win the AFC South division title with a win over the Bengals or a Titans loss. However, they may have to wait one more week if they want to clinch the division title on their own. The Colts have the 28th-best run defense in the league and the Bengals' rushing attack has thrived in recent weeks. The Bengals rushed for 164 yards in a win last week over the Chargers and BenJarvus Green-Ellis and rookie Giovani Bernard have shared the load on the ground. Expect them both to have big days in a win.
David Tobia (@DavidTobia): Bengals 27, Colts 20
Andy Dalton stinks
But the Bengals are at home
Root root root for them
Matthew Tufts (@MTuftsSports): Colts 23, Bengals 17
Both teams sit atop their respective divisions, but they struggle to be viewed as legitimate contenders for the conference. A statement win over another AFC division leader could be the deciding factor in who has to play the AFC Wild Card team out of the AFC West: the Chiefs or the Broncos. No one wants to be in that situation.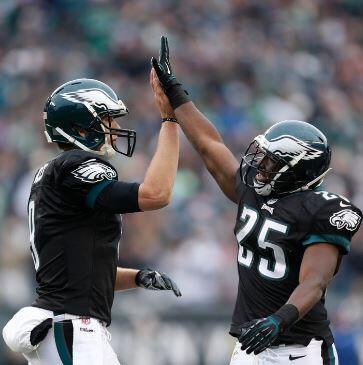 Detroit Lions (7-5) @ Philadelphia Eagles (7-5)
Coppock: Eagles 23, Lions 20
A federal court ruled recently that Detroit can, in fact, legally file for bankruptcy, thereby ridding itself of vast debts despite a clause in the Michigan constitution which should prevent it from doing so. Why am I telling you this? Maybe because I don't know what to say about this game, maybe because I can't believe the stat line that Nick Foles has thrown nearly 20 TD passes without an INT, or maybe because I just like ripping on Detroit. Anyways, as much as I don't want to live in Philly, I'd rather live there than the Motor City.
Murray: Lions 28, Eagles 21
Philadelphia QB Nick Foles is going for another one of Peyton Manning's records. He has 19 TD passes and no INTs to start the season - Peyton Manning started this season with 20 TD passes before throwing his first lollipop of the season in Dallas. I don't think Foles gets the record, as the Lions have proven to be disruptive, if not completely undisciplined. Foles better look out for OLB DeAndre Levy, who leads the league with six INTs. Foles should still be able to produce against Detroit, but the Lions will have their combo of RB Reggie Bush and WR Calvin Johnson, and if those players can consistently complement each other, then they should be able to escape with a road win.
Simon: Eagles 28, Lions 20
The legend of Nick Foles has grown considerably as the Eagles have flown into contention for the NFC East title. Foles is 124 for 196 on the year with 19 touchdowns. The legend will continue as the Eagles get a win over a Lions team with some question marks on defense.
Tobia: Lions 45, Eagles 22
Foles keeps winning games
But bankruptcy town wants wins
Root root root for them
Tufts: Lions 42, Eagles 24
Detroit proved why they should be atop the NFC North with a resounding Thanksgiving pummeling of the Packers. The Eagles also squeaked out a win over the Cardinals that shouldn't be ignored, but everyone has essentially given up on the NFC East. Expect that trend to continue as Detroit's high-flying offense ignores the Eagles lack of a defense and puts up another 40 points.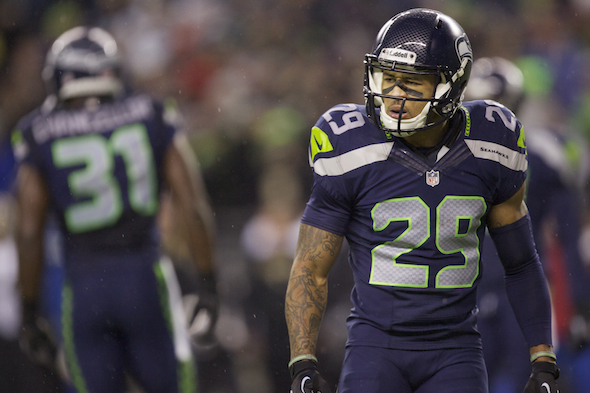 Seattle Seahawks (11-1) @ San Francisco 49ers (8-4)
Coppock: Seahawks 27, 49ers 14
After a dominating win over the Saints at home, many are calling the Seahawks the best team in football. I'm going to go ahead and do that too, mainly because I am a Seahawks fan. As a result, they will trounce the 49ers in this NFC West matchup that pits a very good team against the best team in the league.
Murray: Seahawks 17, 49ers 16
A win here clinches the NFC West for Seattle. Of course, don't take the blowout win earlier this year in Seattle as a measure of what will happen in this Week 14 matchup: Seattle hasn't won in San Francisco since 2008, the 49ers have a little bit more of a clue now than they did in September, WR Michael Crabtree looked acceptable last week, and the Seahawks are coming off of a relative emotional high and a short week. I feel like this game will be a slobberknocker, with the edge going to Seattle. I think they'll score more TDs, even if the 49ers hold them well under 300 yards.
Simon: 49ers 31, Seahawks 28
The Seahawks beat the 49ers badly when San Fran travelled up to face the 12th man in a game earlier this year. However, Russell Wilson and the Seahawks are in for a tough battle when they head to Candlestick. The Seahawks are bound to have a let-down game after such a great victory over the Saints on Monday night. The 49ers are a talented all-around team, and I think Seattle has a let down game on Sunday.
Tobia: Seahawks 31, 49ers 5
Yes, preposterous
San Francisco is favored
Makes no sense at all
Tufts: Seahawks 28, 49ers 17
The Seahawks look like the most dominant team in the league right now and could still lose this game and probably keep the top seed without much difficulty given their schedule. That being said, don't expect MVP candidate Russell Wilson to let off the gas against the rival 49ers. It could be close in San Francisco, but when it comes down to it, Seattle is just too well balanced.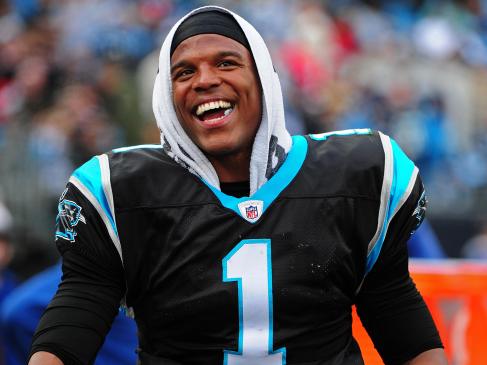 Carolina Panthers (9-3) @ New Orleans Saints (9-3)
Coppock: Saints 34, Panthers 21
Okay, so New Orleans got throttled in Seattle by the cold temperatures and smothering Seahawks defense. Not to worry, because this week they'll put a licking on a Panthers team that has been looking really strong of late. This, however, will be prove to be a reality check for a currently overachieving Carolina squad.
Murray: Panthers 31, Saints 28
I love this matchup for the Panthers. Even in the Conservative Ron Rivera Era, the Panthers swept New Orleans last season. New Orleans has head coach Sean Payton back, but the Carolina defense hasn't allowed more than 24 points all season. Saints QB Drew Brees should be able to improve upon his dreadful performance in Seattle, but the harassment won't go away. New Orleans had all kinds of issues with a run-heavy team with a dual-threat passer on MNF, and now they have to deal with Carolina QB Cam Newton and a similarly smashmouth running attack on a short week.
Simon: Saints 34, Panthers 21
Just as I expect Seattle to have a let down game after beating New Orleans on Monday, I expect the Saints to have a bounce back game against a tough NFC South foe. The Saints play much better at home than on the road; they are 6-0 in the Superdome. That streak will continue after a win on Sunday.
Tobia: Saints 32, Panthers 12
Saints don't lose at home
Mike Tolbert is really cool
He dances, I laugh
Tufts: Panthers 23, Saints 20
This is far and away the game of the week: The Saints, perennial contenders against the upstart Panthers on an 8-game win streak. I hate picking against Brees, and this will make the second week in a row, but the way Carolina is playing, you can see something special with this team.
Dallas Cowboys (7-5) @ Chicago Bears (7-5)
Coppock: Cowboys 17, Bears 14
I didn't pick Dallas because Tony Romo is their quarterback. In fact, if I had let the reality that Tony Romo is the Cowboys' quarterback enter my calculus at any point, I would have been forced to pick Chicago. Romo is so historically bad in December that they might as well start Tim Tebow. He looks like the guy who threw one touchdown pass in the Thanksgiving day pickup game and now tells everyone he's Joe Montana. Why then, did I pick Dallas? America's team baby. Roll Tide.
Murray: Bears 30, Cowboys 24
I feel like Jack in the Box when I say, "It's December. Do you know what that means?" This is the part of the season when the Cowboys go into the tank and lose games in mind-boggling fashion. Now, I can't fathom a team losing their playoff spot in Week 17 on NBC for the third season in the row (see: Eagles, failure to handle prosperity). But I'm with Dallas owner/GM Jerry Jones when he says it isn't QB Tony Romo's fault for December collapses as much as it is his defense's. Both defenses are trash, but Chicago's superior weaponry will come through at home.
Simon: Cowboys 21, Bears 17
It's December and the Dallas Cowboys are in playoff contention (cue dramatic music). While the Cowboys' December struggles are well documented, the 7-5 Cowboys may be a different team from the Cowboy squads we've watched fold in December in the past. The Cowboys are riding high after a 3-1 November and Tony Romo has been playing great. Romo completed 23 of 32 passes last week in a win, and he'll replicate that effort on Sunday in the Windy City.
Tobia: Bears 54, Cowboys 18
Cutler is playing?
I'm not picking the Cowboys
Da Bears da Bears da
Tufts: Cowboys 27, Bears 23
The Cowboys had a bit of a Thanksgiving scare last week, but should be able to essentially put away the rest of the NFC East with a win over the Bears. Though Romo will go downhill from here on out (after all, it's post-Thanksgiving), he's got enough in the tank for this one. As for Cowboys fans - at least Romo is better than Geno Smith who showed us last week that a 1.6 QBR and 8.3 Passer Rating are possible.
Standings after Week 13
David Tobia 37-23 (given 0-5 for last week's no-show)
Law Murray 34-26
Russell Simon 31-29
Matthew Tufts 27-32
Christoper Coppock 24-36 (given 0-5 for last week's no-show)