NBA
NBA Weekly Roundtable: East Is Least As Blazers Catch Fire
We're combining two weeks of roundtables into one article this week. That means four pundits, so the more the merrier. It'll all make sense in the end, so dig yourself into a hole of NBA analysis.
1) Only two teams in the Eastern Conference are above .500, while all but two out west are hovering near an even win-loss record. Should the NBA change the rule so sub-.500 teams can't sneak into the playoffs based on their conference, or is it a part of the competition that needs to stay for consistency's sake?
Danny Galvin: As a devout believer in the beauty of perfectly competitive marketplaces, I personally advocate the death of coastal conferences. It's not like they're building rivalries as they were intended to do. The NBA is an individual's league built on stars and then teams to a much lesser extent, so let's look to nature for how they handle individuals battling each other. Sixteen-team tournament, fight to the death… er, championship. Darwin would be happy, plus fans might feel even more connected to their teams in "us against the world" kind of way.
Sareen Tavidian: It looks like playoffs are going to be a piece of cake for the West… if the rules stay the same. If the NBA decided to change the rules this year, fans in the East would have little to look forward to. Although it would be more exciting in terms of the way the teams are playing so far, the rules shouldn't change because the equal amount of teams from each conference balances out the league itself and an imbalance in the playoffs would diminish the sense of competition.
2) Last week, Nets head coach Jason Kidd purposefully had his own player run into him, spilling a drink and giving Kidd an unofficial timeout to draw up a play late in the game. Do you think moves like Kidd's are crafty and acceptable, or do you think coaches need to simply coach and not employ gimmicks to try to get ahead?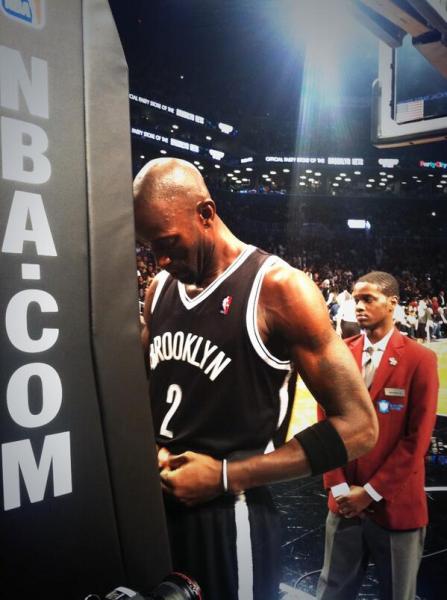 Galvin: If Kidd were 10-4, this would be just another "crafty move from the genius basketball mind of Jason Kidd." I honestly don't care; I saw it in passing, chuckled, and thought, "Well, at least he didn't just sit there looking like a lost, bald child. Which is what usually happens." If we all admit that this was the best coaching decision he has made all year, we'll be momentarily engulfed in the brutal sadness of that truth but then jump on the "Kidd should be fired soon" bandwagon.

Tavidian: His acting skills are almost as bad as his coaching skills. Let's face it… it was too soon and too risky a decision to hire Kidd as the Nets' head coach. It would have been crafty if his plan went smoothly, but he's making his job worse by attempting to do things veteran coaches wouldn't dream of. In general, coaches should stick to the rules of the game and avoid any "clever" attempts at trickery, whether they've been coaching for a month or 10 years. With the Nets' 5-13 record, Kidd needs to focus on bettering his team to the point where petty tricks become unnecessary.

3) After missing the playoffs last year, the Portland Trail Blazers are off to a 16-3 start, with recent wins over Indiana and Oklahoma City. What is the upside for this team, and why will they/will they not be a playoff contender?

Sean Burch: Rip City feels a lot like last season's Warriors. The top-six guys on the team look really good, but the roster falls off a cliff after that. They need to pray no one gets seriously injured, or hope Dorrell Wright somehow reverts back to 2011 mode. Wes Matthews has been awesome so far, but he can't shoot 50 percent from three all season…I think. The Blazers are 22nd in defensive efficiency and defensive rebounding right now, and that has to catch up with them. Over a seven game series, I'd still favor the Spurs, Thunder, Golden State and probably the Clippers over the Blazers. For now I'd say their upside is a run to the second-round.

Galvin: I don't have faith yet in the Blazers. Their defense concedes points at the basket in favor of defending the three-pointer, which is working really well in the regular season as the league continues to use the three as an equalizer for the talent gap. In the postseason though, where the intensity of play is so much stronger that it's become clichéd to mention, I don't see how giving away the easiest points in basketball is a viable strategy. Just getting hit with the wrong match-up, like Houston who loves the long ball but also enjoys lay-ups and free throws, could wreck them.

Russell Simon: They still are relatively young and inexperienced, but how do you not love what the Blazers have done so far? Damian Lillard has played brilliant so far this year and is a very fun player to watch, and Wesley Matthews and LaMarcus Aldridge have thrived. This is a team that can do it all. They have a dynamic point guard, solid three-point shooting with Batum and great post play from Aldridge. These pieces fit together, meaning the Blazers could be contenders when the playoffs finally roll around.

Tavidian: As of now, the Trail Blazers should not be worried about making it to postseason, as that one looks like a definite possibility. However, how far they get might still be too soon to tell. If I were guessing, I'd predict the Blazers end up in the 4th or 5th seed. If they perform like they are now with consistency, reaching the Conference Finals is a reasonable possibility.
4)
A few weeks ago, Kobe Bryant received a 2-year, $48.5 million extension. What do you make of the move?
Burch: It's nice to know Kobe is going to stay a Laker, but their odds of winning a title over the next three seasons remain slim to none. Business-wise it probably makes sense, but from a basketball perspective you can't have an aging guard coming off a major injury take up that much of your cap space and expect to win a title. The funny part is Kobe always talks about how Pau is his "brother", but fails to see how a deal like this dramatically decreases the odds of the Lakers bringing back Gasol. I'm not faulting Kobe for taking a giant pile of cash, but you can't have it both ways: you can't say your top priority is winning titles and then accept a deal that makes fielding a championship-caliber team much more difficult. Please stop the propaganda.
Simon: Given his age and the amount of time he has spent in the NBA, I'm a bit surprised the Lakers offered him such a ridiculous contract. Even more surprising is the fact that Lakers management did not even negotiate at all with Bryant before offering this deal. Obviously, the Lakers' highest priority was making sure Kobe remained a Laker for life. For them, re-signing Kobe was more important than making sure this team was in the best position to win two years from now. Yet because of Kobe's new contract, the Lakers will only have room to sign one player to a max contract, and not much wiggle room to get any other high-priced pieces. When LeBron James went to Miami, he took a pay cut to ensure that the team could sign Chris Bosh and Dwyane Wade as well. Even more telling was that when Tim Duncan re-signed with the Spurs last year, he cut his salary in half, which allowed the Spurs to keep Danny Green. The Black Mamba could have taken this route, but chose not to. This move was great for Kobe, but bad for the Lakers.
5)
After undergoing knee surgery, Bulls point guard Derrick Rose is out of the season. This comes after Rose missed all of 2012-13 recovering from an injury to his other knee. Do you see the Bulls tanking to try to get a high draft pick, or do you think Tom Thibideau's squad can rebound to make the playoffs?
Burch: Ugh, the Rose news sucks. But even if tanking is the best long-term move for the franchise, it's hard to see them doing it. Tanking is something that has to come from management trading players away, because the guys on the Bulls won't automatically start playing bad. Plus Thibs wouldn't allow it to happen anyway. The Bulls will probably grind out 45 wins as presently constructed, because they can still defend. And have you seen the Eastern Conference? It's a tire fire. Only two teams are above .500. Chicago is probably looking at a duplicate of last season.
Simon: This Bulls team is absolutely good enough to not only make the playoffs, but to contend in the Eastern Conference. Given the atrocious state of basketball east of the Mississippi (the 8-12 Celtics are in first place in the Atlantic), the Bulls have enough talent and quality coaching to possibly end up as the 4 seed in the East. However, once the playoffs roll around, it will be the same old story for Chicago. This team needed an elite point guard to take them to the next level, but without Derrick Rose they can't compete with Indiana or Miami. This leaves them in the horrible middle ground of teams good enough to make the playoffs, but not good enough to win a title. With this loaded draft coming up, it may be better for them to tank.