Food
'National Brownie Day' Celebrated On Dec. 8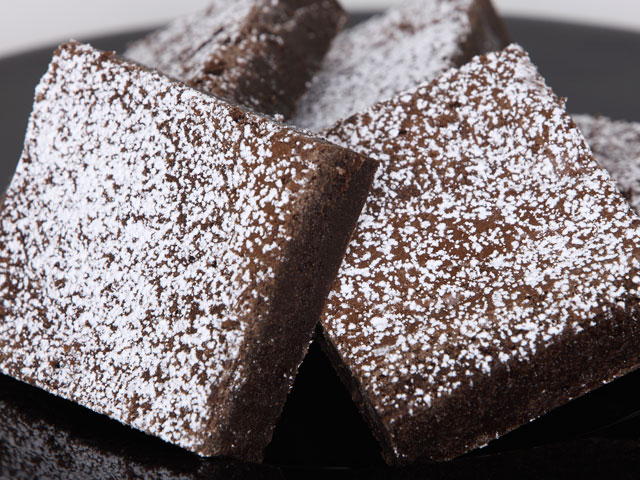 Four days ago was "National Cookie Day" … now, it's time to
celebrate the incredible brownie
.
Legend has it that a Boston chef accidentally added melted chocolate to a batch of biscuits he was baking, and thus, the first brownies were created. Another story claims that brownies were birthed out of a Maine housewife's attempt to make a chocolate cake but she forgot to add baking powder. Instead of throwing the cake out because of its failure to rise, the midwife served it in flattened pieces. Yet another tale says that brownies were invented when a chef was requested to create a ladies' dessert that was smaller than a piece of cake and convenient to include in packed lunches, but still had the appearance of a delicate treat.
But whether they're baked with mixes or made from scratch, everyone can agree that moist, chewy brownies are one of the ultimate "comfort desserts" that is enjoyed for special occasions or "just because." Here are some L.A. bakeries and restaurants that serve up some of the city's best—and most unique—brownies.
The Farm of Beverly Hills
The Farm of Beverly Hills is renowned for its brownies, baked in-house fresh daily. The decadent treats were baked at The Farm since the eatery's first location in 1997. These dense chocolate treats feature a light, crispy top with a moist interior and are dusted generously with powdered sugar.
Ghirardelli Soda Fountain & Chocolate Shop
The Ghirardelli Soda Fountain & Chocolate Shop—with a recently opened location in Hollywood and within the Disney California Adventure Park—features a mouth-watering "Warm Brownie Sundae," complete with a double chocolate brownie topped with vanilla ice cream, homemade hot fudge, whipped cream, chopped almonds and a cherry. The shop's moist chocolate brownies, however, are also available for individual purchase.
MILK Bakeshop
MILK, known for both, its ice cream parlour and incredible baked goods, features chocolate brownies and peanut butter brownies. The latter is the perfect marriage of chocolate and peanut butter with ample peanut butter chunks interspersed throughout the moist brownie.
Sweets for the Soul
This bakery received a nod from L.A. Magazine for "Best Brownies" in 2010. Indeed, the bakery uses Valrhona chocolate (a rich French chocolate), organic eggs and organic flour to make its brownies. Some of the store's most popular brownies include: "Brownie Bliss," featuring creamy chocolate squares and toasted pecans; "Obama Brownie," featuring a cocoa base with dark and white chocolate chips; and "Flourless Triple Chocolate," featuring a brownie version of the ever-popular flourless chocolate cake.
Beverly Hills Brownie Company
This store features a vast variety of gourmet brownies, complete with seasonal specials and even a gluten-free brownie option. Classics include: "Red Velvet," "Cookies & Cream," "S'Mores" and "Blackout." Looking for more than just brownies? The company also features brownie ice cream sandwiches, brownie cookies and brownie biscotti.
choc. a brownie company
choc. a brownie company, a gluten-free and eco-friendly brownie company, is known for using local and organic ingredients in its delicious treats. This company features a variety of brownies, including: "Peanut Butter & Honey," which includes a layer of crunchy peanut butter and is topped with crushed peanuts and drizzled with organic honey; "SOB" ("Son of a Brownie"), the result of "Salted Caramel" and "Peanut Butter & Honey" brownies; and the current flavor of the month, "Turducken," comprising a ginger snap stuffed inside a brown butter cake which is then stuffed inside a chocolate brownie adorned with pumpkin coconut cream frosting. Brownies from choc. can be found throughout stores in L.A.
Lazy Dog Café
The "White Chocolate Chip Brownie" featured on Lazy Dog Café's dessert menu includes a chocolate trifecta. The eatery's signature brownie recipe contains semi-sweet, milk and white chocolate chips in the moist, rich chocolate cake that is served atop a pool of chocolate fudge. The dessert is completed with a scoop of vanilla ice cream and dusted with powdered sugar.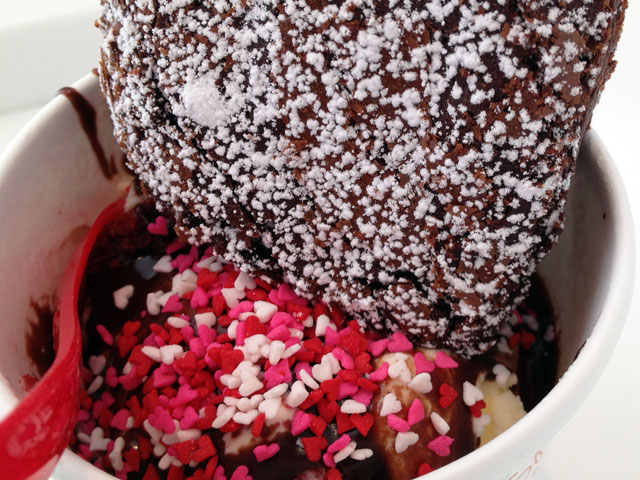 Sprinkles Ice Cream
What would ice cream sundaes be without brownies? Sprinkles Ice Cream features both, brownies and cookies that can be included in sundaes or ordered to go to enjoy later. The "Fudge Brownie" features a rich, dense Valrhona dark chocolate brownie with a moist cake and a lightly crisp top.
Sweet Lady Jane
Cookies, cakes and cupcakes abound at Sweet Lady Jane, but brownies are one of the bakery's crowning glories. "Brownies with Walnuts"—rich chocolate bars with slight almond and espresso flavors—and the ever-famous "Sea Salt Brownies"—the perfect combo of sweet and salty flavors—are readily available for customers to enjoy.
The Village Bakery and Café
At Atwater's The Village Bakery and Café, various brownies—including the decadent "Double Chocolate Walnut," "Peanut Butter" and "Vegan Raspberry"—are available daily.
Clementine Bakery and Café
Along with its signature salads and fresh sandwiches, Clementine offers a deluge of baked goods and desserts. Among these sweet treats are "Chocolate Brownies with Pecans" and "Butterscotch Brownies with Walnuts."
Chili's Grill & Bar Restaurant
The "Brownie Sundae" at Chili's Grill & Bar Restaurant is not as decadent as the famous "Molten Chocolate Cake," but it is still soothing after a spicy meal. This treat features a thick-cut warm brownie topped with vanilla ice cream and hot fudge.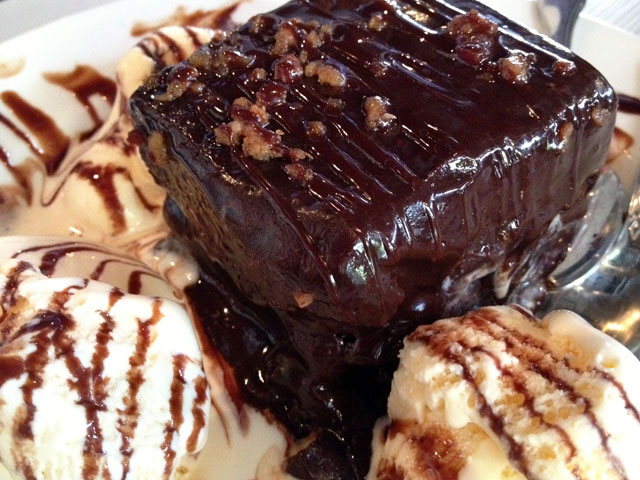 Slater's 50/50
The "50/50's Famous Bacon Brownie" at Slater's 50/50 presents a twist on the classic brownie dessert. This indulgence features two moist chocolate brownies with a layer of chocolate ganache and candied bacon and is topped with more candied bacon and served with vanilla ice cream.
Porto's Bakery & Café
The rich brownie slices at Porto's Bakery & Café feature a dense chocolate cake filled with chocolate chips and topped with a chocolate ganache.
Lark – Silver Lake Cake Shop
The "Chocolate Brownie" at this Silver Lake bakery on West Sunset Boulevard features a moist fudgy cake this is absolutely to die for.
Claim Jumper Restaurant
The "Brownie Finale" at Claim Jumper Restaurant is a delightful finish to any meal, featuring a double chocolate walnut brownie topped with fudge frosting and adorned with vanilla ice cream, whipped cream, hot fudge and toasted almonds.
Red Robin Gourmet Burgers
The "Gooey Chocolate Brownie Cake" at Red Robin is a spin off of a chocolate molten cake. This fudgy chocolate brownie cake is topped with hot fudge, vanilla ice cream and is served with strawberries in a sweet berry sauce.
The Cheesecake Factory
The "Godiva Chocolate Brownie Sundae" at The Cheesecake Factory presents a sweet alternative to the various cheesecakes on the restaurant's dessert menu. This Godiva chocolate brownie is topped with vanilla ice cream, hot fudge, whipped cream and toasted almonds.