Los Angeles
Long Road To Legalization For L.A. Street Vendors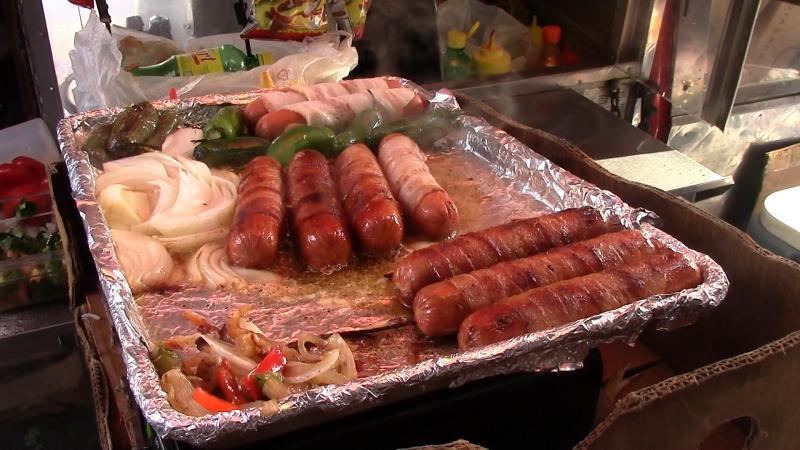 Los Angeles Police Department Officer Matthew Shafer knows the street vendors downtown by name and trade. They have nicknames for him too. Shafer worked the vending detail in the Fashion District for three years. He's wary of the recent push to legalize sidewalk vending, and he feels that the regulations in place are there to protect the public.

"I've seen maggots in hot dogs. I've seen green hot dogs... and we only knew they were green because we unwrapped the bacon to see the hot dog."

Shafer also policed the illegal animal vendors downtown and says he's even seen hot dogs stored in the same van as live animals. It's not uncommon to see fruit vendors run to a parking lot to restock. Following them reveals vans and car trunks full of uncut fruit that they slice in the car, often without cutting boards or clean surfaces.

ALSO READ: Neon Tommy's Full Coverage Of L.A. Cuisine


Despite these stomach-turning revelations, Officer Shafer's experiences may be one of the most compelling arguments for an update to the vending rules. Under the current laws, vending on sidewalks is illegal, so many vendors don't have food-handling standards in place.

The county ordinances require mobile food vendors to prepare and cut their product in an approved commissary, not in the field. If these commissaries were accessible to fruit vendors operating on a smaller scale—like those currently operating illegally—it could cut back on some of the risk of bacteria and food-borne illness.

The issues surrounding street vending are complex and varied. The street vending community is tied to the Hispanic community, and through them, to the larger debate around immigration. Many vendors on the streets of L.A. are undocumented, which means right now, they aren't able to join the ranks of legal vendors with licensed carts.

Enforcement of regulations poses another major hurdle for the legalization push. L.A. County employs 7 inspectors who reply to complaints and are responsible for inspecting carts waiting to be licensed. With around 6,000 mobile food facilities in the county, maintenance inspections are already a challenge. Inspectors work with commissaries, where the vendors gather to prep their food, to keep track of vendors and catch violations before they hit the streets.
Jeremy Evans works for his father at Kareem Carts, a company in Los Angeles that builds and modifies mobile food facilities to meet L.A. County standards. The company also offers parking and storage for carts as well as a commissary.
Kareem Carts has been in business for 35 years, and Evans says food trucks and street vendors have never been more popular.
"It started during the recession," he said of the food truck craze. "It can cost a couple hundred thousand dollars to open a restaurant." A high-end food truck costs around $60,000.
He says that in 2005 the city made it much harder for undocumented workers to buy food carts. "You used to be able to use a Mexican ID... now you need a California ID card to buy and license a cart." He says some people now put the carts in a family member or friend's name and then operate it themselves.
Evans knows the laws well and thinks that everyone would benefit from changing the blanket ordinances to ones specific to the type of cart being operated.

The Coalition for Humane Immigrant Rights in Los Angeles (CHIRLA) also hopes that the different kinds of vending will be acknowledged formally in the county ordinances. CHIRLA has been working with vendors toward the goal of legalization for eight years.
"There's something to be said about a good relationship between the police and city council and the residents who want to make a living honestly," says CHIRLA spokesman Jorge-Mario Cabrera. "If you want to create a thriving economy in an area as diverse as Los Angeles, you need to make sure you offer as many opportunities as possible."
Folding undocumented workers into the formal economy's workforce is not unheard of, but it is the most difficult piece of the street vending puzzle. One woman who did it on her own thinks that the current legal channels have value and that many vendors actually prefer vending illegally.

Elizabeth Palacios started her life in the U.S. working for a woman who owned food carts. Palacios eventually bought a cart for herself and now owns five carts that operate in the Fashion District. She doesn't understand why customers choose the illegal pushcart vendors over her carts.
"We have health permits. They teach us how to follow the rules... these people have product without refrigeration, but the people love them."
Palacios has been operating in L.A. for 25 years – 18 of them as an undocumented worker. She got her paperwork a few years ago, but says that her business operations have always been legal.
"I was working for 21 years without identification. I didn't have anything. But all my business, all my taxes were legal."
Still, she says her path is uncommon, and it took a lot of hard work. "It cost me a lot to understand the rules and to be able to pay everything."
Palacios counts among her expenses parking tickets that she gets daily on her five carts.
"If you park more than two hours, you pay $58. I have to pay $58 a day per cart," she says. "I pay it. It's part of the business."
She has friends who vend illegally and says that some have even purchased legal carts in an effort to grow their business and operate legally. She says most sold the carts in favor of operating in the informal economy. "If they sell $10, then $10 is for them. If I sell $10, then $6 goes away."
But for some vendors, like Virginia, 13, there isn't much of a choice. Her family vends illegally to pay for her to attend a Catholic school. She has been coming downtown with her parents since she was 2 years old and selling on her own since she was 8.
"Right now, our family is saving so we can have that kind of cart. I have to get good grades and help them so that I can be at the school."
Jeremy Evans put it well, when he described how long it takes to make changes in the law. "It takes a long time. But things should change. It's for the next generation."
Reach Jenna Pittaway here, and follow her on Twitter here.