Style
LA Fashion Blogs' Trend Of The Week: Oversized & Chic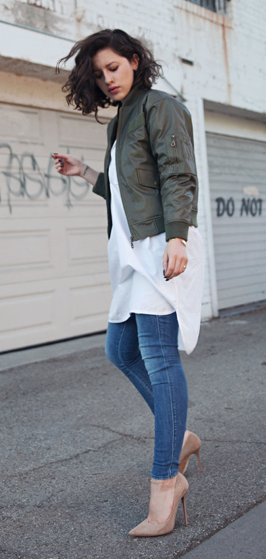 Oversized clothing has been all over department stores' mannequins throughout the most recent seasons, and continues to fill the shelves of celebrities retailers alike. Done right, the oversized look can be chic and flattering, and you'll come off as put together.
However, there is a fine line between looking oversized-chic and big/sloppy. Karla Deras, blogger at Los Angeles-based "Karla's Closet", shows how to make the oversized look work for you.
This week, Deras paired a military green moto jacket with an oversized white tee. While the top is versatile in itself, the balance it forms with the short jacket creates a complex, polished look.
Your average fitted white tee would still look great with both the jacket and jeans, but there is something about the oversized tee that adds polish for a more fashion-forward look.
Deras also worked with this trend by wearing an oversized black cardigan. She paired this piece with black skinny jeans and black heels.
Because of its wrapped nature, the cardigan takes on the appearance of a blouse. The look achieves comfort without leaving her swimming in fabric.
Though petite women may be concerned about losing their figures in a sea of clothing, this look does not only apply to modelesque ladies. An oversized cardigan can look great on any girl. Just be sure to balance bigger pieces with sleeker items, such as Karla's black skinny jeans and green moto jacket.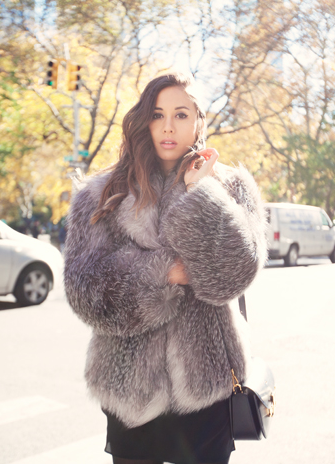 Rumi Neely, blogger at Los Angeles-based "Fashion Toast", also worked the oversized trend. Neely, who has
modeled for
Forever 21, Bulgari, and Rebecca Minkoff, traded her laid-back LA style for a
Michael Kors coat
. The jacket's cozy boyfriend fit contrasts well with the chic material, and made for a perfect outfit to wear to the "
Victoria's Secret Fashion Show
".
Fashion line Aqua, born out of our very own Southern California, has a line of chic and fun oversized tops that are perfect for this season and into the spring. Their pieces have been seen on celebrities such as Gwen Stefani, who make oversized tops look effortless and edgy.
These Los Angeles natives show that outfits don't have to be fitted or skin-tight to be on-trend and sexy. The oversized look is definitely on-point and figure flattering when paired with slinkier items that create a balance.
Let's be honest; it's the holiday season, and we are tired of sucking it in to fit into those bandage dresses. An oversized top is the perfect choice for big holiday meals or parties. No more unbuttoning your pants or changing into an old, baggy sweatshirt.
So stock up on those oversized tops! They're a must-have for this season and give you that effortless (yet glam) look that can take you through the holiday season and beyond.
Reach staff reporter Mona Khalifeh here.