National
Cyberbullying: L.A. Schools Work To End Student Harassment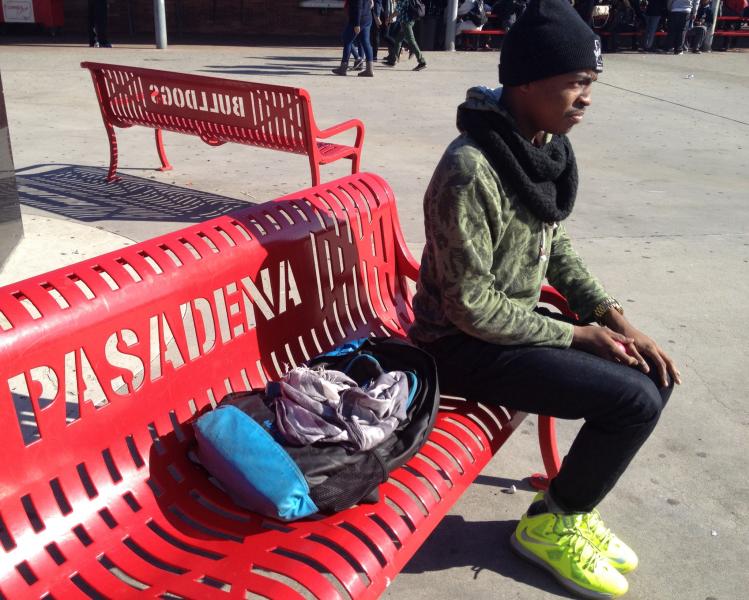 Ahvonne Hawthorne doesn't know if he is gay or straight, but that hasn't stopped others from taunting him. Since the second grade, Hawthorne, 17, has been bullied about his sexual orientation.
During his junior year at Pasadena High School, the bullying escalated to a new level.
Hawthorne was featured on a page hosted on Instagram that included degrading pictures and comments mostly directed at girls in the Pasadena area.
To his disbelief, it was his picture posted on the 'Slam Book' that spread throughout the high schools in the Pasadena area.
"Let's give it up to the biggest princess of Pasadena, the fag, the gay boy, the homosexual," read the caption below his photo, Hawthorne remembers.
He had been bullied before, but this left him feeling desolate.
Hawthorne, now a senior, is not alone. More and more students are experiencing similar online harassment.
According to Bullying Statistics, a website devoted to raising awareness about the problem, more than half of adolescents and teens have been bullied online. Only one in 10 victims tell their parents if they have been victims of cyberbullying. And fewer than one in five incidents are reported to law enforcement.
Many experts agree that incidents of online bullying are underreported due to the continuous changes in technology.
"The numbers have been so unreliable and often archaic," said Leigh Rachel Faith, director of operations for Champions Against Bullying, an organization dedicated to providing solutions for the issue.
Hawthorne is one of those victims missing from the national statistics. He never told his parents and never reported the incident to law enforcement.
Reporting the incident would have only lead to more taunting, he said.
Instead, Hawthorne turned to his school's Student Achievement class, which offers peer mentoring, mediation and conflict resolution.
"We have brought together students who have been at odds with each other, who have been victims and suspects of bullying…bringing them to the table to try and work through and resolve the issues," said Josef Levy, president of Embassy Consulting Services, an organization that works with schools to develop safe communities and works with the Student Achievement class at Pasadena High. "We have had some success with that."
The moment Hawthorne walked into the Student Achievement class and saw the faces of his peers and teacher, La Theia Black, he broke down.
"She [Black] just came and hugged me, and I was just like, 'Oh my goodness I needed that,' because I was just holding in my tears instead of letting them go," he said.
Hawthorne refers to Black as his guardian angel.
"She always tells me, 'I am never going to judge you…and I am always going to be here,'" he said.
Her help enabled him to open up about his suicidal thoughts that developed as a result of the public humiliation.
"I was ready to leave this Earth more than anything…I was just ready to go," remembers Hawthorne. "If I just wasn't on this Earth, I mean I would just get left alone, I wouldn't have to face anybody. I would just get to be me and not care in heaven."
Although he never thought about exactly how he would take his own life, he credits the mentoring he received for giving him the strength and confidence needed to face his peers and continue on.
"I think I was looking for more love and support and for somebody to just be there for me so I can lean, and you know, cry on their shoulder," he said. "That's what Student Achievement is. We're helpers. We help people get through their problems."
Victim advocates say part of the difficulty in combating cyberbullying is the lack of laws regulating the issue.
"Right now…there isn't really a specific law that covers bullying. Bullying is more of a title, and the offenses come from violations of laws, other specific criminal laws," said Pasadena Police Officer Louie Luevano, who is assigned to Hawthorne's school.
Luevano says the focus is on resolving issues through mediation rather than arrest.
In the meantime, schools like Pasadena High are taking matters into their own hands.
For Gilbert Barraza, Pasadena High's principal, the first critical step in dealing with the issue was modernizing the communication system among teachers and staff.
"When I came in 2010, two-thirds of the teachers here did not communicate in email. They were afraid of it," said Barraza.
He said upgrading all communication to email and educating teachers about the types of social media sites that exist proved to be quite significant.
"Once the teachers were far more savvy, they knew what to look for," said Barraza.
There are signs parents also need to look out for. Some of those signs include withdrawal from social interactions, avoiding school, a drop in grades or sudden changes in mood, according to Alexandra Penn, founder of Champions Against Bullying, an organization dedicated to fighting the problem.
"A lot of parents think, oh their kids wouldn't do that, or, 'Oh my kid doesn't get cyberbullied,' but there are signs and parents have to know that," said Penn. "We can't do this alone. Parents have to play an active role in this."
The problem of cyberbullying has been highlighted in recent years with a spate of high-profile suicides of teen victims. Mental health experts warn against oversimplifying the complex issue of suicides by blaming only one cause. But other experts say that bullying has played an important and tragic role in some teen suicides.
"We have seen across this country students taking their lives because they have gotten to the point where they don't possess the coping skills to deal with the issues," said Levy. "And they feel humiliated, and they don't feel like they can go back and face their peers."
In 2006, Megan Meier hanged herself after reading a message she thought was from a young boy on MySpace: "The world would be a better place without you." Federal authorities alleged the boy's profile was created by 49-year-old Lori Drew, of Missouri, and her teenage daughter so that they could harass Megan.
A Los Angeles jury convicted Drew in 2008 of a misdemeanor violation of the Computer Fraud and Abuse Act. But the federal judge who oversaw Drew's trial reversed the conviction, finding that her actions did not violate the law.
In 2010, Tyler Clementi, a Rutgers University freshman, jumped off the George Washington Bridge after his roommate posted a recording online of Clementi having a sexual encounter with another man.
And in September, 12-year-old Rebecca Ann Sedwick, of Lakeland, Fla., jumped to her death from a cement plant tower after being told to "go kill yourself" by two classmates, according to police reports.
Sedwick's mother and attorney have pushed to enact "Rebecca's law," which would establish criminal penalties for bullying. They are also working to enact the Safe Schools Improvement Act of 2013, which would require schools to establish policies that prevent and prohibit bullying and harassment, according to Congress.gov.
Social media sites are also responding to the public's concerns about bullying. Twitter, for example, is continuing to explore features to protect users from abuse and prevent retaliation, the Vice President of Products, Michael Sippey, wrote in a post. The company is working to enhance the ability of users to block online predators without the abusers knowing.
Meanwhile, officials at high schools like Pasadena High are updating their school's bullying curriculum.
Although the bullying continues on a minor scale for Hawthorne, he said he is no longer bullied online.
"School has gotten better this year. I feel like it's because people honestly know who I am," said Hawthorne.
Hawthorne is now a mentor for other victims of bullying and encourages them to embrace who they are, just as he has done.
"I am me. I can never change that," he said. "I am going to be me until the day that I die and I just love being me, honestly."
Reach Contributor Ani Ucar here. Follow her on Twitter here.