Film and TV
Carrie Underwood Gets Mixed Reviews In 'Sound Of Music Live'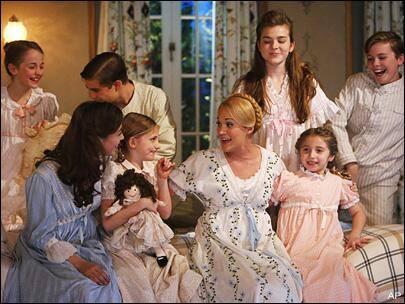 Last night was a special night for Carrie Underwood as she got to perform the dream role of Maria Von Trapp in NBC's "The Sound of Music Live." Since NBC's
press release
last year, everyone has excitedly anticipated seeing Underwood take the stage once again. After winning "American Idol" back in 2005, this role is another dream accomplished for Underwood, who grew up watching the 1965 film with her mom.
"The Sound of Music Live" pulled in high ratings for NBC with 18.47 million viewers tuning in to watch the show. Huffington Post mentioned that it was the biggest non-sports Thursday night broadcast for any network since Fox's Thursday "American Idol" in March of 2011. It was also NBC's most-watched non-sports night of any day since the 2007 Golden Globes.
Underwood received a number of mixed reviews. The New York Daily News went as far as to call Carrie an "underdog" and stated, "Underwood is a talented pop singer who obviously worked hard to learn Broadway singing on a short notice. It's no reelection on her that at this point, she's not as far along as the singers who surrounded her Thursday night." Robert Lloyd of the Los Angeles Times mentioned, "as a stage actress, there was no way to regard [Underwood] as anything but an amateur-- good enough, certainly, to convey the meaning of her lines, and sometimes better than that, but lacking weight and substance and the shadings she can bring to a song." Even the old Gretl Von Trapp had something to say about Underwood's far from spectacular performance. According to Kym Karath, who played the original Gretl Von Trapp in the movie, Underwood's performance was not what she had expected. "Love Carrie Underwood but this role is just not right for her. She is lovely her voice is beautiful but acting is wrong," Karath tweeted during the show last night. She even tweeted, "Must admit some scenes are actually painful to watch."
Expecting the tough critics, Carrie responded to backlash early on during an interview with Entertainment Weekly last week. "I know I'm not Julie [Andrews]. Nobody ever is and I would never pretend that I was… I know my place."
We all love Carrie Underwood and her unbelievable voice, which is what will make "The Sound of Music Live" a fan favorite. However, in the end it seems as though her acting was a notch below the people she shared the stage with, making it a little bit difficult to watch.
Watch a clip of Underwood's performance below and decide for yourself!
Reach Staff Reporter Caroline Langella here. Follow her on Twitter here.