Arts+Culture
Carlton Drew: East Coast Style Meets West Hollywood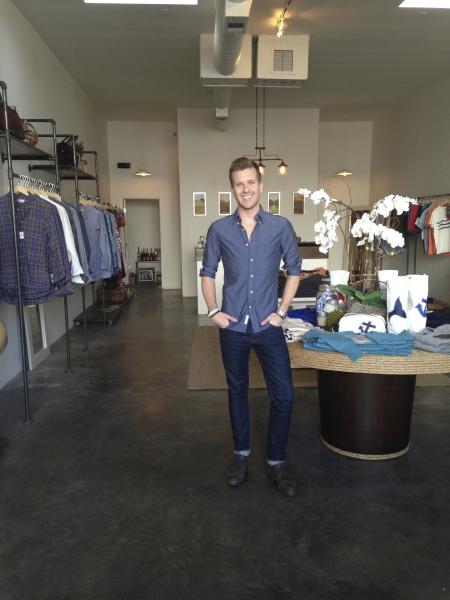 Preppy menswear boutique
Carlton Drew
just celebrated its first birthday in its hip Melrose Ave location. In its first year it's successfully carved a niche for itself in the extremely competitive boutique industry and received lots of attention--fashionable men are calling it the new place to watch in West Hollywood. I recently went to check out the store for myself and speak with its owner, Drew Sutton, about his unique business ethos.
Carlton Drew is a haven for East Coast gents seeking something a little more buttoned-up than traditional California fare. It's full of updated classics. Shades of Grey chinos and Raleigh Denim jeans come in modern slim cuts with a color to fit every mood, fun or serious. Gant crewneck sweaters mingle with Sol Angeles nautical-themed t-shirts and Gitman Bros. ties cut narrow especially for Drew. The clothes are timeless and masculine, but with a hip, youthful flair.
One of the most interesting offerings is an in-house line of USA-made Carlton Drew button-downs, which are quickly becoming coveted items for their smart, slim cut and thoughtful detailing. "They're cut a little shorter so they look good untucked," Drew explains. "Since my logo's navy and white, I do navy detailing. The bottom button has navy stitching." He shows me what he means on the Carlton Drew shirt he's currently wearing. "I love little details like that."
The store is very much a reflection of its owner's personal style. When I ask who the Carlton Drew muse is, Drew chuckles and responds, "me!" His Instagram feed is full of pictures of himself modeling the boutique's best pieces—a shrewd marketing strategy, given his clean-cut good looks and over 2300 followers. "It's funny because a lot of my friends walk in here and they're like, this looks like your giant closet," he laughs. "When I'm buying, I look at stuff that I really like."
It's this strong vision that makes Carlton Drew really stand out. Drew hand selects each and every piece, focusing more on creating a strong, cohesive vibe than copping to each and every fashion trend. "There are certain [trends] that I'm just like, it's not gonna work," Drew explains. "It's just not the style of the store, and I don't want to lose that vision."
Carlton Drew is a one-stop shop for the preppy man who knows what he wants. "You can go to places like Bloomingdales and Barneys and pick through everything to find what you're looking for, or you can come to one boutique that's specialized in that style," Drew says. "You know you're going to walk in and find what you want [here.]"
Part of that one-stop concept is the store inventory. The other is Drew himself, who focuses on forging personal relationships with his customers. As we talked, a man walked in and tried on a pair of pants. After ten minutes of uninterrupted style advice and attention from Drew, the man made his purchase and walked out—wearing the pants.
"He's going to a party," Drew explains. I get the impression this sort of thing happens a lot.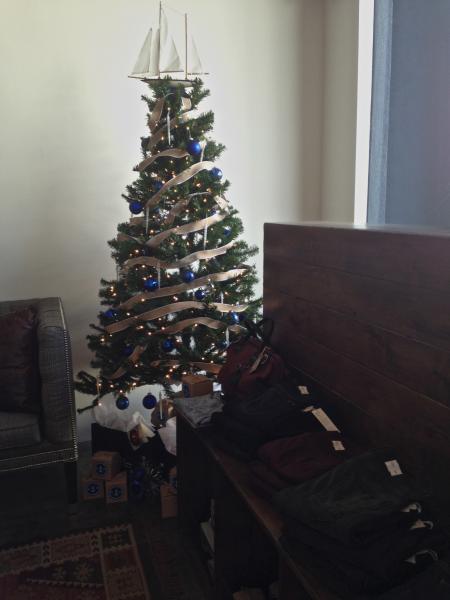 The storeowners on the block are friends who cooperate to get business. "Guys come to this block, they get their hair cut, they shop for furniture…it's great to have everyone working together," Drew says. "Because we are, for the most part, all small businesses."
Drew refers his clients to the salon next door if they're looking for a haircut (he recently posted an Instagram of himself getting his own hair done there.) The salon, too, "pushes" fashionable customers to Drew. And halfway through our interview, the salon's owner walked into Carlton Drew with a box of leftover donuts. "It's Sunday!" he said. "Give these to your customers!"
These relationships with clients and other storeowners are what make boutique shopping so satisfying. Carlton Drew isn't a fast-fashion store like H&M or Forever 21, where one has to dig through piles of so-called trendy polyester flotsam to find something actually stylish; nor is it an all-encompassing clothing mecca. No, it is slow and small in the best possible way. Slow, in that a visit to the store guarantees relaxed browsing and enjoyable conversation; small, in that it means lots of attention from a truly knowledgeable shopkeeper, as well as easy shopping among a selection of pieces edited by someone you can trust.
Put a store like that into a group of others with similar tastes, and you've transformed a block on Melrose into a lifestyle and shopping destination that has real potential as a business model. Small businesses have become the underdogs of retail, thanks to online shopping and supersized international brands; will boutique alliances like this one take small business shopping back to its glory days? One can hope.
Drew has big dreams for his eponymous brand. "I'd love to open more stores. I'd love to be in multiple cities," he says. "I'd love to wholesale." His next big project is designing shoes with a Maine-based shoemaker Quoddy. "We're going to do a collaboration where the stamp on the inside will have both of our logos," Drew explains—he's excited.
Congratulations are in order for Drew for his dazzling debut on Melrose. Fans like myself look forward to seeing Carlton Drew continue to blossom and pave the way for East Coast style—and boutique fashion—in Los Angeles.
Check out a behind-the-scenes video with Drew:
Staff Reporter Gigi Gastevich loves fashion. Reach out to her by email.
Reach Arts and Culture Ashley Riegle by email. Follow her on Twitter here.