International
American Students Fall Behind In International Education Rankings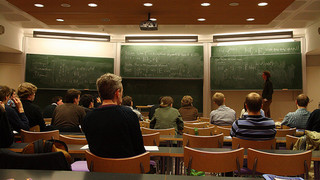 On a list that ranks young people in mathematics, science and reading, the United States fails to standout.
A new global survey, released on Tuesday, found that the city of Shanghai, China was the most oustanding in all three of these categories. The United States, on the other hand, was ranked a lowly 36th place overall.
The survey is released every three years by the Organization for Economic Cooperation and Development (OECD) and is part of the 2012 Program for International Student Assesment (PISA).
According to CNN, more than half a million students, aged 15 and 16, were tested last year as part of the study, with 65 countries and 80% of the global economy represented. Most East Asian countries performed exceptionally well, with seven of the top ten spots belonging to them. Shanghai, Singapore, Hong Kong, Taiwan and South Korea hold the top five spots, respectively.
The United States posted a lackluster performance with its students performing below average in mathematics and receiving average numbers in both science and reading. Even the United Kingdom fared better than the United States. The UK ranked 26th in the polls and posted average numbers in both science and math while procuring above average scores in reading.
So why is the United States failing to meet its potential while others are prospering in the major educational categories?
In an interview with CNN, Andreas Schleicher, OECD's deputy director of education, attributes the top successes of the top countries to hard work and positive attitudes.
The PISA report states, "Practice and hard work go a long way towards developing each student's potential, but students can only achieve at the highest levels when they believe that they are in control of their success and that they are capable of achieving at high levels."
Other countries, such as Brazil, bolstered their educational systems by improving the quality of teachers in their state. By increasing the difficulty of receiving a teaching certification, these states were able to climb their way to higher positions on this year's list.
The final note on the list was troubling for the world education system. The worldwide mathematic scores show little to no improvement on the updated list. CNN further reports, "the math performance of most countries has not improved since the PISA tests were launched more than a decade ago. Around 60% of the 64 countries who participated in previous studies performed at the same level or worse in 2012, and nearly a third of all students scored in the lowest band for the subject."
Reach Executive Producer Miguel Arreola here.