California
Activist Marijuana Dispenser Blends Politics And Business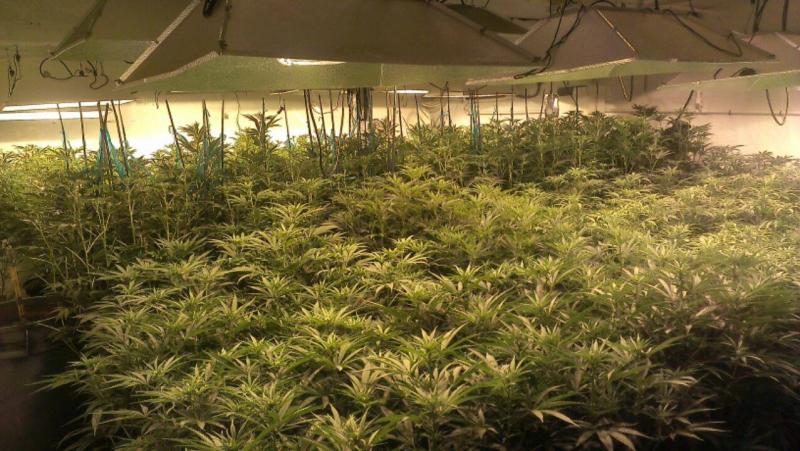 A man with a limp and a cane opens the security door, allowing access into the exclusive store that only card-carrying members have access to.
After the security guard checks ID and certification, access is given to the main storefront where products like Strawberry Cough, Tangy, and Platinum Girl Scout Cookies are neatly displayed.
Behind this area and down a long hallway, there is a narrow, closet-sized room that barely fits one table. Five young men sit quietly at the table, working with scissors like busy bees.
This is Buds and Roses Collective, one of Los Angeles' first fully-licensed dispensary collective. It was a nearly bankrupt business when CEO Aaron Justis took over in 2010, but is now thriving and winning many awards for its marijuana strains.
The Los Angeles collective claims 18 High Times Cannabis Cup awards, which are given out during the international High Times cannabis conferences, under his tutelage.
About 70 to 80 six-foot-tall frosty plants take in the artificial sunlight in the back area of the store. The plants are so large, it's impossible to see to the other end of the room.
Much like their leader, the collective's workers are constantly grinding. Whether they're labeling and inventorying each and every product, cutting down and trimming the latest harvest, or counseling customers, Buds and Roses is an active and busy dispensary. Those who don't have a lot of experience inside a marijuana dispensary might think that the workers are slow-moving. But that's not the case here.
"He's busy, busy, busy. His brain is constantly going in four directions at once," said Angela Nagel, Justis' office assistant. "Not only is he having a conversation with you, he's on his computer and texting at the same time and handling it quite well. He's a multi-tasker master."
Buds and Roses blends politics and business. Justis marries activism, high-quality products, and law-abiding standards in his Studio City dispensary, according to staff.
Justis said his commitment to providing legal marijuana traces back to his upbringing in Rockford, Illinois, where he says he saw the unequal effects of the war on drugs.
"I'd see people getting arrested for drugs, end up in jail and they never harmed anyone," Justis said. "Then you'd go to the other side of the [city], and people are medicating on pharmaceuticals, using a lot of illegal drugs, but they're not being thrown against the wall every day. I saw a major imbalance."
He sees his work providing high-quality medical marijuana to people who are in need as a part of this struggle for justice.
Justis travels around the world to attend and speak at cannabis conferences. He's visited countries like Mexico and the Czech Republic, to consult on cannabis policy. He's also a member of several organizations that work to improve marijuana law and engage in political actions, such as Americans For Safe Access, the Greater Los Angeles Collective Alliance, the National Organization for the Reform of Marijuana Laws and the Marijuana Policy Project.
Healing the sick is another passion project for Justis. He works closely with parents of autistic children, cancer patients and people who are seriously ill to best match them with medicinal products.
"I don't want to say it's a charity project, but most of the time when you're working with someone that serious… it's not a matter of money," said Nagel. "It's a matter of healing and trying to get them healthy."
Many parents of autistic children prefer Buds and Roses' vegan cannabis, according to Justis.
Justis is a pioneer in what he calls his "veganic" medicinal products. No animal byproducts, pesticides and trace metals go into making these medicines.
And it's this vegan cannabis that's winning awards.
Platinum Girl Scout Cookies and Strawberry Cough won top spots at the first U.S. High Times Cup in Denver after Justis took over. Strawberry Cough, the dispensary's most popular strain, won first place again at the High Times Cup in Seattle two months ago.
There are countless other dispensaries in Los Angeles, many illegal ones popping up every day. Many of the Buds and Roses workers have worked in these other shops, which they described as disorganized and inefficient. Having a politically engaged boss like Justis, who adheres as much as possible to marijuana regulations, makes all the difference, they said.
"When you have an awake and coherent leader, you feel a lot more relaxed in doing your job the right way," said Shannon Morris, who's been working in dispensaries on and off for nine years. "He's creating a higher standard for dispensaries to follow… I feel more comfortable working with somebody who knows the law and respects the law… I trust Aaron."
Trust between employee and employer is a vital part of working in the marijuana industry, where the threat of police raids is pervasive. Buds and Roses is one of more than 100 dispensaries in Los Angeles that have been given "limited immunity," which is neither a permit nor a license to operate, but an uneasy agreement between the dispenser and local government.
"To people who think it's easy, I say come get a job and deal with the scrutiny and the constant fear," Morris said. "We have our [papers] and all that good stuff, but [cops] don't care. And what happens when you go home? You don't know what's going to happen if you get pulled over."
Despite his business having this "limited immunity," Justis, his wife and two young daughters aren't immune to the sideways looks and judging eyes of their Calabasas neighbors.
"My daughter is 12 and people are starting to find out about [the work I do]," he said. "Some kids will joke with her about it, but we're a strong family and we deal with that."
There's also the struggle to legitimize the business, and deliver high-quality products, all while turning a profit.
It's especially difficult, he said, when so many other dispensaries only focus on profits without adhering to county regulations.
"There's no level playing field at all," Justis said. "We pay every single dollar we make in sales tax. We pay workman's comp. We pay city taxes. We pay insurance… Five out of six shops don't do any of that. They can charge $20 less because they're not paying any of the fees or taxes."
Despite Justis being a pioneer in the cannabis industry, he's still operating in a market overlooked by traditional business.
"If this were a regular industry, we'd be on the cover of Forbes magazine," Justis said. "Our business would be taking off tremendously."
Reach Contributor Anna Sterling here. Follow her on Twitter.