Arts+Culture
6 Holiday Gift Ideas For Sports Fans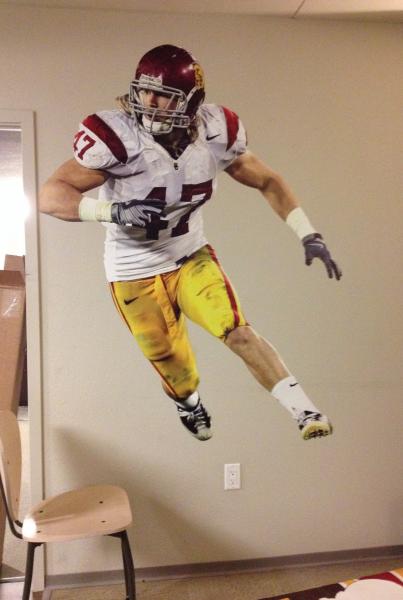 Sports fans can be painfully difficult to shop for around the holidays. Some fans have every kind of sports memorabilia you could imagine; others don't have any so you don't know where to start. Do you get an autographed item? Some piece of clothing? But what if they don't wear it? Coming from a sports fan, here are some great holiday gifts for the loyal and passionate sports fans in your life.
Fathead
If you're buying for a die-hard sports fan who views a particular player as a religious deity, it can be tricky to find a gift that accurately captures the undying love and fandom running through their veins. A set of team coasters or wimpy 18" x 22" framed team photo just won't do. A life-size wall sticker of your giftee's favorite player, on the other hand, just might. Fathead makes these massive vinyl wall stickers for sports of all sorts—NFL, MLB, NHL, NBA, NASCAR, NCAA and others—as well as smaller wall stickers (non-life-size) of stadiums, team logos and more. Fatheads are pretty easy to install, although you do need two people to put up the life-size ones because they're so big. They can be ordered online and shipped to just about anywhere. Just make sure your giftee has enough wall space for the Fathead (as you can see by the photo, Clay Matthews is almost as tall as a standard door frame).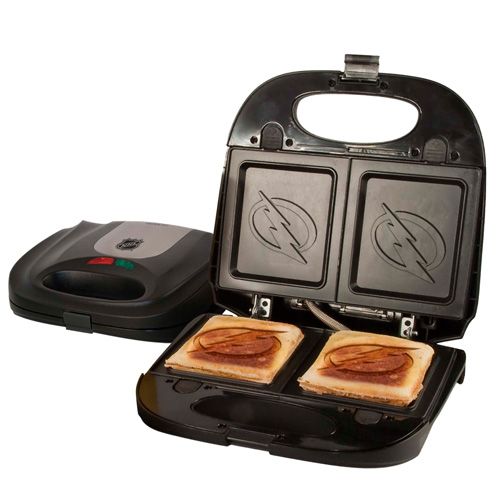 Team Logo Sandwich Press/Waffle Maker
Even if your giftee doesn't make waffles or Paninis on the reg, they might rethink that if they could see their favorite sports team with each tasty bite. It depends who you're shopping for (not everyone wants/has space for another kitchen appliance), but if a fun and whimsical present is appropriate, this could be a good option. It's also great for brunch lovers—they can make waffles, paninis and watch Sunday afternoon football. Plus, you might be a beneficiary of the spirited Paninis or waffles. They're not too expensive ($25-$45, depending on the seller) so if you're on a tighter budget it won't break the bank. Food and sports is always a good idea.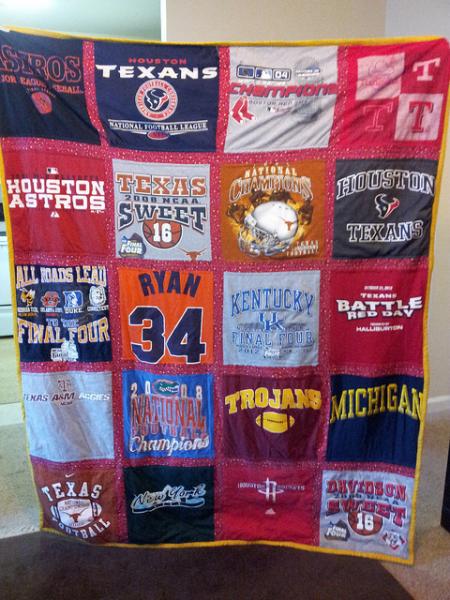 DIY T-Shirt Blanket
If your giftee has t-shirts on t-shirts of his or her favorite sports teams, you can make a DIY cozy blanket out of them. Especially if the t-shirts are piling up and never worn but too precious to give away, a blanket is a great way to preserve those memories and get rid of the clutter. Plus your giftee can use their blanket at home or bring it to a game to keep them nice and warm. If you're short on time or don't know how to sew, you can bring the t-shirts to your local tailor or send them to someone who makes t-shirt blankets. You can stick to one team or put multiple teams together. If your giftee is a Chicago Bears fan but also loves the Bulls, Blackhawks and White Sox, why not put all the t-shirts together to make a Chicago sports blanket? Then they can use the blanket year-round. Practical and sentimental.
Personalized Hand-Painted Beer Mugs/Glasses
If drinking is a requisite part of your giftee's game-watching ritual, you can step it up a notch with personalized hand-painted drinkware. There are plenty of businesses that make hand-painted and personalized beer mugs and glasses (or wine glasses, if your sports fan drinks wine on game day), so you just have to pick one that can paint what you want. You could do team logos, player caricatures, your giftee's name, something humorous, taunting a rival team or a combination of everything. The possibilities are endless. If the person you're buying for likes to entertain on game day, you could get a set of glasses with different designs on each glass. That way, when your giftee has guests over for the big game they can all cheers each other and cheer on their team in true fandom fashion. Or, you can just give one personalized mug or glass to your giftee and make them cooler than everyone else drinking out of plain glasses. Sunny Belle has a bunch of unique designs and color options for both beer mugs and glasses (and wine glasses). Hand-painted beer mugs are $14-$18.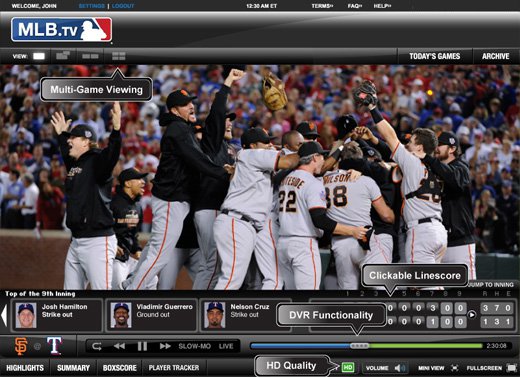 Digital Game Subscription
Tragically, many of us die-hard sports fans don't live near our favorite teams, making it impossible to attend home games without traveling across the country. It also means the games we want to watch on TV aren't always broadcasted in our area (except those lucky ducks who have full TV subscriptions with a million sports channels and can watch every single game in the universe). Thankfully, most pro sports organizations now offer digital access to live streams of their games through paid subscriptions. They're usually priced per year and whoever receives access can watch all of the games live from their computer, tablet or smartphone. So for those of you who have kids in college across the country or friends who don't live in the area in which their beloved team plays, a digital subscription can help mediate that excruciating separation anxiety. MLB.TV has a holiday gift option (for baseball fans), as do other sports leagues.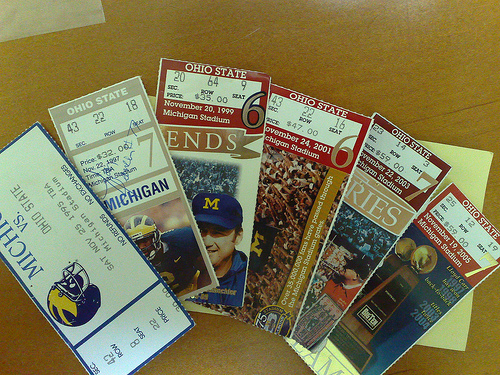 Tickets to the Game
As any true sports fan knows, there is nothing better than going to the game. Sure, many of us love to crowd in the living room on game day and scream at the TV with chips in one hand and a brewsky in the other. And yes, our team paraphernalia become sacred relics to be passed down to our children. But that experience of walking into a stadium, breathing the pre-game air of suspense and anticipation and cheering among thousands of fellow fans is unparalleled by any material possession or stay-at-home game day viewing.
So, giving the gift of the game truly is the best present any sports fan could ask for. Most teams sell their tickets directly online or through their ticket office, but many fans buy and sell tickets via online ticket marketplaces like StubHub (which is good if games sell out or season ticket holders want to sell some of their tickets, you can still get tickets from other fans). Prices vary depending on opponent (rivalry games are more expensive), seat location and how good the team is, but even nosebleed seats can be worth it.
Reach Senior Arts and Culture Editor Veronica here. Follow her on Twitter here.