Food
Yummy Thanksgiving Crafts
Thanksgiving is a day we wait for all year long because of the scrumptious food. Besides the delicious turkey, mashed potatoes and cranberry sauce, dessert is an important part too.
Get crafty this year and make yummy treats for family and friends. Here are some creative ideas.
Pilgrim Hat Dessert
Cap off your Thanksgiving with a pilgrim hat-inspired dessert. If you love marshmallows and fudge striped cookies, then this is the treat for you. Creating this is very easy and fast, kids wil love it. It is also a great item for a Thanksgiving dinner goody bag.
Check out the recipe here.
Cornucopia Goodie Bag
Known as a symbol for abundance, the cornucopia is filled with fruits, grains, and other delicious foods. Instead of the traditional cornucopia, trade in the fruits and grains for candy like M&Ms. Using a waffle cone as the horn, you can create the widely recognized cornucopia shape.
Check out the recipe here.
Healthy Fruit Turkey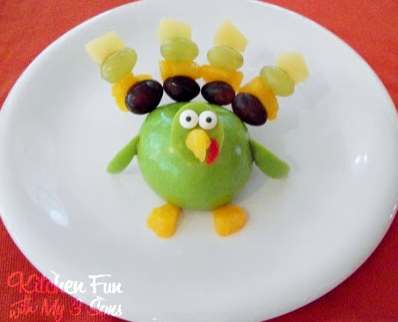 If you're trying to cut down on the massive amount of calories you know Thanksgiving dinner will undoubtedly provide, try this fun and healthy appetizer. Whether it's for a party or for your children, it's a delicious way to make sure there's no extra weight gain from the turkey dinner we look forward to every year. The ingredients for this recipe require an apple for the body and then any other fruit for the feathers. The assembly of this fun fruit craft is easy and fast.
Check out the recipe here.
Drumstick, Corn and Baked Bean Dessert
If you aren't a fan of turkey, corn, or beans, then this look-a-like treat may be for you. Create a cornflake-covered, Rice Krispie treat shaped like a drumstick, a jelly bean-covered Twinkie to resemble corn, or a pudding made to look like baked beans. This is a fun one for kids and they'll be sure to thank you for letting them indulge in such a sweet dessert.
Check out the recipe here.
Turkey Rice Krispie Treats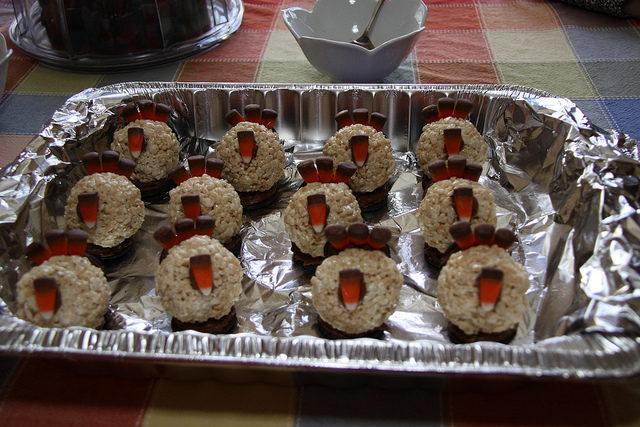 In the mood for a sweet treat? Indulge in these tasty Rice Krispie treat turkeys. If you know how to make Rice Krispie treats, then these will be an easy way to take care of that sweet tooth. Make the Rice Krispies into a ball and then let them cool. Take two Oreos cookies and put chocolate frosting on the insides of both. Place one Oreo on the bottom of the ball and on the side. Then stick leftover candy corns where the Rice Krispie ball and the oreo meet to create feathers and place one on the front for a beak.
Reach Staff Reporter Kelly Masuda here.