Sports
Women Of Troy Fall To Oklahoma State For First Loss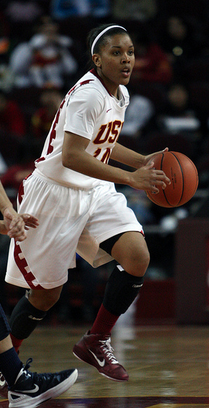 Cynthia Cooper and Co. were handed their first loss of the season Thursday night in a tough game against the No. 20 Oklahoma State Cowgirls in Stillwater. After cruising past UC Davis, Fresno State and San Diego State to a 3-0 start, their best season start since 1998, the Women of Troy fell in a
82-51 defeat
.
USC struggled to get their shots off, as all they had five minutes into the game was junior guard Ariya Crook's two points. At the half, OSU had doubled up the Trojans 44-22 from by shooting 47 percent from the field while getting 10 points from the stripe. Meanwhile, USC only got to the line twice in the whole half and went into the locker room shooting just 35 percent from the field.
Midway through the second half, USC had a miniature scoring explosion, managing a 7-0 run. Unfortunately, the Trojans fell deep once again and stayed there for the remainder of the game.
Crook led USC with 12 points and senior forward Cassie Harberts and junior forward Alexyz Vaioletama each contributed with eight points. Vaioletama also grabbed a team-high seven rebounds.
The Cowgirls were led by sophomore guard Brittney Martin, who picked up a double-double with a whopping 22 points and 10 rebounds. Senior center Kendra Suttles also made it a double-double with her 10 points and 11 rebounds. OSU had four players who scored in double digits.
As last night's performance shows, USC's defense and foul trouble, the team's two greatest weaknesses according to Coach Cooper, are what can potentially hurt their chances of moving up the rankings. However, their previous triumphant victories are proof of the grit and tenacity that makes them entirely capable of bouncing back to their winning ways.
With this loss, USC moves on with a 3-1 record while OSU remains undefeated at 5-0.
The Women of Troy return to the Galen Center on Monday at 5 pm against No. 19 South Carolina.
Reach staff writer Nicole Kim here.