Sports
Why Ed Orgeron Won't Coach USC Next Season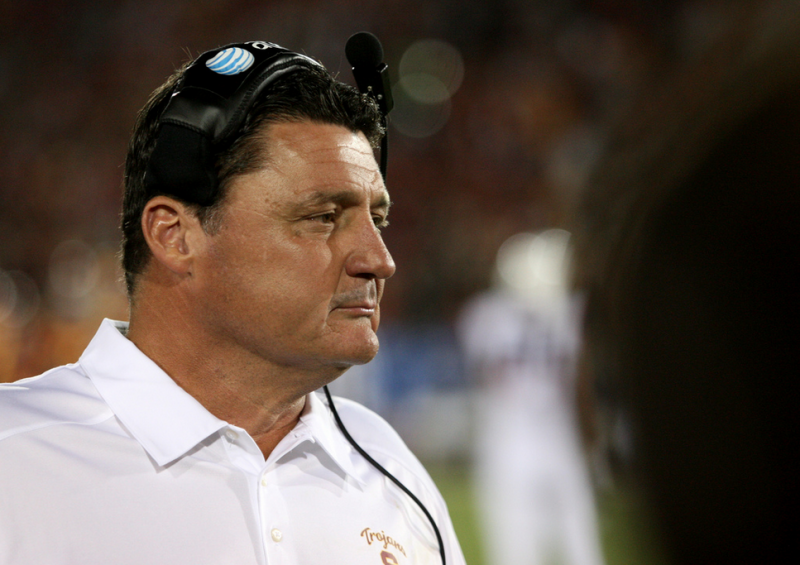 Ed Orgeron has done everything right since taking over as USC's interim head coach. Whereas losses to Washington State and Arizona State and Lane Kiffin's airport firing defined the first half of the season,
surprise In-N-Out deliveries
and upset victories over Oregon State and Stanford have given USC's season a different feel.
It seems obvious to split the season into D.K. (during Kiffin) and A.K. (after Kiffin), and this suggests that USC has turned from a frustrating, boring 3-2 team to its current 8-3, Stanford-upsetting team that fans love only because Kiffin is gone and Orgeron is in. And this isn't completely false. Kiffin's play calling was stale and players were uninspired.
But is the surge under Orgeron a result of Kiffin's firing, or of Orgeron's coaching abilities? Perhaps Orgeron's jolly style is perfect for a team that needed any sort of change, but is a coach who went 10-25 in his only real head coaching experience a fit for one of the highest profile programs in the country? Players and fans may say yes, but I say no, and I bet Pat Haden agrees.
Where We Have Seen This Before
After a terrible few years of USC basketball, Pat Haden fired head coach Kevin O'Neill and installed interim head coach Bob Cantu. Like Kiffin, O'Neill had professional coaching experience, and like Orgeron, Cantu was a longtime Trojan assistant who had the support of his players. Cantu helped take a season that included losses to UC Irvine and Georgia and turn it into a moderately successful year upset wins over UCLA and #11 Arizona.
And then the year ended and Cantu got fired. Just like Orgeron will.
USC is prepared to pay its next coach $6 million a year. You don't pay $6 million a year to a coach who is 15-26 in his head coaching career. You pay $6 million a year when you're trying to steal a head coach from a certain SEC school.
Orgeron may be a great coach for this year and USC can leave the season happy that he helped USC beat Stanford, but at the end of the year, he'll go get a job coaching defensive line at TCU or something equally inconsequential and he'll be reduced to a trivia question as far as USC history is concerned.
Because USC needs to hire a coach for more than this season and next. They need to hire a coach who doesn't just bring players burgers and chicken, but one who can recruit, motivate players and come up with effective schemes. Ed Orgeron is an awesome man and has helped save USC's season from disaster. Thanks Coach O, and I wish you the best at your next job telling fat people how to best push other fat people.
P.S. I love Orgeron. You can't watch this video and not love Orgeron.
Reach Executive Producer David Tobia here or follow him on Twitter.