Arts+Culture
Who Says Asian Superheros Don't Exist?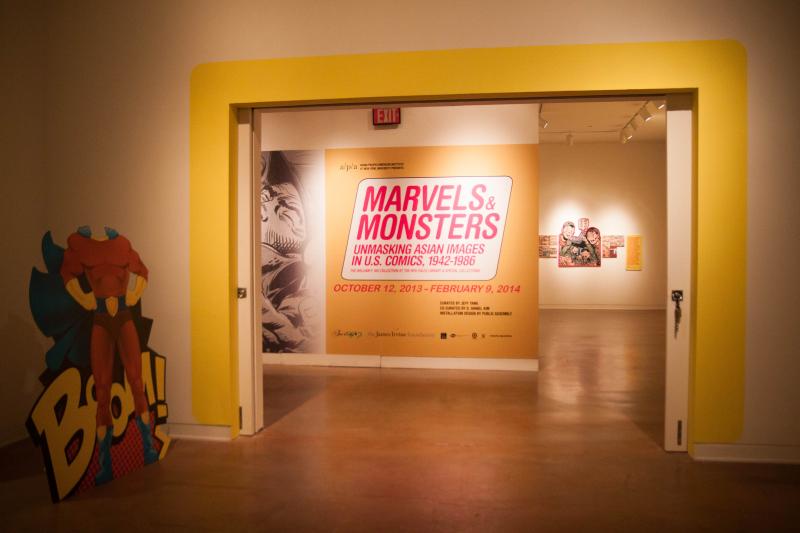 The Alien, Kamikaze, Brute, Guru, Lotus Blossom, Brain, Temptress, and Manipulator. They're all prominant Asian characters in popular comic books such as "The Haunted Tank", "Santa Anita Pacemaker", and "Daily Julean Dispatch".

So who says Asians can't be superheros? It turns out they already are.

Located at the Japanese American National Museum in Little Tokyo, Marvels and Monsters: Unmasking Asian Images in U.S. Comics, 1942-1986 exhibition has been brought from NYU Fales Library & Special Collections. On the second floor, the exhibition opens with a large billboard with Marvels and Monsters written all over it. As you walk more into the exhibition, each character is warmly lit by single light bulbs hanging from the ceiling and illuminating a glow onto each of the descriptions. There is no chatter among the visitors, as it is completely silent along the hallway, where only soft footsteps can be heard. The perpetual foreigner, the martial arts master, and the left-behind lover, represent more than just what fits in the Asian American stereotype. Through the portrayal of these characters, curator Jeff Yang is proud to unmask an archive of comics that has served as racial and xenophobic propaganda during World War II.

While they were in internment camps, comics stood as a powerful presence in Japanese Americans' daily lives. Thus, unlike the mainstream comics that portray Asians and Asian Americans as tenacious stereotypes, the objects on display became "an empowering tool for individual voices." Created by youths at that time, these comics tell a different story, a different perspective, and a different truth of Asian Americans.

Asians have been distorted in American media since Asians began migrating to the US. Those portrayed stereotypes- over the decades- inarguably contribute to the perception of Asian Americans in mainstream and entertainment media today. Acknowledging that history only gives us more reason to evolve and express artistically.

"I'm not looking for Asian American characters to be positive – I just want them to be human. Because humans are flawed and crazy and capable of amazing acts of heroism and terrible acts of villainy, and that's what makes us compelling," said Greg Pak, writer of Incredible Hulk; Hercules; and Heroic Age: Prince of Power.

"Marvels and Monsters" is on display now through February 9, 2014 at the Japanese American Museum in Little Tokyo.

For visiting hours and directions click here.

Reach Staff Reporter Amy Tseng here.

Reach Arts and Culture Editor Ashley Riegle here. Follow her on Twitter here.