Sports
USC Hoops Grounded in Season Opener, Enfield's Debut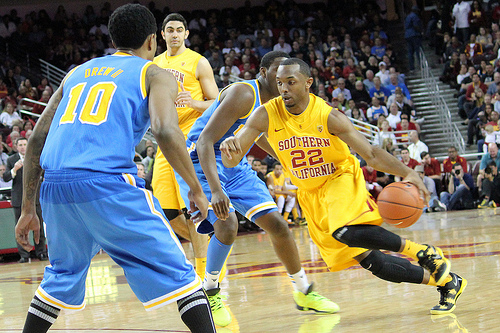 The Andy Enfield era of USC basketball got off to a rocky start Friday night, with the Trojans falling to the Utah State Aggies 78-65 in Logan, UT.
The Trojans looked to be working out the kinks in their new up-tempo offense, clanking their way to under 37% shooting from the field (24-65 FG). The three-point line was especially unforgiving for USC, with the Trojans connecting on only four of 24 from behind the arc (16.7%).
SEE MORE: USC Basketball Practice: Team Readies For Opener At Utah State
Utah State, on the other hand, looked to be in midseason form, making over 48% of their shots (29-60 FG). The Aggies had four players in double figures, paced by Preston Medlin with 17 points.
Senior guard JT Terrell lead the Trojans with 20 points, including a thunderous dunk with a minute to go in the first half that cut the Aggies lead to five.
From that point on though, it was all Utah State, with the Aggies not looking back after opening up an 18-point lead early in the second half.
Coach Enfield had stressed in practice the importance of creating points with their defense, but on Friday the Trojans were unable to create any havoc, with the Aggies turning it over only 7 times.
While the starting five had some bright spots -- junior guard Byron Wesley contributed 15 points, 8 rebounds and 4 assists and senior big man Omar Oraby had a near double-double with 15 points and 9 rebounds -- the Trojans bench was MIA, being outscored 24-9 by Utah State.
It was a tough opening night for the new-look Trojans, facing off on the road against a team coming off a 21-win season. The Trojans will look to lick their wounds Tuesday night in their home opener against CS Northridge.