California
U.S. Authorities Shut Down Drug 'Super Tunnel'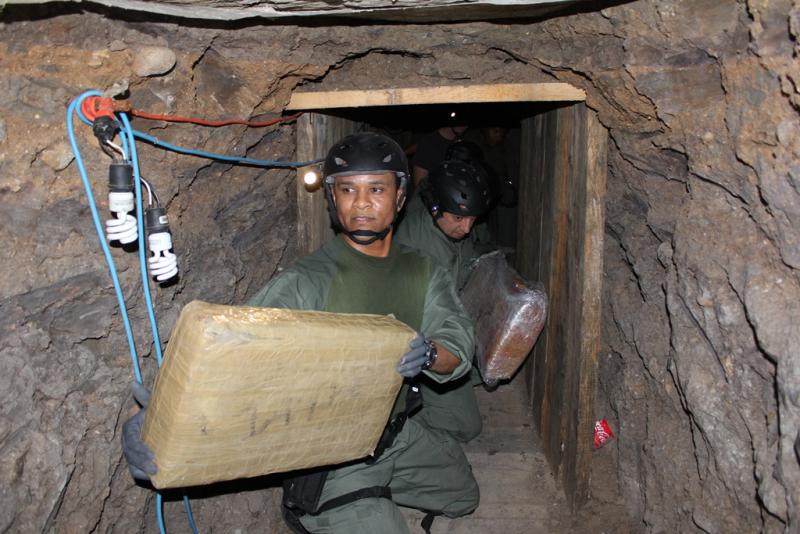 United States authorities have shut down an elaborate drug smuggling tunnel that was recently dug under the border between the United States and Mexico. The tunnel is 2.4 miles long and connected a warehouse in San Diego to another in nearby Tijuana. Derek Benner, head of Homeland Security Investigations in San Diego, said that it was equipped with lights, ventilation and an electric rail system.
Three people were arrested and more than 8 tons of marijuana and 324lbs of cocaine were seized in connection with the so called "super tunnel", which had been closed before it was used for smuggling. The tunnel was discovered by the San Diego Tunnel Task Force. The group, created about five years ago, had allegedly put the US warehouse in San Diego under surveillance after learning about purchases of drilling and construction equipment in August and September.
READ MORE: Drug Enforcement Agency Secretly Investigates Americans
Mexican drug cartels have been using tunnels, small boats and light aircraft in recent years as the fences along the 2000-mile border have become higher, stronger and broader. "These cartels have spent years and tens of millions of dollars trying to create a secret underworld of passages so they can move large quantities of drugs," said Laura Duffy, United States attorney for the San Diego region.
This specific tunnel was purportedly associated with the infamous Sinaloa drug cartel led by Mexico's most infamous drug kingpin, Joaquín 'El Chapo' Archivaldo Guzmán Loera. A similar tunnel connecting Tijuana and San Diego, discovered two years ago and connected with the confiscation of 32 tons of marijuana, was also associated with the Sinaloa cartel. US authorities say that they have discovered more than 75 tunnels crossing the border between the two countries since 2008 in California and Arizona.
The area between San Diego and Tijuana is a popular place for tunnels to be dug as it is easy to dig through the clay-like soil of the area, as well as the existence of areas on both sides of the border filled with ordinary warehouses that help to hide both construction and loading and unloading activities. In other parts of the border, cartels have converted underground drainage tunnels.
Reach Executive Producer Arash Zandi here. Follow him on Twitter here.