Music
Upcoming Album Releases: December 2013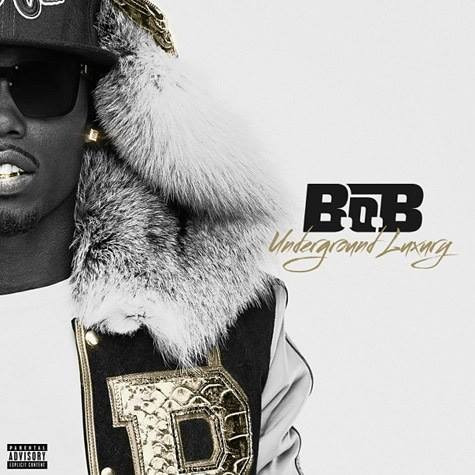 Just in time for Christmas, this month's album releases will make the perfect presents for rap fans everywhere!
With the exception of Britney Spears and a few other artists, this month will be dominated by releases from hip-hop artists like Childish Gambino, Rick Ross, and B.o.B.
Check out this month's biggest releases below!
December 3
"Britney Jean," Britney Spears
The Queen of Pop is back with her eighth studio album! This release marks a step in a new direction for Britney Spears - she's co-written every track and the record is far more personal than any of her previous ones.
The record will also feature guest vocals from longtime collaborator (and "Britney Jean" executive producer") will.i.am, the pop singer's little sister Jamie Lynn Spears (who just released some music of her own), and rapper T.I.
With 2 high-charting singles released ("Work B*tch" and "Perfume") and the album already receiving (mainly) positive reviews from critics, "Britney Jean" is set out to be yet another successful chapter in Spears' career.
"Life, Love & Hope," Boston
Boston's first release after 11 long years, "Life, Love & Hope" sounds like a definite throwback to the late 70s when the band was just getting its start.
Band founder Tom Scholz went to great lengths to achieve this sound, going so far as to use all of the exact same equipment that he's been using since Boston's beginning in 1976.
The record also features vocals from the band's previous lead singer Brad Delp that were recorded before he passed away in 2007. Some of those songs - "Someone (2.0)" and "You Gave Up On Love (2.0)" - are remixed and rearranged versions of the original tracks that appeared on the 2002 album "Corporate America."
"Get Your Heart On - The Second Coming," Simple Plan
A follow-up to their critically acclaimed 2011 release "Get Your Heart On!," this new EP by Simple Plan is more of the band doing what they do best - energetic pop-punk tunes about young love and angst over life.
Fans are sure to appreciate this short and sweet 7-song EP as they wait for the band's next full-length album, which is already in the works!
For now though, Simple Plan is rocking out down under on Vans Warped Tour Australia 2013 alongside bands like Tonight Alive, New Found Glory, and The Offspring.
December 10
"Because the Internet," Childish Gambino
Childish Gambino's second studio album, "Because the Internet" is already getting some buzz in the hip-hop world thanks to the success of "IV. Sweatshirts" and "V. 3005." The record also features vocals from Chance The Rapper, Azealia Banks, and Jhene Aiko.
In an interview with "Exclaim!," the rapper said, "Because the Internet I'm here, because of the Internet we're all here. It's the language of Earth. Everyhone keeps saying by this or that year, Mandarin or Spanish will be the most dominant language, but the Internet is already a language we are all connected to; even my dad can understand the meme format."
Fun fact: Childish Gambino rented out Miami Heat basketball player Chris Bosh's Los Angeles mansion (which the rapper calls "The Temple") in order to record the album.
"Black Panties," R. Kelly
"Black Panties" will be R. Kelly's twelfth studio release and his first with RCA Records (his previous label Jive Records was shut down in 2011, along with other Sony daughter labels).
The R&B singer's got a lot of big names featured on his latest album, including "The X Factor USA" judge and former Destiny's Child Kelly Rowland, 2 Chainz, and Ludacris. Other artists like Future and Juicy J also make an appearance on the record - but those tracks only appear on the deluxe version.
With his last 2 albums ("Love Letter" and "Write Me Back") stepping away from his more explicit and raunchy lyrical style, R. Kelly would like you all to know that this upcoming record will be the new "12 Play," which really goes without saying if you've seen the "Black Panties" tracklisting.
In other words... Welcome back to the era of "Bump N' Grind."
December 15
"Gravitas," Talib Kweli
Following "Prisoner of Conscious," which was released in May, Talib Kweli is dropping his sixth record (and second this year) "Gravitas." The album is produced by Q-Tip, a member of the critically acclaimed hip-hop group A Tribe Called Quest and one of Kweli's biggest musical inspirations.
Living up to his reputation as "one of the most socially aware and politically insightful rappers to emerge in the last 20 years," Kweli's new record won't be too different from his previous work lyrically as the rapper continues to touch on important social and political issues.
Unlike his other albums, however, "Gravitas" will be released independently via a website called #KweliClub. In a statement on the site, the rapper said, "When you pre order my newest project, Gravitas, available Dec 15th, you will be buying it directly from me, no middleman, and I will now have a direct releationship with you. Who needs this industry when we have each other. The technology exists for me to have this relationship with the fans, and vice versa. It is a grand experiment. Lets go for it!"
December 17
"Mastermind," Rick Ross
Rick Ross's sixth studio effort, "Mastermind" is already generating a lot of buzz thanks to its first single "No Games," which features Future. The album will also feature a track called "The Devil Is a Lie" with longtime collaborator and friend Jay-Z.
Ross has described the album as having a soulful vibe with the rapper delving into what he calls the "Curtis Mayfield of soul." The rapper has also predicted that "Mastermind" will be his "biggest impacting record."
However, not a lot of information has been released about the record - an official tracklist hasn't even been released yet!
"Underground Luxury," B.o.B.
Don't expect anything on B.o.B.'s upcoming album to sound anything like his debut effort "B.o.B. Presents: The Adventures of Bobby Ray" (2010). In fact, the rapper's calling it his edgiest project yet.
In an interview on "106 & Park," B.o.B. said, "Don't get me wrong. All the success from 'Nothin' On You' and 'Airplanes' was cool, but I come back home, go in the clubs and I want to hear myself in the clubs. That's how 'Headband' came about, 'Still In This (B*tch) with Juicy J and T.I. and now we on 'Ready' with Future."
Beyond that, however, the rapper's also looking to go back to his underground hip-hop roots - a lot of which he says fans didn't get to hear on his previous records. B.o.B. describes it as "puttin myself back in a mind state to when I was struggling and when I had to really go out of my way to make ends meet when I was coming out of high school and really struggling. It's really like a re-telling of the story from a different perspective."
Reach Staff Reporter Michelle Tiu here and follow her on Twitter here.