USC Sports
Trojans Look To Snap Stanford's Streak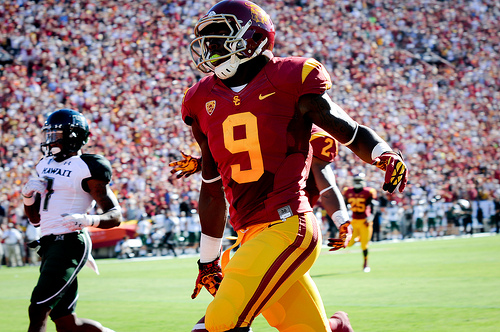 For over three decades, from 1976 to 2008, the USC Trojans dominated the Stanford Cardinal in every way possible.
They posted shutouts (1979, 1986 and 1989). They pulled out squeakers (1995's 31-30 victory comes to mind). They won in Los Angeles and Palo Alto, and even ripped off a gargantuan 11-game winning streak from 1980 to 1990. All told, over the course of those 32 years, the Trojans lost just seven times to the Cardinal, never more than three times in a row. Never in that span did a class of Trojan players graduate without at least one victory over their neighbors to the north.
On Saturday, the Trojans will host the fifth-ranked Cardinal under very different circumstances. The streak and the dominance belong to Stanford now, having defeated USC in each of the last four seasons. For the second year in a row, a class of Trojans could graduate without beating a school they used to batter into submission on an annual basis. A sense of urgency has crept into their locker room.
"We all understand what it's about as a whole unit knowing that this team has gotten the best of us even though we don't feel like they should have gotten the best of us these past few years," says George Uko. "Even amongst the coaches, Ross Cumming was a part of the game in the Coli where it went to triple overtime - he understands what it's about. It'll be another good opportunity just like Oregon State was in how we hadn't gone to Corvallis and beaten them in a while. It'd be another good one to get off our backs for the Trojan Family."
It isn't as though the Trojans lacked for chances. Following the 55-21 beat down in 2009 that kicked off Stanford's current run, USC has lost by only one possession in the last three games. Perhaps none of them stung like the aforementioned triple-overtime thriller in 2011, in which a Nickell Robey pick-six with 3:08 remaining in the fourth quarter seemed to hand the Trojans certain victory only for Stepfan Taylor to tie the game up with 38 seconds left. Taylor would score the winning points in the final overtime period as well after a Curtis McNeal fumble into the end zone ended the game.
SEE MORE: Special Teams Star As USC Rolls Call, 62-28
Last year, the heartbreak came with higher stakes. The Trojans went into Palo Alto ranked second but were made to look considerably worse by a Stanford team that dominated both lines of scrimmage en route outgaining USC on the ground 202-26. The 21-14 loss was the first of six in perhaps the most disappointing season in USC history, a game and a season that Josh Shaw says has been firmly left to the past.
"What's going on amongst us as players is 'It's a new year,'" he says. "In the back of everybody's minds, I'm sure they know that USC hasn't beaten Stanford in a while but it's a new year, though. They're coming up here to the Coli, they're a new team, we're a new team and we've got a whole different identity now."
Shaw will draw one of the toughest challenges of the night in the form of Ty Montgomery. The 6-foot-2, 215 pound junior leads the Cardinal in receptions, receiving yards and receiving touchdowns and is emblematic of a Stanford team that trades in physicality.
On offense, USC will be boosted by the probable return of Randall Telfer, which would give USC its full complement of scholarship tight ends. The biggest boost of all, though, might be Marqise Lee's declaration that he is ready to play a full game after being limited the last two weeks by order of receivers coach Tee Martin. He'll need every bit of his strength against a Cardinal secondary that isn't afraid to get aggressive with receivers.
"Their safeties and corners are very physical. That's what I like, though," he grinned. "I like it physical and I know it's going to be like that from the last two years. I don't expect anything different. I know they're going to come play, and same here."
For interim coach Ed Orgeron, though, it all starts up front. "This will be a line of scrimmage game," he says and so the biggest boon of all to the Trojans' chances is the return of Leonard Williams after the sophomore sat out last week's 62-28 win against Cal. "We need him to play and play very well," Orgeron says. "Whoever wins the war up front will win the game."
Perhaps the biggest concern for USC, then, is less about who is available but rather who isn't. The Trojans have struggled all year to find reliable depth behind the front three in Clancy Pendergast's 5-2 scheme, an ominous challenge against a Cardinal team that loves to burn clock by riding bruising Tyler Gaffney, who toted the ball an unfathomable 45 times in Stanford's 26-20 win over Oregon. To hear Uko tell it, the solution is to simply find a way to get off the field on third downs. If they can't, though, expect a heavy dose of Gaffney, which at least some Trojans relish.
""I think every linebacker would say that's the best game of his life," he laughed. "45 carries, that means you can get 45 tackles."
USC and Stanford will kick off at 5:00 PST from the Los Angeles Memorial Coliseum.