USC Sports
Trojans Chop Down Stanford, Rewrite Their Own Ending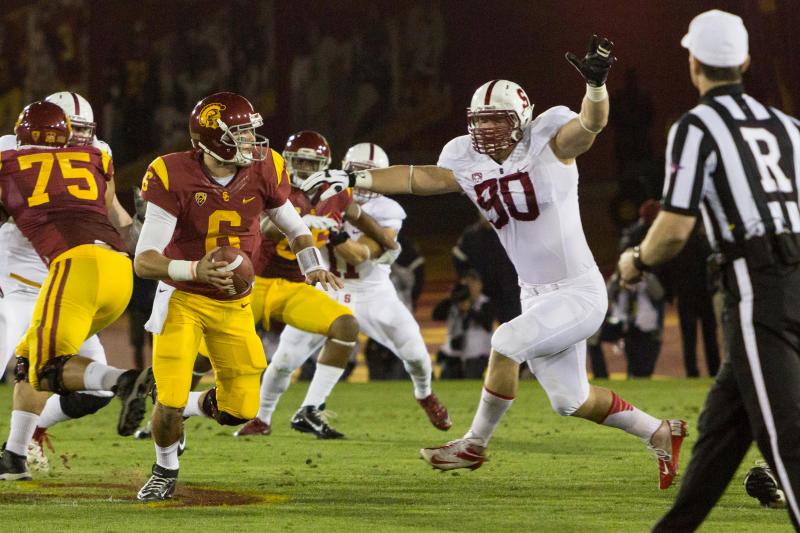 A month ago, the story for USC's 2013 campaign was inked and ready to send to a publisher. The Trojans had their feel-good win over Arizona to partially clear the palate of the awful taste left by Lane Kiffin, and would ride out the season by winning seven, maybe eight games to make a middle-tier bowl. It would be a season remembered for the Washington State debacle, but one everyone in the Trojan faithful would seek to forget.

USC's 20-17 victory over the 4th-ranked Stanford Cardinal on Saturday night tore that book to shreds.

The victory wasn't just about USC defeating what has become their new-age rival for the first time in five tries or improving to 5-1 under interim head coach Ed Orgeron. It was about the perfect mesh between coaching ingenious and Trojans rising to the occasion. Orgeron's biggest calling card isn't that he loves and believes in his players; it's that he's made them truly believe in themselves.

"Coach O is making up for these past three years in six games," linebacker Dion Bailey said.

Never was that more clear on USC's final offensive drive, one that culminated with a 46-yard field goal from Andre Heidari with 19 seconds left that sealed the upset. The Trojans took over thanks to a Su'a Cravens interception on a tipped heave from Stanford quarterback Kevin Hogan, but quickly found themselves in a 4th and 2 situation at the Stanford 48. The Trojans punted within Stanford territory two drives earlier, but this time was different.

"He [Orgeron] could tell in our eyes that we wanted to do this," Kessler said on the 4th down play. "We were giving him that look and he could tell our offense didn't want to come off."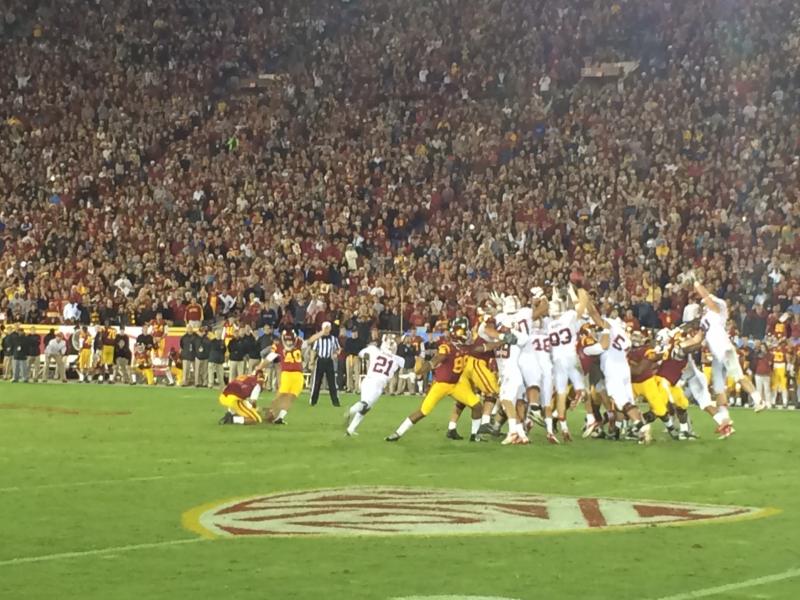 Orgeron has stressed "One Team, One Heartbeat" as USC's new motto. This time, the heartbeat was replaced by mindset.
"I knew I was taking a chance, but I looked these guys' eyes and I knew they wanted to go for it," Orgeron said on the play. "I wanted to give them the best shot to get what they wanted."
One 13-yard completion to Marqise Lee later, the pair's faith in each other was rewarded. Less than a minute after that, Heidari's kick sailed through the uprights and set off a level of pandemonium the Coliseum hadn't seen since the days of Pete Carroll.
It had been a season of frustration for the Trojans. The early-season quarterback battle cratered with the Washington State loss, while Marqise Lee, Xavier Grimble and other highly talented pass-catchers have faced both injuries and underutilization. A team mourning its injuries, however, would not be the one to defeat the Cardinal, who entered Saturday coming off a win over the previously undefeated Oregon Ducks.
Instead, Saturday night showed a team emblematic of their fiery interim leader: Amped up and playing with nothing to lose.
Those attitudes were apparent on USC's first drive, when Kessler played similarly to his Westwood contemporary (Hundley, Brett) and bailed out of the pocket multiple times to fit in tosses to convert key third downs, ultimately finding fullback Soma Vainuku wide-open in the end zone for a 1-yard touchdown toss.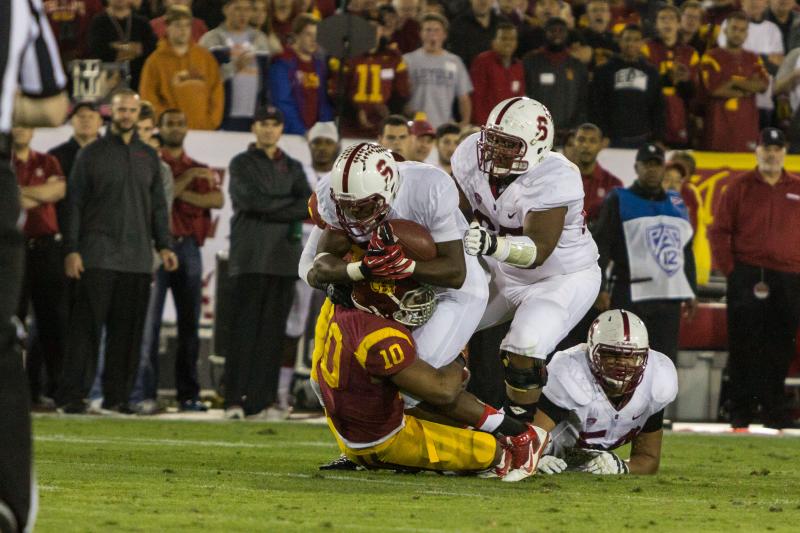 Rather than consistently run on first down, Orgeron let Kessler sling the ball across the field to open drives. And while Stanford's defensive line ate USC's rushers to the tune of 39 yards on 23 rushes from USC running backs, Helton and Kessler kept things crafty enough to throw the Cardinal off guard.
On defense, the Trojans got hit in the mouth on a first drive after Stanford's Tyler Gaffney ran 35 yards for a touchdown almost straight down the middle of the field. After that, the Cardinal scored 10 more points as Hogan struggled in going 14-of-25 for 127 yards and two interceptions.
"I felt we had the pass pretty much under control, and they [Stanford] knew that," said defensive lineman George Uko. "They were hitting us with a couple of curveballs to kind of get us on our feet for the pass. They had us thinking both ways, but over time we made the correct calls to get it done."
There's no doubt the Trojans got big plays. Two interceptions and a blocked kick took away Stanford points; points that ended up being the deciding factor. Yet, Orgeron and his players did not win on a fluke. "We both knew what we were going to do," Uko added. "No tricky plays, no no-huddle."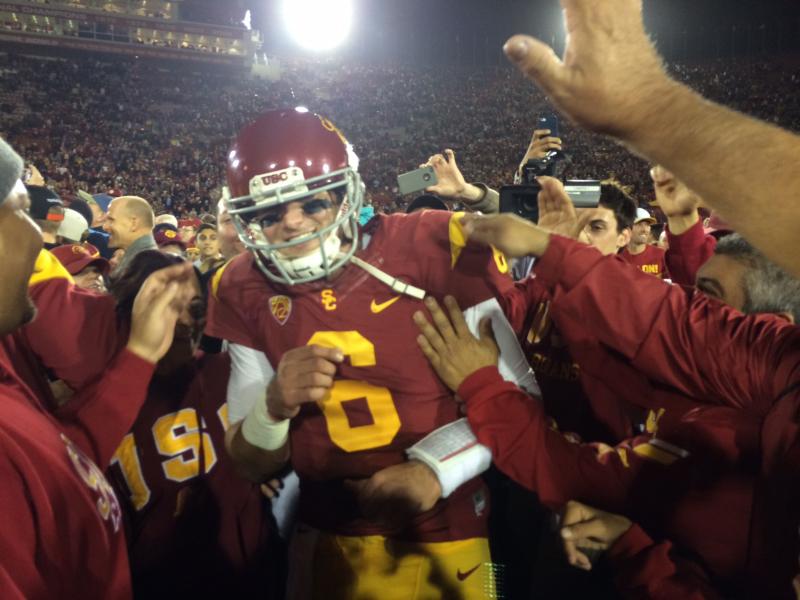 This game was supposed to be the blowout. For all the applause Orgeron garnered week after week, he still wasn't supposed to knock off The Farm. USC had the talent to do so, but Orgeron brought the inspiration that's required to beat a team seemingly destined for BCS glory. "There's no one else in the country that like him that I've seen," Kessler said about his coach after finishing 25-of-37 passing for 288 yards and a touchdown. "We'd run through a brick wall for him. He has that look in his eye that you can tell that when he talks to you, he really does care."

This game was supposed to be the cold splash of reality. Instead, it's the wave of confidence that has restored faith to an ailing fan base. USC greats might look down upon the fans storming the Coliseum grass. Saturday night, though, was a time for new emotions. Instead of fury-turned-apathy, the feeling on the field was one of delirium and joy. It started around 4:30 am with College GameDay, and 16 hours later ended with a field so crowded Kessler couldn't even move among the throngs of fans giving their congratulations.

This game was supposed to close the book on Ed Orgeron's chances to elevate himself above a placeholder coach at USC. Instead, it opened the chance that a sequel might even be in the works once the season is done.

Reach Senior Sports Editor Jacob Freedman here or follow him here.