Food
Sugar Rush: Celebrate 'National Candy Day'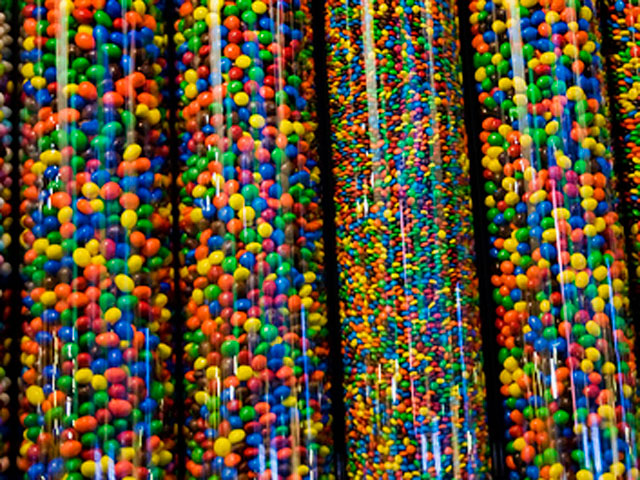 Even though Halloween just ended, Nov. 4 heralds "
National Candy Day
."
Candy has enjoyed a longstanding presence in human history. The first confections, in the form of nuts and fruits rolled in honey, were consumed by the Egyptians. Sugar manufacturing began during the middle ages; at the time, because of sugar's high cost, only the wealthy could afford candy. Meanwhile, the Mayans and Aztecs ate chocolate around 300 AD, and Spanish explorers discovered the cacao bean in Mexico by 1519.
When hard candy became popular in the 17th century, the price of manufacturing sugar dropped. There were more than 400 U.S. factories producing candy by the mid-1800s.
Hard, soft, chocolate or fruity, each candy has its own unique history. For example, the popular, creamy Reese's Peanut Butter Cups were created by Harry Burnett (H.B.) Reese, who was inspired to create his own line of candies after working on a dairy farm owned by Milton S. Hershey, the owner of the renowned Hershey Chocolate Company. The 3 Musketeers bar was, contrary to popular belief, not named for the legendary swordsmen. The original candy bar included three separate bars—chocolate, vanilla and strawberry—in each package. During World War II, however, the increased price of sugar (and rationing) forced the MARS company to discontinue the strawberry and vanilla bars, capitalizing on the most popular flavor—chocolate—to make the airy bar we know and love today.
While the average American consumes 25 pounds of candy every year, candy is not just a favorite in the States, as the average individual in Denmark consumes 36 pounds of candy. Also, kids aren't the only sweet-toothed ones: Americans age 18 and over eat about 65 percent of all the candy produced nationwide every year.
Craving something sweet yet? According to Bloomberg, here's a list of America's top 25 favorite candies.
1. M&Ms
With "Pretzel," "Peanut Butter" and "Peanut" flavors—among many others—M&Ms reigns as America's No. 1 best selling candy. Named after its two founders, R. Bruce Murrie and Forrest E. Mars, Sr., M&Ms were originally packaged in a tube and only came in the plain milk chocolate flavor. Fun fact: M&Ms was the first candy to be sent into outer space.
2. Reese's Peanut Butter Cups
Reese's Peanut Butter Cups was the brainchild of H.B. Reese—a former dairy employee of the Hershey's company—who started selling peanut butter "penny cups" dipped in Hershey's chocolate in 1923. Even though Hershey bought Reese's company 40 years later, the chocolate-peanut butter combo is a best selling favorite among many candy fiends today.
3. Hershey's
The Hershey's powerhouse had humble beginnings when Milton S. Hershey started manufacturing milk chocolate bars in 1900 for five cents each. The bar went global during World War II—more than one billion were included in U.S. soldiers' rations—and the rest, as they say, is history.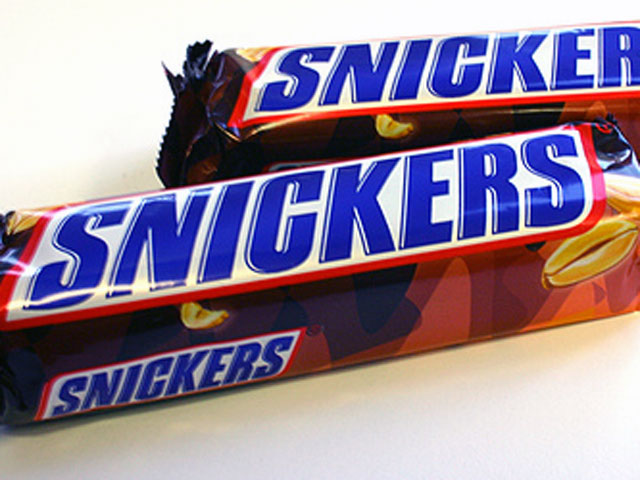 4.

Snickers

All snickering aside, this milk chocolate-covered nougat-peanut-and-caramel combo has had a long history. Originating in the U.S. in 1930, this famous candy bar was the Mars family's second product and was reportedly named after their favorite horse. Fun fact: more than 15 million Snickers bars are produced daily.

5. Orbit

Orbit is popular in America, but its origin goes back to Europe in 1976. It's currently not only enjoyed widely throughout the U.S., but it also has global appeal as the No. 1 candy in both Romania and Russia.

6. Trident

Heralded as America's original sugar-free gum, Trident includes three enzymes designed to combat tartar buildup … hence its name.

7. 5 Gum

A sugarless chewing gum manufactured by Wrigley, 5 Gum calls for all five senses to fully experience and enjoy the product.

8. Stride

With this Cadbury confection, everyone will be able to, indeed, "Stride on." Stride is not only well known because of its sugarless quality, but also because of its irrelevant ads and commercials.

9. Kit Kat

Featuring four crispy, crunchy wafers coated in milk chocolate, Kit Kat—introduced in Britain in 1935—is the sole top-selling chocolate bar in the U.S. that did not originate in America.

10. Extra

You won't need anything "Extra" when it comes to this brand. Extra, owned by Wrigley, has had a reputation of having long-lasting gum flavors with incredible taste.

11. Eclipse

These solutions for having "incredibly fresh breath" debuted in 1999 as Wrigley's first brand of pellet-gum products. Eclipse was reported in 2008 to be the first and only gum to contain magnolia bark extract, which Wrigley says has been scientifically proven to get rid of bad-breath germs.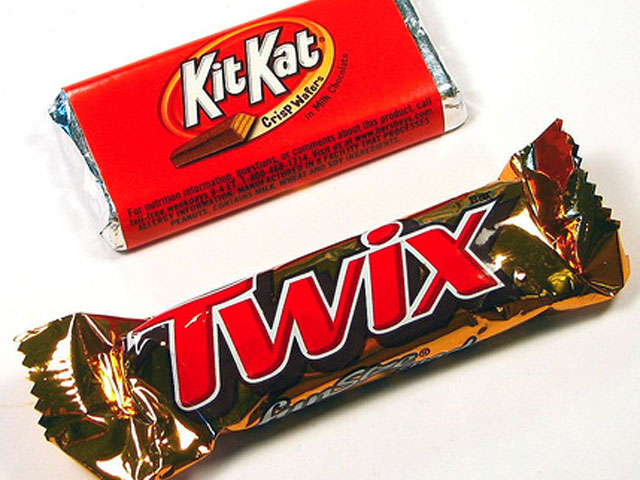 12.

Twix

Twix revolutionized the candy world with its candy-cookie hybrid—a caramel-covered cookie coated in milk chocolate—when it was introduced in Britain in 1967. Twix currently comes in "Peanut Butter" and "Ice Cream Bars."

13. Twizzlers

Sporting its signature red, twisted vines, Twizzlers made licorice popular. Even though licorice is often thought of as black, Twizzlers' most popular flavor is "Strawberry."

14. Skittles

You can indeed "taste the rainbow" with the many Skittles varieties. Likened to M&Ms without chocolate, Skittles first appeared in Europe in 1974 and made their way to the U.S. in 1979.

15. Dove

The famous Dove chocolate originated as a hand-dipped ice cream bar created by Chicago-based Greek immigrant Leo Stefanos in 1956. After Mars bought the brand in 1986, the signature foil-wrapped, premium Dove chocolate bars were born in 1991.

16. 3 Musketeers

All for one and one for all! Actually, the 3 Musketeers bar was not named after the famous swordsmen at all. The bar once featured three flavors—chocolate, strawberry and vanilla—but was consolidated to the most popular flavor (chocolate) during World War II. Regardless, the fluffy, whipped, chocolate bar features a light and airy center, which sparks its appeal and demand among many customers. Fun fact: this candy bar has 45 percent less fat than the average fat content of other popular chocolate bars, according to the Mars company.

17. Starburst

These "unexplainably juicy" candies were introduced to America in 1976 with just four original flavors — strawberry, lemon, orange and lime. From its "Fruit Chews" to "Jelly Beans," the fruitiness never is on short supply with this brand.

18. Milky Way

Launched by Frank C. Mars in 1923, Milky Way was created under the claim of being the "world's first filled chocolate bar." Designed to replicate the flavor of then-popular chocolate malt milkshake, this beloved candy features a chocolate-malt nougat bar topped with caramel and covered in milk chocolate.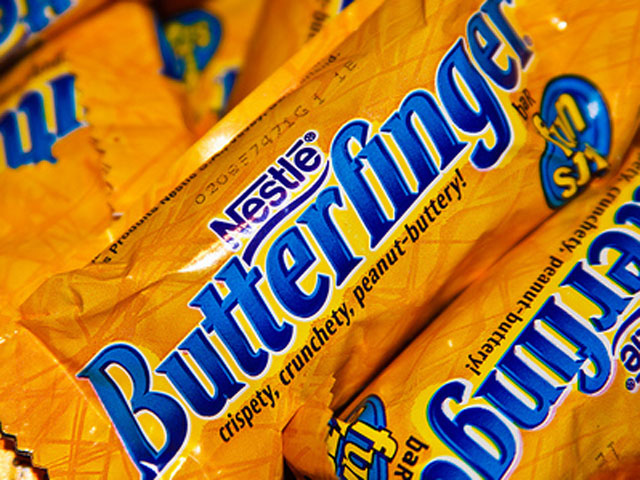 19.

Butterfingers

The signature flaky, orange-colored, crispy candy with a chocolate-coated peanut butter center is currently celebrating its 90th anniversary.

Recently, Butterfingers recently announced its plans to launch a Reese's-like hybrid with its Butterfingers Peanut Butter Cups.

SEE ALSO: Nestle Declares Peanut Butter War On Reese's

20. Trident White

Promising whiter teeth in just one month, Trident White was introduced in 2003. It was the first national brand of sugar-free chewing gum in the U.S.

21. Hershey's Kisses

No upcoming holiday is complete with seasonal Hershey's Kisses, which come in all types of varieties, including "Cookies 'n' Cream," "Caramel," and "Special Dark." Word has it that Hershey's Kisses foil-wrapping machines can produce up to 1,300 chocolates a minute.

22. Tic Tac

Coming in an easily identified little plastic case, the world's No. 1 breath mint was introduced in 1969. Tic Tacs come in a variety of flavors, ranging from "Powermint" and "Orange" to "Wintergreen" and "Strawberry Fields."

23. Dentyne Ice

Designed to provide "fresh breath confidence" wherever you go, Dentyne Ice originated as a hybrid of "dental" and "hygiene." Created by New York druggist Franklin V. Canning in 1899, Dentyne and Dentyne Ice are currently owned by Cadbury.

24. Orbit White

While Orbit comes in a plethora of flavors, the sub-brand Orbit White—sugar-free pellet gum—also comes in different varieties, including "Peppermint," "Spearmint" and "Bubble Mint." While Wrigley introduced Orbit White a year after Orbit debuted, the product has been owned by Mars since 2008.

25. Ice Breakers

With fresh "Strawberry" and "Raspberry" flavors and coming in trademark plastic cases, these cooling crystals combined with fruity flavors are great after any garlicky meal or post-lunch pick-me-up. Ice Breakers were first introduced by Nabisco in 1996, but Hershey took over the brand in 2000.