Politics
Ann Coulter's USC Republican-Tea Party Event Sparked Basically Nothing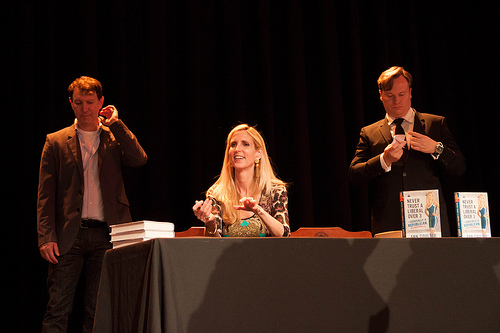 On Sunday evening, conservative Ann Coulter spoke to a crowd of 400 at the University of Southern California, a co-sponsored event by the USC College Republicans and the Hancock Park Patriots, a local Tea Party group, but only a handful of students protested the controversial commentator's presence and others weren't that impressed.
Before the event started, four student protestors, organized through Facebook by USC senior Nora Snyder, a double major in International Relations and Middle East Studies, stood under the dim light outside of the auditorium holding signs disagreeing with Coulter's comments, such as, "We just want Jews to be perfected," and "She ought to be in prison for wearing a Hijab."
Ann Coulter is famous for her tea-party centered opinions and her harsh mockery of liberals, the media and other politicians. Her most recent book, Never Trust a Liberal Over 3, criticized New Jersey Gov. Chris Christie for his support for immigration reform ("amnesty") and for playing into sudden enthusiasm in the mainstream media for his political prospects.

Justin Bogda, student director of the PSA (Political Student Assembly), the non-partisan programming branch at USC who enable the protesting, said, "This event was to support our college republicans, and I am happy to bring any and all events on campus that get students out, spark discourse, on any end of the political spectrum." Hoping to have more diverse groups of students to join the protest, but only conservatives joined.
Snyder and the other protestors weren't protesting Coulter's political beliefs, as they believe all speakers from all viewpoints to speak on campus. They protested because "time and again she has made incendiary and hateful comments about virtually every groups I could name. She has described herself as a 'bigot,' as if that is a label to take pride in," said Snyder.
"These sorts of attitudes contribute to the current record-high levels partisanship in American political discourse, which is, in my opinion, one of the biggest obstacles to actual compromise and problem-solving in this country," she added.
Sophomore Brian Kuang said he was excited to hear Coulter speak, but was disappointed. K
"The protest was ridiculously weak...My friend and I wanted to hear what Ann Coulter had to say, but Ann did not talk about the protest at all. The Protest was basically nonexistent. Most people in line (waiting outside) didn't even know what the protesters were protesting about," said Kuang.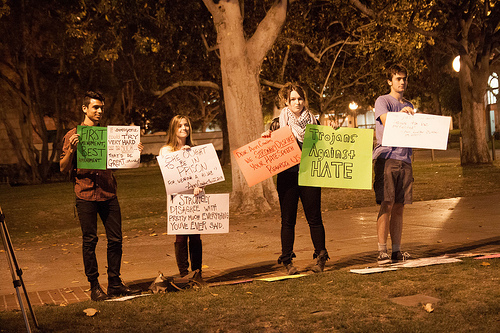 Coulter answered questions about her book Never Trust a Liberal Over 3 for the first half of her talk, such as the gun control, Amanda Knox's case, ranking the craziness of MSNBC's hosts, internal conflicts in Republican and the Iraq war.


In repsonse to the Amanda Knox's case, Coulter argued that American media coverage, different from that in the Europe, is biased because Amanda Knox is a "pretty white girl."

She defended her support of the Iran-Iraq war and that President Obama was "pissing away" all the progress that had been gained. When talking about the 2008 Presidency Election, Coulter talked about her liking Hilary more than the other democratic nominees, and that "The whole country owes her [Clinton]."

Coulter took a question from a "crazy liberal" student, Ethan Bialick, who asked about her comment on why "women shouldn't have suffrage and that we should rape the earth", and about her ideal world. However, instead of answering the question directly, Coulter said, "My ideal world would be without liberals."

Coulter's fans came for her witty and incisive talk. One attendee, Steven E. Maikoski, wearing George Washington's costume and his wig, said, "Ann Coulter is the best political writer," because the amount of research (30 pages of footnotes in her last book) that she does on her own. Maikoski is the author of the book Arguing For The Constitution, believing that the Constitution should only be changed by Amendments, not by usurpation. He came also to see how the crowd responds to her opinions.

Also, students Adam Falossi and Ryan Townsend came to get different perspectives and points of view.

Not surprisingly, there were many people who did not buy what Ann Coulter said. As a conservative himself, Kuang believes that Coulter is too radical, "No one should ever be super conservative or liberal, so I definitely thought some stuff she said was kind of crazy...I realized that these radical conservatives are so blinded by their beliefs that they don't see the flaws of their logic."

He also believes that some comments Coulter made was just to attract more attention.

Snyder says that although the turn out of the protest was small, they still made an impact.

"We were very visible, and a lot of people entering the event stopped to read our signs, or talk with us. If even one person looked at our signs and thought about them, that is a victory in my book. I was proud to see my fellow Trojans demonstrating that we do not support hate speech on our campus," said Snyder.


Reach Staff Reporter Cecilia Hua Here.