Arts+Culture
Santa Monica Art Exhibit Combines Gender, Makeup, and Science
Synthetic beauty and scientific inquiry coalesce in an artistic statement about gender roles in Rachel Lachowicz's new exhibition at the Shoshana Wayne gallery in Santa Monica. Known for her creative commentary regarding gender, Lachowicz has created a collection of pieces using cosmetic compounds such as eyeshadow and lipstick. Her work explores the concepts of femininity through a scientific and societal lens through canvas and three dimensional structures.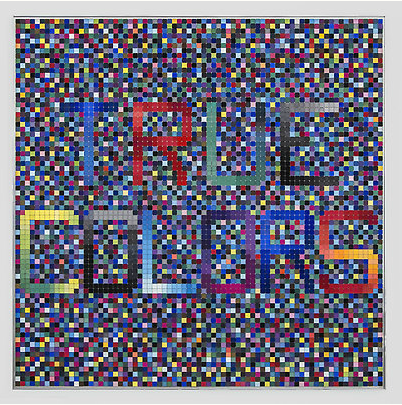 A prominent facet of the exhibition is the artist's use of language that can be applied contextually to various social issues. Using a wide range of shades of eyeshadow as a visual tool, Lachowicz allows her viewers to consider the multifaceted meanings of her art. She utilizes small squares of eyeshadow that serve as textiles to create makeshift "paintings" with phrases meant to be interpreted multiple ways. One "painting" is comprised of a fluid spectrum of black and white, and contains the words "Context is Queen." However, if the viewer's eye darts vertically down the canvas, the word "ConQue" (the title of the piece) is illuminated. Perhaps this piece sheds light on the scientific community, as conque is the name of a type of computer programming software. However, it may similarly pose an open-ended question, as it loosely translates into the Spanish conjunction "so then."
Utilizing the full color spectrum in eyeshadow, the artist constructs an arguably ironic text painting, formulating the words "True Colors." Again, she allows open analysis to occur in the eyes of her viewers. Although makeup has largely come to define current perceptions of beauty and femininity, it seems to mask a woman's natural "true colors." In order to magnify this concept, the gallery is scattered with large containers of plexiglass full of neon-colored cosmetic compounds. These containers shed light on the massive amounts of makeup utilized by women today, as well as the intensified focus that is currently devoted to the idealized, unattainable image of female "beauty."
Throughout the collection, the inquiries about the root and perception of artificial feminine beauty coincide with Lachowicz's ideas about science and the universe. The scientific pieces seem to represent an evolution of sorts - first, there is a mosaic-style "painting" of two electrons crashing into one another, followed by a diagram of space covered in the words "evolve," "equality," "post-gender," "sexuality," and "sensitivity." The first image, entitled "Quantum Dot with Two Electrons," exemplifies the primitive beginnings of an organism, simplistic and plain in nature. This concept of "bareness" and being structurally unadorned is juxtaposed by her highly artificial medium. The last image, entitled "Cosmos," seems to articulate a profound statement about the artist's quest for change in society to move toward a more gender equal environment.
The structures in Lachowicz' exhibition are intriguing in their complexity, constantly eliciting questions and suppositions. She combines feminine medium with masculine form in her sculpture entitled "Untitled (Cotton Candy)," in which she has constructed a harsh, imposing skull of a bull out of bubbly, pink lipstick wax. The paradoxical figure contributes to the artists' statements regarding a new definition and distinction between male and female gender roles.
Lachowicz's collection will be featured at the Shoshana Wayne art gallery through December 21, 2013. To learn more about the exhibition click here.
Reach Staff Reporter Emily Mae Czachor here.