Film and TV
Interview: 'The Best Man Holiday' Actors Discuss Sequel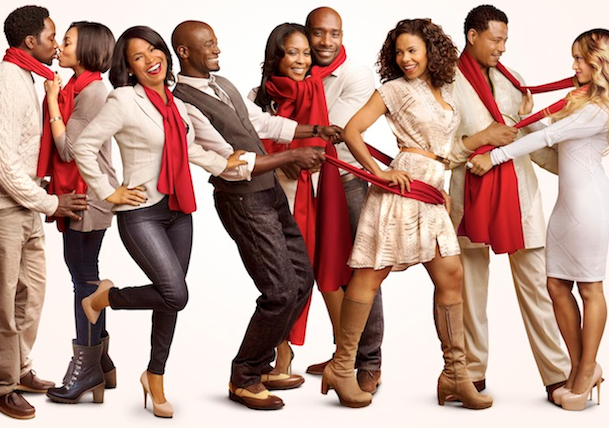 It has been 14 years since "The Best Man" (1999) crowned box offices and captured our hearts, but now the beloved cast is reunited in the entertaining and heartfelt, "The Best Man Holiday," proving that although life may change, true friendships endure.
There is no question why we have loved "The Best Man" for more than a decade. It is a classic film that stands the test of time. The special bond shared amongst friends is something that everyone can connect with. We adore the characters because they are just so real and relatable. We can see a little piece of ourselves in all of them.
"Women especially love the 'The Best Man' brand because they can look at the film and point themselves out, or at least say I am a combination of Jordan and Shelby, or Robyn and Mia, or whatever," said Nia Long.
Malcolm D. Lee wrote and directed the long-awaited sequel, which fans and critics are already buzzing about. Lee envisioned all of the characters in the original film, and he stills holds them dear to his heart.
"People love this movie because they love the characters," said Lee. "I know these characters very well. I've lived with them in my head for a long time. When you evolve as a person, you have to let your characters evolve with you. I wanted to make something that was more sophisticated, something that spoke to these characters and showed their growth and evolution."
Lee succeeded with his mission. The characters have matured quite a bit since we last saw them. Lance (Morris Chestnut) and Mia (Monica Calhoun) have settled down in a huge mansion, with their four kids. Lance has a successful football career and seems to be on top of the world. Harper (Taye Diggs) and Robyn (Sanaa Lathan) are married and expecting their first child, although Harper continues to harbor some secrets. Jordan (Long) remains the perpetual workaholic, but has decided to open herself up to a new relationship with Brian (Eddie Cibrian). Candy (Regina Hall) put her stripper days behind her to focus on running a charter school with her husband, Murch (Harold Perrineau). However, Shelby and Quentin are up to their usual shenanigans. Shelby (Melissa De Sousa) is a divorced reality television star, and Quentin (Terrence Howard) resumes his flirtatious, womanizing ways. Although all the characters have developed individual lives, they cannot resist an invitation to spend Christmas together.
Naturally, all the actors were thrilled to reprise the roles that launched their careers. There was so much energy and excitement on set, as they reconnected with former castmates.
"It just makes the entire experience truly enjoyable when you spend all day on set," said Diggs. "We were so blessed, lucky, fortunate for this experience. The fact that we even got everyone together in the first place was miraculous."
Unfortunately, Lee had a difficult time reigning in the rowdy gang.
"It was a lot of fun and a lot of comedy," commented Perrineau. "A lot of people laughing, and Malcolm looking a little distressed."
"Malcolm needed help wrangling us in, especially for the group scenes," agreed Hall.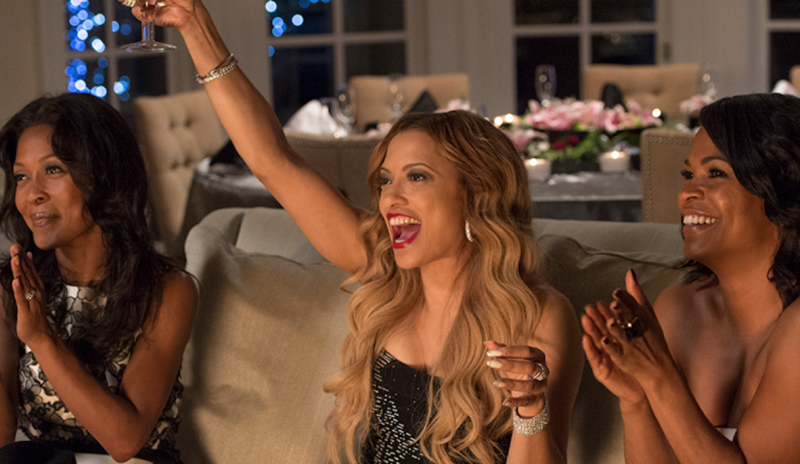 One of the most memorable scenes in the film occurs when the guys perform New Edition's "Can You Stand The Rain" for the ladies, donning shiny jackets and black fedoras. They were extremely nervous to see the women's responses.
"They turned into 7-year-olds. They practiced in between takes for weeks," said Lathan. "This was like their debut. What you see on the screen is our real time reactions."
"With this dance sequence, Malcolm said 'Be on your stuff because the girls are going to be watching.' There was a level of performance that we had to take into account because we wanted them to think we were good," commented Diggs. "But, it worked, and it was great getting that live, real energy."
However, it wasn't always fun and games on set. The cast really wanted to be challenged in this second endeavor, and they weren't afraid to share their input with Lee.
"I really wanted to see another side of Shelby," said De Sousa. "I wanted to see her grow and go through changes. She's not just there for the comedy and laughs. She has a real life and real problems, and I think we showed that."
"I asked Malcolm for the hair. You can't quit being a stripper and live in the same city without trying to change your haircut," joked Hall. "Originally, he didn't want a short bob. He wanted long hair like she had in the first movie, but I held my ground."
Just like in the first film, hilarity and mayhem ensues, but "Holiday" is also poignant. Chestnut and Calhoun give outstanding performances that will leave you with a deeper understanding about the true meaning of Christmas. Warning: Do not enter the theater without tissues.
"For me, Morris had most of the heavy lifting," said Diggs. "I really have to take my hat off to him. He had to maintain that emotional storyline throughout the entire film and he did his thing."
"Nothing in this movie came easy to me. This was some work," said Chestnut. "I was focused on Monica the whole time. Everything that my character did was for her. We were really connected."
The entire cast was superb in "Holiday." Each and every scene is organic and believable, and once again, we are completely wrapped up and invested in these characters' lives. When they laugh, we laugh. When they cry, we cry. It is a testament to the camaraderie that these phenomenal actors share.
"It shows in the chemistry. You can choose to act it or it can just be real," said Diggs. "And it was real."
The film takes us on a touching journey full of laughter, drama and love. It demonstrates the importance of genuine friendships, and the power they have to pull you through all the joyful and heartbreaking experiences that life brings. This holiday celebration will be enjoyed for many years to come.
Check out the trailer below.
Reach Staff Reporter Gabi Duncan here. Follow her on Twitter.