Sports
Ranking The Best Rivalry Week Games of 2013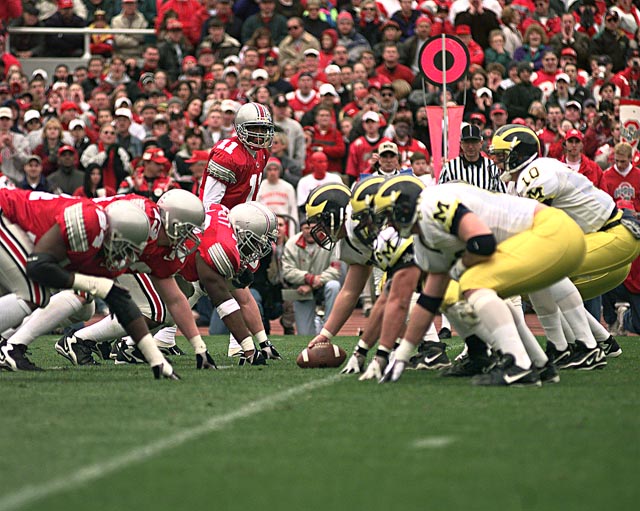 Rivalry week in college football. There is nothing like it in all of American sports. Century old regional and intra-state rivalries reignite on one cold day in November, turning otherwise civilized fan bases into herds of blood thirsty baboons.
Marriages will be torn apart
, friendships will be strained and car rides home will be awkward. All in the name of one's alma mater.
This year will be no different with some rivalries carrying major BCS implications and others taking to unusual levels of intensity. Here's a list of the most captivating match ups to look for come Saturday (and Thursday, and Friday):
9. Ole Miss @ Mississippi State
Ole Miss made huge splashes in recruiting in the winter and, despite an average conference campaign, the Rebels have one last chance to salvage the season and build some momentum for a promising 2014. If State can't claim the Egg Bowl this Thursday, then the Bulldogs will not qualify for a bowl game.
8. Washington St. @ Washington
For the first time in a long time, Wazzu is relevant and thriving in time for the Apple Cup. The Cougars and Huskies have been blowing up scoreboards all across the Pac-12, and each come in locked at 4-4 in conference play. State stole a close one in Pullman last year, so UW will be out for revenge in what may be Husky QB Keith Price's final game, if he's healththy to go.
The Game this year is turning out to be rather small and inconsequential. Ohio State has already locked up a spot in the Big Ten Championship Game against the Wolverines' second most hated rival, Michigan State. Michigan has flopped to another underachieving season of under-.500 conference ball, during which they accumulated negative total rushing yards in two straight games! Nothing at stake here except pride, and maybe Brady Hoke's job.
Aaron Murray's out for the year; an SEC East title is nowhere near achievable; and a New Years' Day bowl game may be out of the question for the Bulldogs. But the UGA-GT game, or "Clean, Old-Fashioned Hate", is surely significant as it pertains to ACC-SEC supremacy. In a down year for the SEC, Tech can put the nail it the conference's coffin by dishing out its first win in five years, or its second in 13. Plus, with a win and a little bit of luck, the Yellow Jackets could snag the ACC Coastal title.
Though the Pac-12 South has already been claimed, this war for Los Angeles has not lost its intensity. USC is out for revenge after last year's crushing loss at the Rose Bowl, and are carrying a Trojan horse of momentum behind Coach O. A win by either school would knock the other out of the BCS standings, and probably to El Paso for the Sun Bowl. In front of a sold-out, standing room only Coliseum crowd and a primetime national audience, a SoCal statement is ready to be made.
4. Arizona @ #12 Arizona State
As the deep Arizona desert weather cools, the state's college football teams heat up. 'Zona is coming off its biggest upset in school history and the Sun Devils, having clinched the Pac-12 South, can host the conference championship with a win. The Wildcats have surprisingly taken the last two in Tempe and will look to play spoiler and take the Territorial Cup, the oldest trophy in college football.
3. #7 Clemson @ #11 South Carolina
Barring a Missouri win, South Carolina still has a shot at taking the SEC East title, so there's still a lot on the line in this intrastate matchup. Clemson, on the other hand, is looking to secure a BCS bid, and most likely an Orange Bowl berth. Carolina has taken the last four Palmetto Bowls, but Clemson has dominated since its lone loss to FSU. The first top-10 matchup between these two schools is sure to be a thriller with conference and state superiority hanging in the balance.
Nope, this isn't a typo. A Duke-UNC football game is being highly anticipated. This historic basketball rivalry will move from the hardwood to the Chapel Hill sod in a vital ACC Coastal matchup. For the first time ever, Duke has a spot in the BCS standings as the Blue Devils move closer to clinching its first outright division title since 1962. Duke's nine wins are the most since 1941, the year Durham hosted the Rose Bowl, but it needs to win to ensure a matchup with FSU in the ACC Championship. If UNC succeeds in its spoiler role, all hell could break loose in the Coastal, opening up the door for Georgia Tech, Virginia Tech and Miami. The Tobacco Road rivalry finally has life outside of Cameron Indoor and the Dean Dome, and Saturday's matchup cannot come soon enough.
No brainer here: the Iron Bowl is the rivalry game in college football, and has been for some time now. Save for last year's lopsided blunder, the Alabama-Auburn matchup has had fierce national title implications - the last four winners to win the Iron Bowl have won the National Championship. This year, the Tide and Tigers are both ranked in the top-4 in the BCS Standings. Auburn has an opportunity to simultaneously knock Bama out of national title contention and win the SEC West. Led by Coach of the Year frontrunner Gus Malzahn, the Tigers have home-field advantage, but are 10 1/2-point underdogs to their in-state rivals. Bama has rightfully earned this favoritism, surrendering more than 17 points just once, very early in the season. Plus, Tide legend AJ McCarron is building Heisman hype and is embracing the Sports Illustrated cover curse. Harvey Updyke aside, the Iron Bowl rivalry is one of the most respected and glorified in all of college football and Saturday's conference deciding matchup in Auburn will surely do it justice.
Reach Senior Sports Editor Jeremy Bergman via e-mail and follow him on Twitter.