Technology
Social Media May Soon Help You Pick Your Plane Seat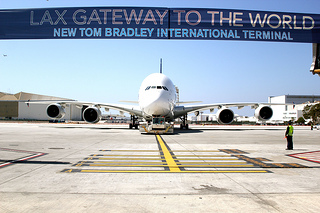 Imagine a world in which your seatmates on that long flight from San Francisco to New York were not left up to chance, but rather chosen to make transform those five hours into prime networking time.
Airlines may soon begin offering a way that passengers can use social media to help them select seats next to people whom they find interesting.
Many are also looking into the creation of social networks that allow passengers to see when your past travel buddies are on the move. The possibilities are endless: quick trips to Colorado next to a cute Columbia grad, hours spent exchanging ideas with a potential business partner, a lonely late night stop in Chicago turns into a reunion of old friends...
In a 2012 New York Times article titled "Selecting a Seatmate to Make the Skies Friendlier," Nicola Clark documented the recent efforts by the Dutch carrier KLM to use social media to create a social network in the sky. By uploading details from Facebook or LinkedIn, passengers can use data to pick their seatmates.
KLM isn't the only airline testing this idea out; Malaysia Airlines allows users to see if their friends are flying with them using a Facebook application called MHBuddy. A Danish start-up called Planely lets users see the Facebook and LinkedIn profiles of people who will be on the flights with them. Another airline, Satisfly, encourages users to submit not only their profile information, but also their "mood" as well- basically asking: Would you rather chat or take a nap?
Considering that the New York Times story debuted over a year ago and we haven't heard much about these social media techniques being implemented in the U.S. since, it seems as though these programs abroad may not have been very successful.
As of now, your chances of finding that Columbia cutie, new business partner or old friend on a connecting flight might be slim - but the concept is still fascinating.
If this concept becomes more widely implemented, by providing your information, you could let other passengers know that you are, "A Senior at USC with conflicting passions for chick flicks and NPR who is traveling to Oregon to hang out with her grandma." Then, based on the interest of your fellow passengers, someone could choose to sit next to you, or you could casually scour the seating chart for your new best friend or most interesting future job connection.
Besides the obvious conflicts of interest here—your seatmate might not be in the market for a new best friend or future employee—adding this aspect to flying could lead to friendlier skies.
With the ability to choose they sit next to, passengers may become more inclined to strike up a conversation, rather than putting in their headphones and falling asleep.
It may soon be time to say goodbye to seat serendipity.
Reach Staff Reporter Kendall Robertson here